45 Best SEO Tools of 2023: Your Ultimate Guide
For outdoor enthusiasts managing websites or blogs, SEO tools are a must-have to gain valuable insights into website performance and maximize content reach. These indispensable resources offer critical insights into your website's performance and help optimize content to reach more people with similar interests.
With an array of free and paid options available today, you can find SEO tools that cater specifically to different aspects of the optimization process – from keyword research and technical analysis to local SEO strategies and tracking core web vital metrics. Each component plays a significant role in shaping your overall SEO strategy.
An effective utilization and great understanding of these tools, keyword clustering for example, can boost various SEO metrics which, in turn, enhance organic traffic coming onto your site. But don't worry if this sounds overwhelming. This guide has been crafted keeping in mind outdoor enthusiasts looking forward to effectively leveraging their online presence.
Determining Your Website's Current State With Free SEO Checker Tool
To kickstart any kind of website optimization efforts, including those related to outdoor activities, it's essential to first understand the current state of its SEO performance. A great starting point here would be using a free SEO checker tool that provides detailed information about on-page SEO elements along with other important factors influencing the overall ranking within search results pages (SERPs).
A popular choice among many users for this purpose is HubSpot Academy's free Website Grader tool, which grades sites based on four key areas: Performance, Mobile Readiness, Security, and Search Engine Optimization (SEO). The report card generated by this tool lets you know where improvements are needed, making it easier to focus efforts accordingly without wasting time figuring out what went wrong initially, leading to lower rankings in SERPs.
Empowering Your SEO Strategy with Free Tools
In the vast digital landscape, optimizing your website for search engines is crucial. One way to enhance your site's visibility and performance is by leveraging free SEO tools like Google Search Console and Bing Webmaster Tools.
The data provided by these platforms helps in understanding organic traffic patterns, keyword rankings, and potential issues that could affect a website's ranking on SERPs.
Diving Deep Into Google Search Console & Bing Webmasters Tool Capabilities
A comprehensive view of how Google perceives and indexes web pages via Google Search Console aids in monitoring specific URLs on a domain along with facilitating faster indexing through sitemap submission.
Besides offering detailed reports about mobile usability – an essential factor as per current algorithm updates – it also alerts you about security threats or technical glitches that might hamper user experience, hence affecting SEO score negatively.
Moving onto Bing Webmaster Tools, despite being less popular than its counterpart, provides similar benefits but primarily focuses on enhancing websites' presence across Bing Yahoo searches, thereby diversifying sources and gaining a wider audience reach, making it an equally important tool under any effective SEO strategy."
Your Website Grader: HubSpot's Free SEO Checker Tool
Another powerful resource at our disposal offers more than just basic analysis.
Evaluating factors such as page size, load time, response time, browser caching, etc., influencing overall performance, impacting positively upon SEO metrics, thus maintaining high levels of user engagement.
Analyzing if sites are responsive across different devices since today when Google prioritizes mobile-friendly ones within their ranking algorithms, having such a feature becomes increasingly necessary.
Last but not least, checking the existence of proper meta descriptions, title tags, header tags, XML sitemaps, robots.txt files, all contribute towards helping search engine bots understand and navigate efficiently throughout web pages
Best SEO Tools
Best for Keyword Research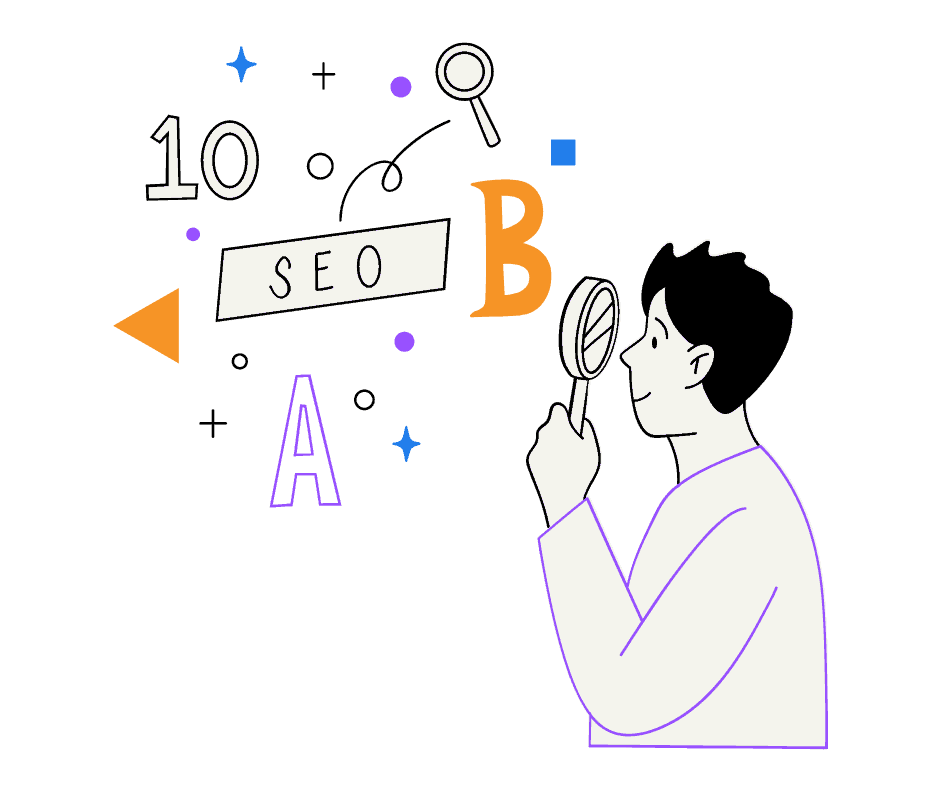 Keyword research tools are helpful for any business looking to get ahead in the competitive digital landscape. They provide insights into what people are searching for and how their search terms can be used to create effective content and advertising campaigns.
An important addition to these tools are keyword clustering tools, which group related keywords together, further enhancing content targeting and search engine visibility. With these tools, businesses can better understand their target market, identify potential opportunities, and develop more successful strategies.
In this section of the article, we'll discuss the different types of keyword research tools available and why they are so important for digital marketing success.
1. Google Keyword Planner
This is the foundation of keyword research. It's an excellent tool for beginners and remains a reliable source of information about what people are searching on Google.
2. SEMrush
An all-in-one marketing suite that not only handles keyword research but also competitive research, backlink analysis, and more.
3. Ahrefs Keyword Explorer
Known for its extensive database, Ahrefs provides detailed keyword insights and helps to explore more content opportunities.
4. Moz Keyword Explorer
This tool offers a wealth of information, including keyword suggestions, SERP analysis, and a comprehensive assessment of the competitive landscape.
5. SpyFu
Ideal for competitive keyword research, allowing you to spy on your competitor's keyword strategies.
6. Ubersuggest
A freemium tool by Neil Patel offering a broad range of keyword suggestions.
7. AnswerThePublic
Excellent for finding questions and topics around your keywords that people are searching for.
8. Long Tail Pro
This tool is great for finding long-tail keywords that can lead to higher conversions.
9. Keywords Everywhere
A browser extension that displays keyword data on multiple websites.
10. Serpstat
A comprehensive SEO platform that includes a powerful keyword research tool.
11. KeywordTool.io
This tool uses Google Autocomplete data to create a comprehensive list of keywords for any topic.
12. KWFinder
Known for its user-friendly interface, KWFinder makes finding long-tail keywords easy.
13. SECockpit
Great for advanced users, offering a ton of in-depth information and a more sophisticated keyword strategy.
14. Jaaxy
A powerful keyword tool that offers an easy-to-understand scoring system.
15. Keyword Finder
With its clean, user-friendly dashboard, Keyword Finder simplifies the process of finding SEO-friendly keywords.
Best for Content Writing
There are lots of great options out there that can make content creation and optimization a breeze. Whether you're new to SEO or a seasoned professional, these tools will help you craft powerful content that meets all your needs.
For content creation and analysis, these tools have everything you need to take your blog posts to the next level. So take a look around and find the perfect tool for your content creation needs!
This tool is essential for catching grammar and spelling mistakes.
17. Hemingway App
It makes your writing clear and bold, highlighting overly complex sentences, unnecessary adverbs, and passive voice.
18. Copyscape
Helps detect any duplicated content, ensuring your content is always unique.
19. Yoast SEO
WordPress plugin that offers real-time page analysis to help you optimize content, keywords, titles, and meta descriptions.
20. SurferSEO
It provides content suggestions to improve the SEO quality of your writing based on the top-ranking pages for your target keyword.
21.Readable
This tool evaluates the readability of your content, using multiple scoring systems.
22. CoSchedule Headline Analyzer
It analyzes your headlines and gives them a score based on several factors, including length, sentiment, and word balance.
A paraphrasing tool that restructures sentences while keeping their original meaning.
24. Frase
An AI tool that provides content briefs and question ideas for a target keyword.
25. Clearscope
A premium tool that helps in producing SEO-optimized content.
26. Wordable
It allows you to instantly export Google Doc files to WordPress without messing up the formatting.
27. Writer
An AI writing assistant that enhances brand consistency and SEO.
28. Crayon
A market intelligence tool that tracks and analyzes your competitor's content strategy.
29. MarketMuse
AI-driven software that aids in content planning and optimization.
30. Textmetrics
This tool utilizes AI to help you create high-quality content that's SEO-friendly and maximizes reach.
Best for Link Building
If you're looking to boost your search engine optimization (SEO) efforts, then link building should be a major focus. Link building is the process of getting other websites to link back to yours, which helps you get more organic traffic and improve your website rankings.
To help you maximize your link building efforts, we've put together a list of some of the best link building tools available today. These tools make it easy to track your progress, find new opportunities for links, and quickly build relationships with other sites.
31. BuzzStream
This tool makes the outreach process simpler and efficient by helping you manage and track email conversations.
32. Majestic SEO
It provides detailed insights about your link profile and the quality of the links.
33. Ahrefs Backlink Checker
Besides its keyword research tool, Ahrefs also shines for its comprehensive backlink analysis capabilities.
34. Linkody
This tool alerts you when you gain or lose links, provides insights about your link profile, and even spies on competitors.
35. GroupHigh
An excellent tool for blogger outreach and content marketing.
36. Disavow.it
This tool helps you create a Google 'disavow' file easily, letting Google know which backlinks you don't want to be associated with.
37. Hunter.io
This tool is excellent for finding email addresses associated with a particular domain for outreach purposes.
38. Ninja Outreach
A powerful influencer marketing and analysis tool for all sorts of digital outreach.
39. Link Research Tools
A suite of tools providing a 360-degree view of your backlink profile.
40. Moz Link Explorer
This tool offers complete link metrics for any website, including Page and Domain Authority.
41. ScrapeBox
It's a tool with a multitude of functionalities, from finding link opportunities to performing bulk URL analyses.
42. G-Lock EasyMail7
It makes managing a large email list simple and efficient.
43. SE Ranking
This tool offers a full suite of link management and backlink analysis features.
44. CognitiveSEO
It provides a complete set of tools needed for a thorough backlink analysis.
45. Pitchbox
This tool simplifies the outreach process, allowing for personalized mass emails and follow-ups.
Decoding the Technical Aspects of SEO Analysis
Analyzing the technical aspects of SEO is essential to maximize your website's performance. The intricate process includes examining factors such as site architecture, URL structure, and page speed that significantly influence how search engines index and rank your web pages.
A critical component of this procedure is carrying out an exhaustive technical SEO analysis with specialized tools. These instruments provide insights into potential issues that might be obstructing your website's visibility on search engines like Google or Bing.
Leveraging Screaming Frog SEO Spider for Thorough Site Crawling
Screaming Frog SEO Spider, one such tool, offers comprehensive crawling capabilities similar to how a spiderbot from a search engine would traverse through websites' URLs. It generates detailed reports suggesting improvements related to both on-page SEO efforts and off-page factors.
Prioritizing Core Web Vital Metrics With Technical SEO Tools
In addition to regular auditing functionalities offered by most SEO tools like Screaming Frog or Ahrefs' Site Audit Tool, Ahrefs' Site Audit Tool, focusing on core web vital metrics has become increasingly important after Google announced them as ranking signals back in May 2023. The three main components are Largest Contentful Paint (LCP), First Input Delay (FID), and Cumulative Layout Shift (CLS). Each represents different aspects contributing towards the overall user experience including loading performance, interactivity readiness time, and visual stability respectively.
Numerous free tools including Google PageSpeed Insights, Web.Dev Measure, a strong part of our recommended essential SEO tools list offer effective methods to measure these key metrics along with actionable suggestions if needed.
This focus ensures visitors have an optimal browsing experience navigating through various sections whether they're reading the latest trekking gear reviews or looking for information on local hiking trails, thereby improving organic rankings too.
Local SEO Tools: A Must for Content Localization
As an outdoor enthusiast running a website or blog, the importance of local SEO cannot be overstated. This strategy allows you to target your content towards potential visitors in specific geographical areas who are interested in localized outdoor activities.
The primary function of local SEO is to help search engines understand where your business operates and which regions it serves. When sharing information about particular hiking trails, camping sites, or other regional outdoor events, this can prove incredibly beneficial.
Selecting Your Local SEO Tool
A range of tools cater specifically to enhancing local SEO efforts exist on the market today. One such tool that comes highly recommended is BrightLocal. BrightLocal provides detailed insights into how well your site performs locally across various search engines while also offering features for competitor analysis, allowing effective benchmarking against similar websites within your niche.
In addition to BrightLocal, another noteworthy tool is Moz Local. Moz Local focuses on improving visibility in local search results by ensuring consistent NAP (Name Address Phone Number) data across all online platforms and directories – a factor crucially important both users and search engines alike consider when determining credibility.
This consistency not only enhances trust but also boosts overall ranking, making these tools invaluable resources worth investing time exploring further.
Incorporating Location-Specific Keywords
To successfully localize content, incorporating location-specific keywords plays a pivotal role. This involves including city names, state names, popular landmarks, and even unique regional phrases related to outdoor activities within written material. If writing about surfing spots along California's coastline, using terms like "best surf breaks Southern California" might yield better results than generic terms like "surfing spots".
Leveraging Online Reviews And Ratings
An aspect often overlooked yet integral part of any successful localization strategy revolves around managing online reviews and ratings as they significantly contribute to building trust among prospective visitors. Towards encouraging positive feedback, ensure each piece of content adds value, whether through providing comprehensive guides, tackling challenging hikes, tips for packing gear effectively, and so.
Unlocking Off-Page SEO with Effective Tools
While on-page optimization is crucial for your website's visibility, off-page factors play an equally important role in determining how search engines perceive and rank your site. This involves strategies beyond the confines of your own web pages, including backlinks from other sites, social media engagement, influencer partnerships, and more.
To streamline these tasks effectively while ensuring that you stay ahead in the competitive landscape of outdoor activities websites or blogs, you need some essential SEO tools tailored specifically to enhance off-page SEO efforts.
Diving into Backlink Analysis with Ahrefs
Ahrefs, a well-regarded paid tool among many SEO enthusiasts, offers comprehensive features focused on backlink analysis. It allows users to monitor which websites are linking back to theirs (known as "backlinks"), evaluate their quality and relevance, and identify potential opportunities for new ones.
A robust profile comprising high-quality relevant backlinks significantly impacts how search engines view the credibility and importance attached to any given site. Therefore, using platforms like Ahrefs can help outdoor enthusiasts not only improve but also maintain their reputation over time, thus boosting overall SEO performance and eventually leading to improved organic rankings within various search results.
Leveraging Social Media Engagement via Buzzsumo
Social media indirectly influences ranking through content promotion, resulting in increased visibility. This contributes positively to improving off-page SEO metrics such as traffic volume, among others.
BuzzSumo, another handy tool, helps track shares across different networks, providing insights into what kind of content resonates best among target audience groups, whether they are hikers looking up trail reviews or campers seeking equipment recommendations. So, whether it's posting captivating images of scenic camping spots or sharing helpful tips on hiking trails, leveraging the power of BuzzSumo will certainly aid in refining your strategy, enhancing user engagement rates, and subsequently boosting your online presence, ultimately improving your score in the long run as well.
FAQs in Relation to Best Seo Tools
What is the most effective tool for SEO?
Ahrefs stands out as an incredibly comprehensive and powerful SEO tool, offering features like keyword research, backlink analysis, and technical SEO audits.
What is the #1 SEO technique that is currently getting the best results?
The focus on Core Web Vitals metrics by Google has made optimizing user experience a top-ranking factor in 2023.
What are your top 5 SEO recommendations?
Incorporate keywords naturally, optimize meta tags, ensure mobile-friendliness, improve page loading speed, and create high-quality content regularly to boost your site's visibility.
What should I look for in an SEO tool?
An ideal SEO tool provides detailed analytics reports, helps with keyword research & competition analysis while also assisting in tracking website performance over time.
Conclusion
Unleashing the power of SEO can be a game-changer for your outdoor activities website.
Free instruments, such as Google Search Console and Bing Webmaster Tools, can grant you useful data about your site's presentation.
Paid services such as Ahrefs, SEMrush, and Moz Pro take things up a notch with advanced features for in-depth analysis.
The magic of keyword research can't be underestimated, especially when it comes to optimizing content related to outdoor pursuits.
Technical aspects are equally important; tools like Screaming Frog SEO Spider make technical audits straightforward and effective.
Incorporating local SEO strategies is key if you're targeting specific locations or events.
Maintaining optimal user experience by monitoring core web vital metrics will keep visitors coming back for more.
Join us on this journey towards improved visibility, increased traffic, and engaging content creation all aimed at enhancing your love for all things outdoors.