The Best Ski Poles of 2023: A Guide for Different Skiing Styles
Ski poles aren't just accessories to your skiing adventure. Choosing the appropriate ski pole is just as crucial as selecting the correct ski size. They're the game-changers that elevate your performance and comfort on the mountain.
Whether you're conquering powder or exploring the backcountry, finding the perfect pole with the right materials and design is key to unlocking your optimal balance, technique, and pure joy on the slopes. So, gear up and get ready for an unforgettable skiing experience that's tailored to you!
So what makes a ski pole perfect for your skiing style, budget, and performance needs? Read on to discover how to find the perfect pair for you.
This comprehensive guide will explore different skiing styles, pole materials, and features to consider. From downhill to backcountry ski poles, park skiing to split boarding, we have you covered!
Top Ski Poles for Different Skiing Styles
Understanding the unique requirements of each skiing style is crucial in determining your needs. It caters to different skiing styles and preferences. Let's explore these styles in more detail and unveil the top for each category. Check out the latest article on ski poles for 2024.
Downhill
Downhill skiing demands downhill poles prioritizing durability, comfortable grips, and appropriate baskets for various snow conditions. Fixed-length aluminum poles are the most popular choice among downhill skiers due to their robustness and economical price. A solid aluminum pole featuring comfortable grips and interchangeable baskets is ideal for ski mountaineering, ensuring resilience and optimal performance on resort slopes.
The Leki Detect S
The Leki Detect S is our top recommendation for downhill ski poles in 2023. Here's why:
Durable aluminum construction

Lower price compared to full carbon designs

Excellent value for money

Innovative Trigger S system for easy detachment of the strap from the pole, ensuring safety in case of an unexpected snag or impact.
Volkl Phantastick FR Poles
When it comes to fixed-length poles, one downside is transportability. Fitting in fixed poles can be challenging if your ski bag is already full.
Therefore, adjustable poles like the Volkl Phantastick are a great alternative. Not only do they fit in any ski bag, but their adjustable length can also help you customize the length of your pole for different terrain.
The Volkl Phantastick is made with an aluminum alloy that makes it lightweight and durable, so you won't have to worry about sacrificing quality for convenience.
With the Volkl Phantastick, having the right size pole is as easy as a twist to hit the slopes without a worry. It offers versatility and ease of use for various skiing styles and conditions.
Backcountry
For backcountry skiing enthusiasts, the best backcountry pole requires lightweight materials, adjustability, and comfortable grips for extended use. They feature comfortable padding on the handles and adjustable straps to ensure a secure fit. The length of these backcountry ski poles can be adjusted to suit different terrain, from steep slopes to flat hillsides. Featuring extended tips with steel spikes for gripping the snow, these poles provide superior stability during even the most extreme conditions. Backcountry ski mountaineering poles will help you have a safe and successful outdoor experience!
Leki Helicon Lite
The Leki Helicon Lite stands out as the best backcountry ski poles of 2023. Our experts highly recommend it for outdoor skiing trips. Key features of the Leki Helicon Lite include:
Comfortable grip

35 centimeters of length adjustment

Enhanced durability

Comparatively low weight
This pole is ideal for backcountry skiing adventures, especially in deep snow. Additionally, the Helicon Lite features an ice/snow scraper on the powder basket, providing added convenience during your backcountry ski touring excursions.
While adjustable ski poles offer optimization for uphill and downhill use, packability, and hands-free convenience, they come with a higher price tag and a less resilient construction due to their lightweight materials.
Telescoping poles, such as the Leki Helicon Lite, strike a balance between weight, strength, and versatility, making them an excellent choice for backcountry skiers.
Dynafit Speed Vario 2
The Speed Vario 2 carbon fiber pole is the perfect choice for all of your activities. It features a lightweight and durable construction that will last you for years to come.
With adjustable length settings, an ergonomic grip, and an easy-to-use locking system, this pole offers maximum comfort and flexibility in any terrain. Whether you're hiking, trekking, or skiing, the Speed Vario 2 is sure to give you the support you need. And with its matte black finish, it adds a touch of style to any outdoor adventure.

The Speed Vario 2 also features an advanced shock absorption system that helps reduce the impact on joints and muscles. This is especially beneficial when trekking over rough terrain or during long days of skiing. With an anti-shock spring that can be adjusted based on the terrain you are traversing, the Speed Vario 2 ensures maximum comfort and stability even in the most demanding conditions.
To top it off, its adjustability also means that the pole can easily accommodate different heights and preferences for a personalized fit. So go ahead – push your limits with one of the top choices for backcountry poles.
Splitboarding
Splitboarding poles focus on lightweight materials, compact design, and easy length adjustment for efficient climbing and descending.
When choosing splitboarding poles, consider the components' weight, the construction's size, and the length alteration facility. These factors will be crucial in your comfort and performance while tackling challenging backcountry terrain.
MSR DynaLock Ascent Carbon
The MSR DynaLock Ascent Carbon splitboarding pole is an excellent example, offering a lightweight, portable, carbon-fiber construction with secondary grips, comfortable wrist straps, 20 cm of length adjustability, and large powder baskets. It is a great choice for riders who want a lightweight, reliable pole that won't weigh them down.
The design is simple yet effective, and the adjustable length allows you to customize the size to your preferences.
The powder baskets are large enough to provide stability in difficult terrain, and the secondary grips allow you to have a secure grip when traversing steep slopes.
The DynaLock Ascent Carbon splitboarding pole is an excellent choice for any backcountry enthusiast looking for a reliable, lightweight pole.
Voile Camlock 3 Touring Pole
Voile Camlock 3 Touring Pole offer unique features to enhance your splitboarding experience skiing steep terrain.
With their patented Camlock technology, the poles are designed to be adjustable without having to take them apart. This ensures easy and quick setup, while also allowing you to adjust your pole length on the go.
It has an integrated scraper for adjusting splitboard bindings on the skin track, and its extended handle gives you extra leverage when pushing your board up the hill.
The poles also come with an adjustable strap that lets you customize tension for a secure fit. Its light carbon construction is strong yet lightweight, allowing you to explore the backcountry with ease.
Park Ski Poles
Park ski poles are typically shorter, emphasizing durability and resilience for aggressive skiing. While there is no explicit reference specifically for park skiing or freestyle skiing, some leading poles for freestyle skiing include the Volkl Phantastick Carbon, Goode G Carbon, and Grass Sticks Original.
The shorter length and increased resilience make them suitable for tackling jumps, rails, and other park features. When selecting, consider your preferred skiing style, the pole's durability, and how it will withstand the rigors of aggressive park skiing.
As park skiing continues to evolve, so do the designs to cater to this dynamic skiing style. Be sure to choose the one that aligns with your park skiing preferences and provide the durability and resilience necessary for optimal performance.
Goode G Carbon
Goode G-Carbon is one of the best all-around ski poles on the market. It's light, strong, and durable—allowing for easy maneuvering in the snow without sacrificing power or control.
With its ergonomic design, it feels comfortable in your hand while providing a secure grip. The G-Carbon also features an adjustable length and interchangeable powder baskets to match whatever terrain you may encounter.

With its sleek design, the Goode G-Carbon looks as good as it performs! The carbon fiber construction is lightweight and durable, making it a great choice for park skiing.
Our innovative and flexible shafts leverage the inherent shock-absorbing capabilities of the carbon blend material. They offer a perfect combination of lightweight design and firm performance while minimizing "kickback" for improved balance. Additionally, they provide enhanced comfort and reduce strain on hands, wrists, elbows, and shoulders.
Volkl Phantastick Carbon Poles
Volkl Phantastick Carbon Poles provide reliable, lightweight performance for racing and recreational skiing.
The unique shaft construction of carbon and Kevlar delivers a strong, yet soft flex that is perfect for tackling all conditions on the mountain.
Featuring a comfortable grip shape and an adjustable wrist strap to ensure a personalized fit, the Phantastick Carbon poles help make ski adventures easier, safer, and more enjoyable! With its durable construction and superior design, the Phantastick Carbon is truly a must-have for any serious skier.
Choosing the Best Length
Selecting the appropriate length is crucial for achieving equilibrium and fluidity while progressing down the mountain and transitioning between turns. You can reference general size charts or visit the website directly to find the best-fitting option. The general principle for selecting the right length is to ensure that your arms are positioned at a right angle on the grips when the poles are upright.
Different skiing styles may require different ski pole lengths. For instance, backcountry skiers may prefer slightly shorter poles for better maneuverability, making adjustable poles a popular choice.
Regardless of your skiing style, selecting the right ski pole length is essential for optimal balance, technique, and comfort throughout your skiing adventures.
Material Choices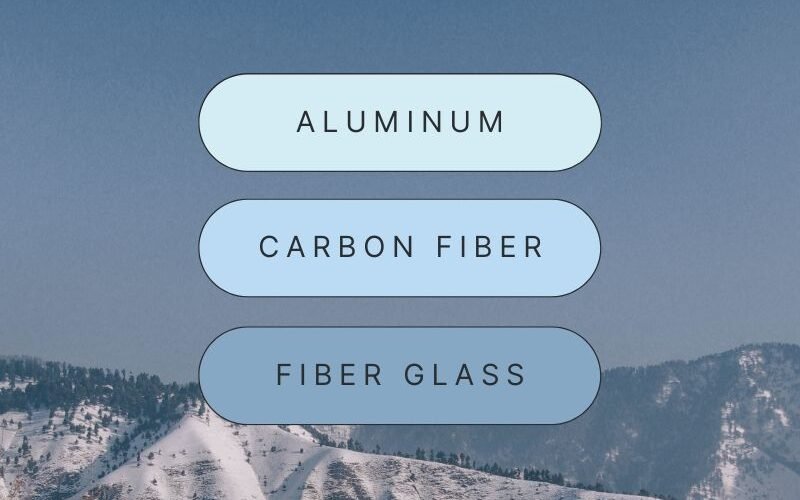 Ski poles can be constructed from various materials, including:
Aluminum: robust and economical, making them an ideal choice for resort skiing and tackling challenging inclines. However, not all aluminum pole are of the same quality, and some may not be as strong and long-lasting as others.

Carbon fiber: lightweight and strong, providing excellent performance and durability. However, they tend to be more expensive.

Fiberglass: a good balance between strength and flexibility, offering a comfortable and responsive feel. They are also more affordable than carbon fiber poles.
Each material has unique advantages and disadvantages, so it's important to consider your skiing style and preferences.
Carbon fiber ski poles are much lighter than aluminum poles. They provide a small amount of natural flexibility not present in stiffer poles. However, carbon fiber poles are less resilient than aluminum and can fracture and splinter when subjected to excessive stress. Fiberglass poles, however, provide a weight reduction without the high cost associated with carbon fiber.
When selecting, consider your skiing style, performance needs, and budget. Each material offers unique benefits and drawbacks, so choose the one that best aligns with your ski gear, preferences, and requirements.
Grip Design and Comfort
Your ski poles' grip design and comfort play a crucial role in your overall skiing experience. It is typically constructed from plastic, cork, or rubber, catering to various preferences and hand sizes. Ergonomic and extended grips are particularly popular among backcountry skiers and those who require additional comfort and support during extended ski sessions.
It is important to wear ski gloves when trying out various ski pole grips. This allows an accurate perception of how they will feel while skiing on the mountain. Factors such as glove compatibility, grip material, and design will impact your skiing comfort and performance. Since skiing involves holding your pole with a glove or mitt, the choice of grip material becomes even more crucial than it does with a trekking pole.
Remember, the perfect grip for one skier may not necessarily be the perfect grip for another. Be sure to experiment with different grip designs and materials to find the one that best suits your preferences and skiing style.
Strap Features and Functionality
Ski pole straps are essential in ensuring that your poles remain securely affixed to your wrists during your skiing adventures. Some manufacturers incorporate safety features into their ski pole straps, such as a spring that allows the pole to be released from the strap in case of a snag or major impact.
Detachable straps, which separate in the occurrence of significant impact, are advantageous for intense alpine skiing, steep snow climbing, or when considerable falls are a probability. When selecting pole straps, the paramount consideration is compatibility with your ski gloves. By encircling your hands around the surplus of the straps, you can also safeguard yourself from sustaining broken thumbs in the event of a fall.
Shaft Diameter and Strength
The shaft diameter and material of your ski poles directly impact their strength and weight per pair, which in turn affects your performance on the mountain.
Here are some key points to consider.
Ski pole shafts can vary in diameter, with the most common sizes being 14mm, 16mm, and 18mm.

Aluminum, carbon fiber, and fiberglass are common materials used for ski pole shafts.

Aluminum poles are durable and affordable, but they can be heavier.

Carbon fiber poles are lightweight and offer excellent performance, but they tend to be more expensive.

Fiberglass poles are a good middle ground, offering a balance of weight, durability, and cost.
You can choose ski poles that best suit your needs and preferences by understanding the different options available.
When selecting a ski pole based on skiing style and preferences, consider the type of skiing you engage in and how the shaft diameter and material will affect your performance. For instance, downhill skiing necessitates a more rigid pole than backcountry skiing.
Basket Varieties and Snow Conditions
Ski pole baskets prevent the pole from fully sinking into the snow, ensuring optimal performance in various snow conditions. The two primary types of ski pole baskets are the standard and powder baskets varieties, each designed to cater to different snow conditions and skiing styles.
Standard baskets are more suitable for groomed trails and hardpack, while powder baskets are designed for light and soft snow conditions. Possessing a powder and a hardpack basket on your ski poles facilitates optimal performance in varying snow conditions, allowing you to adapt your poles to suit the terrain and conditions.
How to Care for Your Ski Poles
Proper care and maintenance of your ski poles ensure their longevity and optimal performance. After each use, wipe and dry your ski poles to eliminate any dirt or debris. If your ski poles develop rust, use a rust remover or sandpaper to eliminate it and prevent further damage.
Keep your ski poles in a dry and temperate environment, preferably in a flat position. During skiing, utilize your poles for balance and turns by maintaining them close to your body and avoiding striking them against hard surfaces.
Taking care of your ski poles will prolong their lifespan and ensure that they perform at their best during your skiing adventures.
Summary
In conclusion, choosing the right ski poles is crucial for enhancing your skiing experience, whether you're a downhill skier, backcountry enthusiast, splitboarder, or park skier. By considering factors such as skiing style, pole materials, grip design, strap features, shaft diameter, and basket varieties, you can confidently select the perfect ski poles for your unique needs and preferences.
We hope this comprehensive guide has provided valuable insights and recommendations for the top ski poles in 2023. Now that you're equipped with the knowledge and tools to make an informed decision, it's time to hit the slopes and enjoy the thrill of skiing with the perfect pair of poles by your side.
Frequently Asked Questions
Do good ski poles matter?
Good ski poles can make a big difference in your skiing experience. A pole with the right length and weight can provide enhanced balance and control on the slopes while making turns and plantings easier.
Investing in quality ski poles is a wise decision that will pay off throughout your skiing career.
What is the difference between cross country poles?
When choosing cross country ski poles, the main differences lie in weight and material. Entry-level backcountry touring poles are generally made from aluminum, making them not very light but fairly sturdy.
Mid-range poles will have composite material such as carbon, which makes them more lightweight. High-end poles are usually entirely made from carbon for ultimate strength and durability.
Additionally, cross country skiing poles are usually slightly longer than downhill skiing poles.
What is the importance of choosing the right ski pole length?
Selecting an appropriate ski pole length is an essential factor to consider for improving skiing technique and safety, as the poles are a fundamental support tool that aids in finding the perfect stance on the snow.
The length of the ski pole should be determined by the skier's height and the type of skiing they are doing. For alpine skiing, the ski pole should reach the skier's armpit when standing upright. For cross-country skiing, the pole should reach the skimmer.
What are the primary factors to consider when selecting backcountry ski poles?
When selecting backcountry ski poles, it is important to consider the pole's durability, ergonomic grip, locking mechanism, adjustability, and weight. These features all contribute to a successful and enjoyable backcountry skiing experience.
What are ski poles for?
It is for helping you navigate the mountain, they also help with balance and ski form. Pole planting is the act of keeping your hands up, swinging the pole forward, and using it to initiate your turn while skiing. And the most important benefit is improved balance. For novice skiers, utilizing the downhill pole as a "pole plant" serves as a reliable reference point for executing precise turns. This technique enhances control and maneuverability while navigating tighter corners on the slopes.