The Best Gore-Tex Shoes For Your Outdoor Adventures: The 2024 Footwear Guide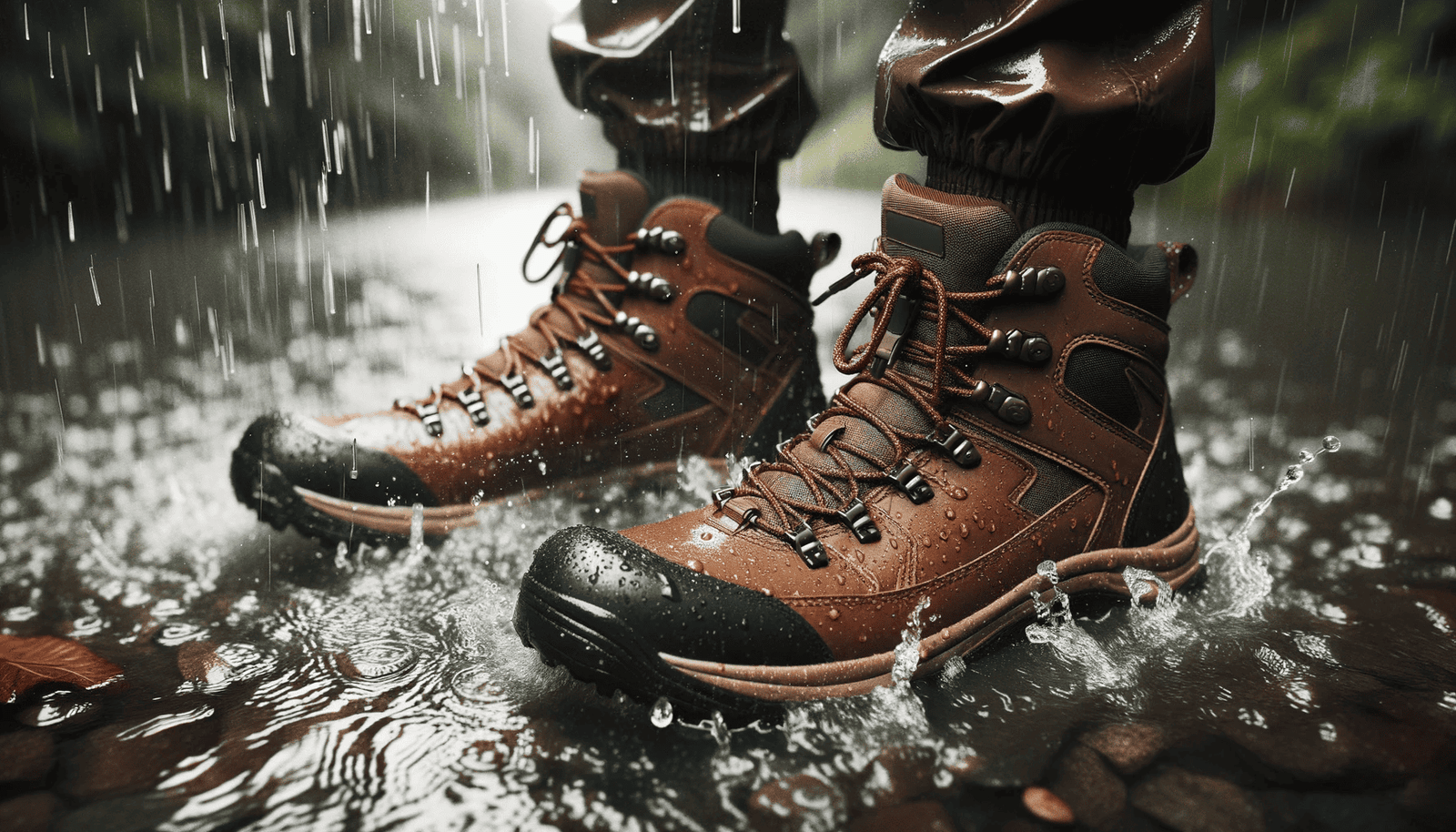 Are you looking for the best gore-tex shoes for your next outdoor adventure? Choosing the right footwear ensures a comfortable and safe outdoor trip. Gore-Tex is known for being a waterproof, windproof, and breathable fabric membrane. After conducting interviews with expedition guides in the Arctic, thorough research, and drawing from personal experience, we have compiled a curated list of the top gore-tex shoes for your outdoor adventure.
Whether you're hiking up a rugged mountain trail or navigating through damp terrain, we've got you covered. We list down the top-rated comfortable shoes that offer versatility and exceptional value. Once you've determined your preferred option, it's worth exploring our article on the waterproof socks showdown and best gore-tex jacket for different outdoor activities ensuring adequate protection from head to toe, to avoid discomfort during outdoor activities. We also prepared a comparison table and buyer's guide to make sure you have all the information you need to make the choice that suits you best.
Disclaimer: ItsCherieGonzales includes affiliate links and when you purchase through these links, I may receive a small commission at no additional cost to you. As an Amazon Associate I (ItsCherieGonzales) earn from qualifying purchases. Learn more
Best Hiking Gore-Tex Shoe for Men: Hoka Kaha 2 GTX
Best Hiking Gore-Tex Shoe for Women: La Sportiva Ultra Raptor II Mid GTX
Best Comfortable Gore-Tex Shoes: Moab 3 Mid GORE-TEX®
Best Lightweight Technical Hiker: Salomon X Ultra 4 Gore-Tex
Best for Rugged Terrain: L.L. Bean Cresta GORE-TEX Hiking Boots
Best Everyday-Hiker Crossover: Danner Mountain Pass Hiking Boots
Best Hiker-Runner Crossover: Adidas Terrex Free Hiker 2.0 Low Gore-Tex
Best Trail Running Gore-Tex Shoe: Arcteryx Norvan LD 3 GTX SHOE
Best Hiking Gore-Tex Shoe for Men
Hoka Kaha 2 GTX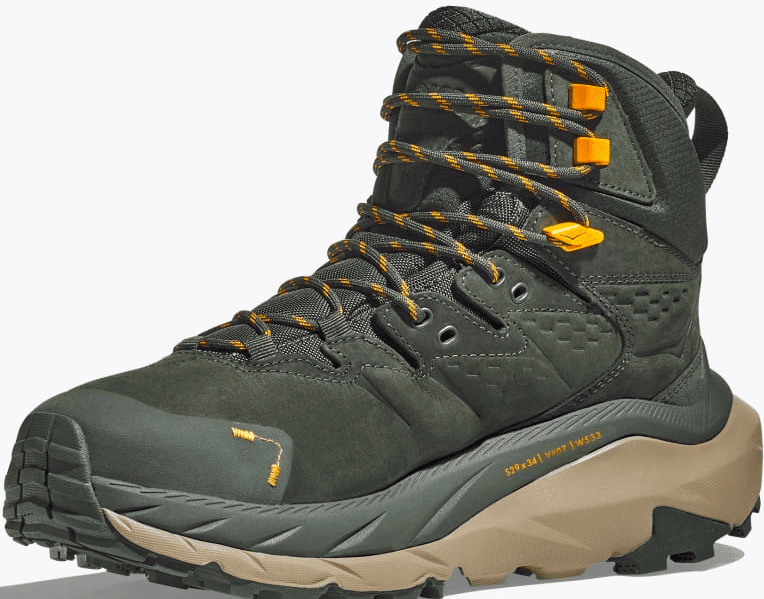 The Kaha 2 GTX is a type of hiking shoe that's designed to be very comfortable and effective on trails. Offering a unique blend of durability and eco-friendliness. Its design includes a HUBBLE® heel with SwallowTail™ geometry and Vibram® Megagrip rubber with 5mm Traction Lug for enhanced grip on rugged terrains. The waterproof leather exterior and GORE-TEX fabric keep your feet dry, while the dual-density CMEVA midsole and late-stage MetaRocker™ offer cushioning for long walks. Quick-lace metal top hooks and abrasion-resistant toecap and heel provide added protection. Also, it's environmentally conscious with 45% recycled content by weight, including recycled polyester components and a molded PU sockliner with 50% soybean oil, making it a sustainable choice for the eco-aware adventurer.
Price: $240
Weight: 16.80 oz
Heel to Toe Drop: 6.0 mm
Pros:
Cons:
Best Hiking Gore-Tex Shoe for Women
La Sportiva Ultra Raptor II Mid GTX

This hiking boot is crafted for adventurers seeking a lightweight yet sturdy footwear option, ideal for handling light to medium loads with trail-running-inspired agility. Featuring Gore-Tex lining, it ensures waterproof protection while maintaining breathability. It's recommended to order 1 SIZE UP for normal or large feet, and 1/2 SIZE UP for smaller feet, with both Regular(C) and Wide(D) widths available. The Frixion XT 2.0 Outsole coupled with the Impact Brake System offers exceptional grip on challenging terrains, while the anti-shock rubber toe cap provides extra protection. For enhanced stability on long treks across uneven grounds, it boasts a comfort collar for ankle support and a reinforced heel cup.
Price: $199
Fit: Medium Width/Medium Volume
Trail Use: Day/Weekend Hiking
Hiking/ Load Support: Overnight-Light Daypacks
Weight: 13.09 oz
Heel to Toe Drop: 12 mm
Pros:
Cons:
Best Comfortable Gore-Tex Shoes
Moab 3 Mid GORE-TEX
This versatile, all-terrain marvel sets a new benchmark in rugged durability and unparalleled stability. With GORE-TEX® technology, enjoy dry comfort in all conditions. It's not merely a hiking boot; it's Moab's legendary legacy, evolved. The mid-height design lends extra ankle support on rugged trails, while the GORE-TEX® membrane ensures breathability and waterproof excellence. Crafted with gold-rated leather, it offers enduring style. The Kinetic Fit™ Advanced footbed, Vibram® TC5+ outsole, Merrell Air Cushion, and protective rubber accents ensure a confident, comfortable stride. The boot also has a bellows tongue that helps keep out debris. Plus, with 100% recycled laces, webbing, and mesh lining, it's the most eco-conscious Moab yet.
Price: $170
Trail Type: Rugged
Weight: 16.36 oz
Heel to Toe Drop: 11.5 mm
Pros:
Cons:
Best Lightweight Technical Hiker
Salomon X Ultra 4 Gore-Tex
Experience the robust waterproof and breathable shield of GORE-TEX® with the updated X ULTRA 4 GORE-TEX hiking shoes, inspired by Salomon's trail-running heritage. They are lightweight, aiding your agility on uneven grounds. The SensiFit™ system offers a near-customized fit, while the Active Support "mobile wings" adapt to your feet's shape and movement. The ADV-C chassis enhances stability without hindering flexibility, and the Contagrip® MA outsoles ensure a confident grip on various terrains, whether wet or dry. These shoes are designed not just to endure ascents and descents, but to empower you through them, marrying the agility of a trail runner with the ruggedness needed for technical trails.
Price: $160
Trail Type: Rugged, Mixed Terrain
Weight: 13.75 oz
Heel to Toe Drop: 11 mm
Pros:
Cons:
Best for Rugged Terrain
L.L. Bean Cresta GORE-TEX Hiking Boots
Experience unmatched comfort, superior performance, and robust construction with these leather GORE-TEX hiking boots, making them our top choice for backpacking adventures. The full-grain leather exterior paired with a waterproof lining ensures lasting durability and support, whether on extended expeditions or daily hikes, in any weather condition. Acclaimed by gear reviewers and field testers, these boots stand out in performance. The waterproof Italian full-grain leather upper pairs with a breathable GORE-TEX lining for dry comfort. Included are two sets of laces for style versatility, and a Vibram rubber sole offering dependable traction, making them ideal for rugged day hikes to lengthy backpacking journeys.
Price: $ 299
Trail Type: Rugged
Fit: Fit best with heavyweight socks
Weight: 3lb. 8oz.
Heel to Toe Drop:
Pros:
Cons:
Best Everyday-Hiker Crossover
Merrell Moab Speed 2 GTX SE
Introducing the Moab Speed 2 GTX SE, Merrell's latest stride in hiking innovation, blending the expertise from the acclaimed Merrell Moab hiking boot with global athletic hiking advancements. Experience enhanced grip with the special Vibram TC5+ rubber and a new lug design, alongside a 30% foam increase for supreme comfort. Breathability is finely tuned from insights of Merrell's top-selling trail runners. Below, a secure heel fit and rock plate boost your trail confidence, while Gore-Tex keeps your feet dry in harsh weather. This model showcases a breathable mesh, TPU upper, recycled laces, a debris-blocking bellows tongue, and a Vibram® Ecostep Recycle outsole for dependable traction and eco-friendly durability. Merrell's collection of trail-ready sneakers is perfect for all terrains, but this all-white pair has a casual flair that seems tailor-made for city strolls.
Price: $175
Weight: 11.46 oz (half pair weight)
Heel to Toe Drop: 10 mm
Lug: 4mm
Pros:
Cons:
Best Hiker-Runner Crossover
Adidas Terrex Free Hiker 2.0 Low Gore-Tex
LIGHTWEIGHT, LOW-CUT, WATERPROOF GORE-TEX HIKING SHOES. Whether you want to go on a brief hike or a multi-day expedition with Adidas Terrex Free Hiker 2.0 Low GORE-TEX Hiking Shoes, it makes every step enjoyable. Merging the lightness of trail runners and the sturdiness of hiking boots, they are the perfect companion for all hiking adventures, near or far. The waterproof, breathable GORE-TEX membrane ensures dry comfort through wet trails, while an EVA frame provides stability on rocky terrains. Regardless of the distance, the energy-boosting cushioned midsole offers enduring comfort throughout your outdoor explorations.
Price: $180
Weight: 15.5 oz
Heel to Toe Drop: 10mm
Lugs: 4.7mm
Pros:
Cons:
Best Trail Running Gore-Tex Shoe
Arcteryx Norvan LD 3 GTX SHOE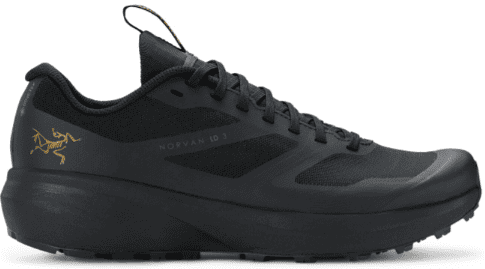 Built for year-round running over any distance, the Norvan LD 3 GTX is your go-to pair for enduring comfort. Its upper features GORE-TEX technology ensuring breathability and protection even in wet conditions. With a dual-layer internal design to reduce friction and a spacious toe box for splay, your feet remain comfy. Shock-absorbing heel and forefoot stack, coupled with lightweight yet durable Vibram® Litebase sole and InFuse® midsole, enhance the running experience. The Vibram® Megagrip outsole, boasting a rugged 4mm lug pattern, provides a reliable grip on muddy trails, making it a durable, lightweight, and reliable trail running companion.
Price: $200
Weight: 10 oz (half pair)
Heel to Toe Drop: 6mm
Lugs: 4mm
Pros:
Cons:
Buyer's Guide:
What to Look for in a Gore-Tex Shoe
Investing in a pair of Gore-Tex shoes is a wise decision for anyone seeking to combine comfort with durability in challenging outdoor conditions. Below are the crucial factors you should consider:
Support
Arch Support: The arch of your foot acts as a natural shock absorber. Proper arch support in a shoe helps to distribute the weight of your body across your feet and legs, mitigating the risk of common foot ailments like plantar fasciitis. It's essential to find a Gore-Tex shoe that provides adequate arch support, especially if you plan on embarking on long hikes or walks. The support will help maintain your body's alignment and prevent fatigue.
Ankle Support: Ankle support is very important, especially on uneven terrains where there's a higher risk of twisting an ankle. High-top Gore-Tex shoes provide better ankle support by keeping the ankle aligned, reducing the chance of injuries. The additional support can also alleviate strain on the ankles during long walks, providing a more comfortable experience.
Weight
The weight of your shoe can significantly impact your energy levels throughout your activity. Lightweight Gore-Tex shoes are preferable for long distances as they help reduce fatigue. However, they shouldn't compromise on essential support or durability features. It's about finding the right balance between weight and functionality. Heavier models might offer better support and durability, making them suitable for rough terrains or carrying heavy packs.
Water Resistance
One of the hallmark features of Gore-Tex shoes is their water resistance. The Gore-Tex membrane boasts microscopic pores that block water droplets from entering the shoe while allowing moisture vapor (sweat) to escape. This technology keeps your feet dry in wet conditions, enhancing comfort and preventing blisters. Ensuring the Gore-Tex membrane encases the shoe adequately is crucial for optimal water resistance.
Durability
Gore-Tex shoes are known for their durability. Look for models with reinforced stitching, quality materials like full-grain leather or strong synthetics, and a rugged sole. Durable shoes will withstand the rough and tumble of outdoor use, providing a long-lasting solution for your adventures. Also, check for a robust lacing system that stays secure, and protective toe caps to shield against rocks and roots.
Fit
A proper fit is vital for any footwear. Gore-Tex shoes should have enough room for your toes to wiggle, but not so much that your foot slides around. Your heel should stay in place while walking, and there should be no pinching or rubbing anywhere. A well-fitting shoe prevents blisters, corns, and other foot ailments, ensuring a comfortable walking experience. It's always better to try the shoes first before buying. But if you decide to buy online, make sure to check their return policy and thoroughly research the shoe-is it narrow, wide, or run small for the sizes, before clicking the buy button.
Traction
Traction is vital for safety, especially on wet or uneven surfaces. Look for a sole with deep lugs and a pattern that will grip the terrain well. The rubber compound should also be sticky to provide a grip on wet rocks and logs. Good traction will keep you stable and upright, regardless of the conditions underfoot.
Breathability
Besides being waterproof, Gore-Tex is also breathable which is crucial to prevent sweat accumulation. This feature keeps your feet dry and comfortable, reducing the chance of blisters. Look for models that combine Gore-Tex with other breathable fabrics for enhanced airflow.
Price
Quality Gore-Tex shoes are an investment. They may come with a higher price tag, but the comfort, durability, and protection they offer justify the cost. Investing in a good pair of Gore-Tex shoes can save you money in the long run as they outlast cheaper alternatives, providing value over time.
Insights About Gore-Tex Shoes
Gore-Tex is a remarkable fabric known for its waterproof, windproof, and breathable properties. But honestly, it's not for everyone. Whenever you make a purchase, whether it's gore-tex or not, shell jackets or gore-tex shoes, always remember to prioritize your preference and comfort.
Gore-Tex shoes excel in wet environments, making them perfect for places and weather conditions where moisture, snow, rain, or mud, are a challenge. For instance, Gore-tex shoes are well-suited for full-day excursions when the weather forecast is uncertain.
Key Components
Membrane: The heart of Gore-Tex is its membrane, which contains over 9 billion microscopic pores per square inch. These pores are 20,000 times smaller than a water droplet but 700 times larger than a water vapor molecule, allowing for a unique combination of being waterproof yet breathable.
Laminate: The Gore-Tex membrane is bonded to high-performance textiles to create a laminate. This laminate is then used in various apparel and footwear, providing the protective layer that keeps you dry.
Seam Sealing: Gore-Tex garments and footwear are seam-sealed to ensure complete waterproof protection. This means that every seam is covered with tape to prevent water ingress.
Advantages
Waterproof: The primary advantage of Gore-Tex is its waterproof nature. It provides reliable protection against rain and wet conditions, keeping you dry.
Breathable: Despite being waterproof, Gore-Tex allows sweat vapor to escape, helping to keep you comfortable. This breathability is crucial for active pursuits where sweating is inevitable.
Windproof: Gore-Tex acts as an excellent wind barrier, protecting you from chilling winds which is especially beneficial in cold conditions.
Durable: The material is also known for its durability. Products made from Gore-Tex tend to have a longer lifespan, making them a good investment for outdoor enthusiasts.
Versatile: Due to its properties, Gore-Tex is used in a variety of outdoor gear, including jackets, boots, gloves, and hats, making it a versatile choice for protection against the elements.
Disadvantages
Cost: One of the primary disadvantages of Gore-Tex is its cost. Products made with Gore-Tex tend to be more expensive due to the high-quality materials and construction.
Heat Retention: While breathable, in very hot conditions, Gore-Tex might retain more heat than other breathable fabrics, potentially leading to discomfort.
Less Breathable than Some Alternatives: There are materials on the market that offer better breathability than Gore-Tex, although they may not provide the same level of waterproof protection.
Care and Maintenance
Ensuring a long lifespan for your Gore-Tex footwear involves regular care and maintenance. Here's a quick guide to keep your shoes performing at their best:
Cleaning
Regular Cleaning: After each use, especially after hiking on muddy trails, it's essential to clean your Gore-Tex shoes. Remove any dirt, mud, or debris using a soft-bristle brush.
Deep Cleaning: For more thorough cleaning, use specialized footwear cleaning products or mild soap and warm water. Remove the insoles and laces before cleaning.
Drying
Never dry your Gore-Tex shoes by a direct heat source as it can damage the material. Allow them to air dry at room temperature. Stuffing newspaper or towels inside the shoes can help absorb moisture and maintain their shape.
Waterproofing
DWR Coating: Gore-Tex shoes come with a Durable Water Repellent (DWR) coating that wears off over time. Reapply a DWR spray when water stops beading up on the surface.
Waterproofing Products: Use products designed for waterproof breathable footwear to restore water repellency without blocking breathability.
Storage
Store your Gore-Tex shoes in a cool, dry place away from direct sunlight. Avoid storing them in plastic bags or sealed containers which can trap moisture and promote mildew growth.
Avoiding Damage
Avoid contact with solvents, oils, and harsh chemicals as they can damage the Gore-Tex membrane. Also, avoid excessive bending or folding of the shoes to maintain the integrity of the membrane.
Regular Inspection
Inspect your shoes regularly for any damage, paying particular attention to the sole, seams, and the Gore-Tex membrane. Early detection of issues can prevent bigger problems down the line.
Professional Repairs
If your Gore-Tex shoes get damaged, especially the membrane, consider getting them repaired professionally. Some damages may be covered under warranty, so check with the manufacturer.
Replacing Insoles and Laces
Over time, the insoles and laces of your Gore-Tex shoes will wear out. Replacing them can extend the life of your shoes and enhance comfort.
For a detailed guide, check out our article on how to properly maintain and care for Gore-Tex gear.
How to Choose The Right Footwear for Different Terrains
Selecting the correct footwear for your outdoor adventures is crucial as it can significantly impact your comfort, safety, and overall experience. Here's a more detailed guide tailored for different terrains:
Flat or Smooth Trails
When you're walking on flat or smooth trails, comfort is key. In such terrains, a pair of walking shoes or trail runners is ideal. Look for shoes with a soft cushion to absorb shock with each step, and a snug fit to prevent any blisters. The soles do not have to be very stiff, but they should provide enough traction to keep you stable.
Rocky or Rugged Terrains
Rocky terrains demand footwear that provides excellent support and protection to your feet. Hiking boots or shoes with stiffer soles are perfect as they shield your feet from sharp rocks and provide the necessary traction to prevent slipping. The sturdy construction of hiking boots also ensures they remain durable despite the rough terrain.
Wet or Slippery Trails
Wet trails require water-resistant or waterproof footwear to keep your feet dry. Shoes with Gore-Tex lining are great for these conditions. Additionally, the soles should have aggressive traction to prevent any slipping on muddy or wet surfaces, ensuring you remain stable even in slippery conditions.
Snowy or Icy Trails
For snowy or icy trails, insulated and waterproof boots are essential to keep your feet warm and dry. High-ankle boots are preferred to keep snow out, and the soles should be designed to grip well on icy surfaces to prevent slipping.
Mixed Terrains
If you're planning to traverse mixed terrains, versatile hiking boots are a wise choice. Look for mid-boots with good traction, water resistance, and enough support to handle different terrain types. They should be durable enough to withstand varying trail conditions and keep your feet comfortable.
*Sole rigidity is about how stiff or flexible the sole of the footwear is. Stiff soles, often found in hiking boots, provide better support on rugged terrains. In contrast, flexible soles, common in trail runners or walking shoes, are more comfortable on smooth trails.
*When carrying a light pack, the strain on your feet is minimal, allowing for more flexibility in footwear selection. You might opt for lightweight trail runners or hiking shoes which offer comfort and enough support for lighter loads. On the other hand, a heavy pack increases the demand for support and stability from your footwear to distribute the weight efficiently and maintain balance. Here, sturdy hiking boots with good ankle support and stiffer soles are ideal. They help in preventing foot fatigue and provide the necessary support to carry heavy loads safely.
Summary
Choosing the right pair of Gore-Tex shoes can significantly elevate your outdoor experience, providing comfort and protection against harsh elements. Understanding the features, benefits, and maintenance required for Gore-Tex footwear empowers you to make an informed decision. With proper care, your investment in Gore-Tex shoes will support many adventurous journeys, keeping your feet dry and comfortable, come rain, snow, or the rugged trail ahead. Your adventure is bound to be more enjoyable with the right pair of Gore-Tex shoes aiding every step of your journey.
FAQs
What makes Gore-Tex shoes waterproof?
The microscopic pores in the Gore-Tex membrane make these shoes waterproof. The pores are small enough to block water droplets but large enough to allow vapor to escape.
are gore-tex shoes 100% waterproof?
Gore-Tex shoes are designed to be waterproof and do an excellent job of keeping water out under normal conditions. However, no shoe can be considered 100% waterproof in all circumstances, as extreme conditions or wear and tear over time can potentially compromise the waterproof integrity.
How can I clean my Gore-Tex shoes?
Use a soft-bristle brush to remove dirt and debris, and for deeper cleaning, use mild soap and warm water.
Can Gore-Tex shoes be repaired?
Yes, some damages to Gore-Tex shoes can be professionally repaired. It's advisable to check the warranty and consult the manufacturer.
How often should I reapply a DWR coating?
Reapply the DWR coating when you notice water stops beading on the surface of your shoes.
Are Gore-Tex shoes suitable for all weather conditions?
Gore-Tex shoes are ideal for wet, snowy, or windy conditions due to their waterproof, windproof, and breathable properties. However, in very hot conditions, they might retain more heat compared to other breathable fabrics.