Best GORE-TEX Jackets for Different Outdoor Activities
The Gore-Tex jacket is a remarkable gear that has revolutionized the outdoor clothing industry. It's not just a fabric; it's a technology that ensures comfort in various weather conditions while embarking on outdoor adventures. In this article, we classify jackets according to various activities and present our top picks for the best choice, best value, and premium options. Alternatively, you can also explore our feature on Gore-Tex snowboard jackets to discover our expert recommendations for an exceptional snowboarding experience. Once you have picked your preferred jacket, you can also go through our article about the best gore-tex shoes for complete protection from head to toe.
Related: Best Gore-tex Ski Jacket for 2023-2024
Best Gore-Tex Men's Jacket
"As an Amazon Associate I (ItsCherieGonzales) earn from qualifying purchases."
Best Gore-Tex Jacket For Hiking and Backpacking
Arc'teryx Beta AR Jacket
REI Co-op XeroDry GTX Jacket
Norrøna Trollveggen Gore-Tex Pro Light Jacket
Best Gore-Tex Jacket For Skiing And Snowboarding
Norrøna Lofoten Gore-tex Pro 2024
Burton Gore-tex Pillowline 2024
Arcteryx Sentinel Jacket
Best Gore-Tex Jacket For Running
R5 GORE-TEX INFINIUM™ INSULATED JACKET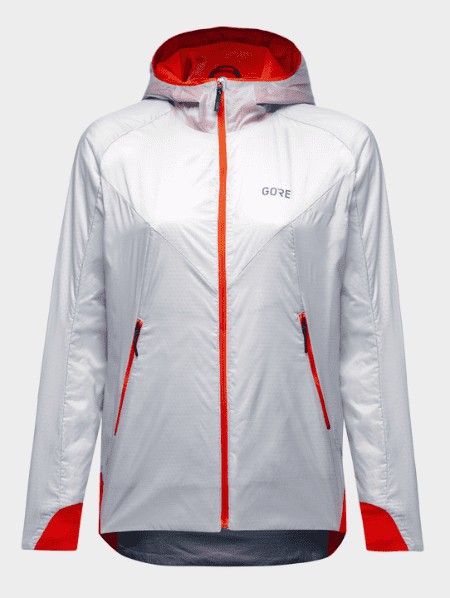 R3 PARTIAL GORE-TEX INFINIUM™ JACKET
Arc'teryx Norvan LT Hoody Lightweight Gore-Tex Trail Run Shell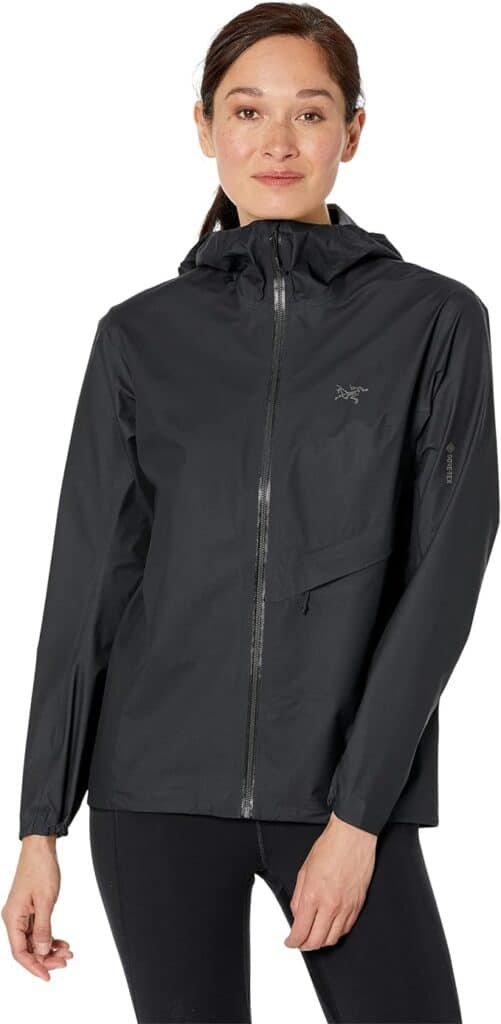 Best Gore-Tex Jacket For Cycling
GORE WEAR Race SHAKEDRY Jacket
C5 GORE-TEX ACTIVE JACKET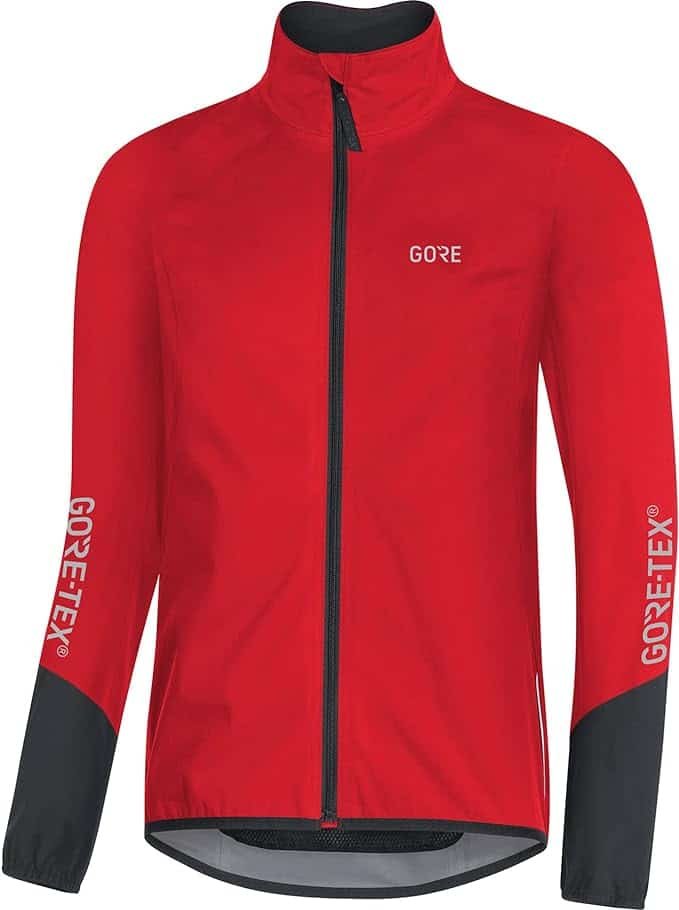 RAPHA BREVET Gore-Tex Rain Jacket
What is Gore-Tex?
Gore-Tex is a waterproof, breathable fabric membrane and a registered trademark of W. L. Gore & Associates. Invented in 1969, Gore-Tex has the unique ability to repel liquid water while allowing water vapor to pass through. It's a patented type of waterproof fabric made with a variant of polytetrafluoroethylene (PTFE) known as expanded PTFE (ePTFE)2.
The core of GORE-TEX's cutting-edge technology involves an extremely thin membrane that's durably waterproof, windproof, and breathable. This membrane has over nine billion pores per square inch3.
Types of Gore-Tex Jackets
Gore-Tex jackets come in several varieties, each designed to meet specific needs and conditions. According to the information I found, here are the primary types of Gore-Tex jackets:
Original Gore-Tex Products
Durably waterproof: Gore-Tex membranes are made of microscopic pores that are large enough to allow water vapor to escape from your body, but small enough to keep water droplets out. This makes Gore-Tex jackets extremely waterproof, even in heavy rain or snow.
Totally windproof: Gore-Tex membranes also block wind, keeping you warm and comfortable in cold weather.
Reliably breathable: Gore-Tex membranes allow moisture vapor to escape from your body, but they prevent water droplets from entering. This makes Gore-Tex jackets very breathable, even when you are working up a sweat.
Gore-Tex 2L and 3L
2L: Gore-Tex 2L jackets have two layers of fabric, with the Gore-Tex membrane sandwiched in between. These jackets are lightweight and packable, but they may not be as durable as 3L jackets.
3L: Gore-Tex 3L jackets have three layers of fabric, with the Gore-Tex membrane sandwiched between two layers of waterproof fabric. These jackets are more durable and waterproof than 2L jackets, but they are also heavier and less packable.
Gore-Tex Pro (3L)
Enhanced ruggedness: Gore-Tex Pro jackets are made with a more durable version of the Gore-Tex membrane. This makes them ideal for demanding activities such as mountaineering and skiing in extreme conditions.
Gore-Tex Active (3L)
Lightness and packability: Gore-Tex Active jackets are made with a lighter and more packable version of the Gore-Tex membrane. This makes them ideal for high-intensity activities such as running and cycling, where breathability is essential.
Gore-Tex Paclite (2.5L)
Lightweight, packable waterproof protection: Gore-Tex Paclite jackets are the lightest and most packable type of Gore-Tex jacket. They are made with a two-and-a-half-layer construction, with the Gore-Tex membrane bonded to the outer fabric and a lightweight backing.
Gore-Tex Infinium
Windproof protection: Gore-Tex Infinium jackets are not waterproof, but they do offer excellent windproof protection. This makes them ideal for layering in cold weather or for activities where breathability is more important than waterproofing, such as hiking in warm weather.
Each type of Gore-Tex jacket is engineered to offer different levels of protection, durability, and comfort, ensuring there's a suitable option for every outdoor adventure.
How to Choose the Right Gore-Tex Jacket
Selecting the perfect Gore-Tex jacket is more than just picking a stylish design; it's about ensuring you have the right protection for your adventures. Here's a guide to help you make an informed choice:
Consider Your Activity Level
High-intensity activities: If you're into activities like trail running, mountain biking, or alpine climbing, you'll need a jacket that offers excellent breathability. Consider the Gore-Tex Active range, designed specifically for high-aerobic activities. These jackets are lightweight and ensure you don't overheat.
Moderate activities: For activities like hiking, camping, or casual skiing, a standard Gore-Tex jacket will suffice. It offers a balance between breathability and protection.
Low-intensity or stationary activities: If you're into activities like fishing, bird-watching, or photography, you might prioritize protection over breathability. The Gore-Tex Pro range offers extended durability and protection for prolonged exposure to harsh conditions.
Think About the Climate You'll Be Wearing the Jacket In
Cold and Wet: For snowy or rainy conditions, look for jackets with an insulated layer or those that can accommodate layering underneath. Ensure the jacket has a reliable waterproof rating.
Warm and Wet: In tropical or summer rain conditions, breathability becomes crucial. Opt for lightweight Gore-Tex jackets that offer ventilation features, such as underarm zips.
Dry and Windy: In windy conditions, especially in desert or high-altitude areas, a windproof Gore-Tex jacket is essential. These jackets block the wind while allowing moisture from sweat to escape.
Choose the Right Fit
Snug Fit: Ideal for high-intensity activities where you don't want excess material flapping around. Ensure it's not too tight, restricting movement.
Regular Fit: This is a versatile fit suitable for most activities. It allows for layering underneath and offers a balance between comfort and function.
Loose Fit: Suitable for low-intensity activities or if you prefer a more relaxed style. It offers maximum room for layering but might not be as thermally efficient.
Conclusion
Not all jackets are created equal. Depending on your adventure, some are more suited than others. Here is a quick guide for you:
For High-Intensity Activities: The Gore-Tex Active Range is your best bet. Lightweight and highly breathable, these jackets are designed for those always on the move. Whether you're trail running or alpine climbing, this range ensures you stay dry without overheating.
For Moderate Activities: Regular hikers, campers, and casual skiers will find the standard Gore-Tex Jacket range to be a perfect companion. Offering a balance between protection and breathability, these jackets are versatile for varied terrains and conditions.
For Low-Intensity or Stationary Activities: If you're spending extended periods in harsh conditions, such as bird-watching in the rain or ice fishing, the Gore-Tex Pro Range offers the durability and protection you need. Built for prolonged exposure, these jackets are the ultimate shield against the elements.
For Urban Adventures: If you're looking for a jacket that protects against sudden downpours during city explorations, the Gore-Tex Paclite Range is ideal. Stylish, lightweight, and packable, they're perfect for those on-the-go moments in the city.
In wrapping up, the right Gore-Tex jacket can elevate your outdoor experience, ensuring you're shielded from the elements while enjoying your chosen activity to the fullest. Choose wisely, and let your adventures begin!