Best Gore-Tex Men's Jacket: Transform Your Outdoor Experience
Whether you're scaling a mountain or perhaps you're just hustling through the city streets caught in an unexpected downpour, in both scenarios, your jacket can make or break your experience. This is where a Gore-Tex men's jacket steps in—not just as an item of clothing, but as a game-changer in your outdoor and urban adventures.
In the following sections, we'll delve into everything you need to know to make an informed choice—because your gore-tex jacket should be as versatile and resilient as you are. Feel free to skip to our buying advice for guidance, or click on the specific category you're interested in to dive deeper. If you're interested, we have a comprehensive list of snowboard-specific gore-tex jackets available for you to check out.

Related: The Best women's gore-tex jacket of 2023
ItsCherieGonzales includes affiliate links and when you purchase through these links, I may receive a small commission at no additional cost to you. As an Amazon Associate I (ItsCherieGonzales) earn from qualifying purchases.
Buying Advice Section
What is Gore-Tex?
Brief History of Gore-Tex Material
Gore-Tex was born out of ingenuity and a bit of serendipity. In 1969, Wilbert L. Gore and Robert W. Gore discovered that by rapidly stretching PTFE (Polytetrafluoroethylene), they could create a microporous structure. This led to a material that offered something unprecedented—a breathable yet waterproof fabric. From its humble beginnings in a basement to its worldwide reputation today, Gore-Tex has revolutionized the way we interact with our environment. It's not just a historical footnote; it's a lesson in how innovation can directly impact our daily lives.
Explanation of the Technology Behind Gore-Tex
But how does Gore-Tex work, you ask? Imagine a microscopic maze with billions of tiny pores. These pores are ingeniously sized: large enough to let water vapor (sweat) escape, but small enough to prevent water droplets (rain) from entering. This is achieved through a unique membrane layered between high-performance lining and shell textiles. Picture yourself on a rainy hike; your Gore-Tex jacket serves as your personal climate control, ensuring you remain dry from both external rain and internal sweat.
The Benefits of Gore-Tex Over Traditional Materials
When it comes to outdoor wear, the fabric of your jacket isn't just a matter of thread count or softness—it's your first line of defense against the elements. Let's break down why Gore-Tex stands above the rest:
1. Waterproof: Traditional jackets may offer some degree of water resistance, but Gore-Tex guarantees you'll stay dry.
2. Breathability: Ever felt trapped in a sauna of your own making in a rubber or plastic raincoat? Gore-Tex provides the breathability to avoid that uncomfortable clamminess.
3. Durability: This isn't a jacket you'll have to replace every season. The material is designed for rugged, long-lasting use.
4. Versatility: Whether you're sailing, hiking, or simply running errands, there's a Gore-Tex jacket designed with your lifestyle in mind.
Understanding the tech behind Gore-Tex allows you to appreciate not just what it does, but how it enhances your interaction with the world around you. It's not about the jacket; it's about the experiences the jacket allows you to have.
Why Choose a Gore-Tex Men's Jacket?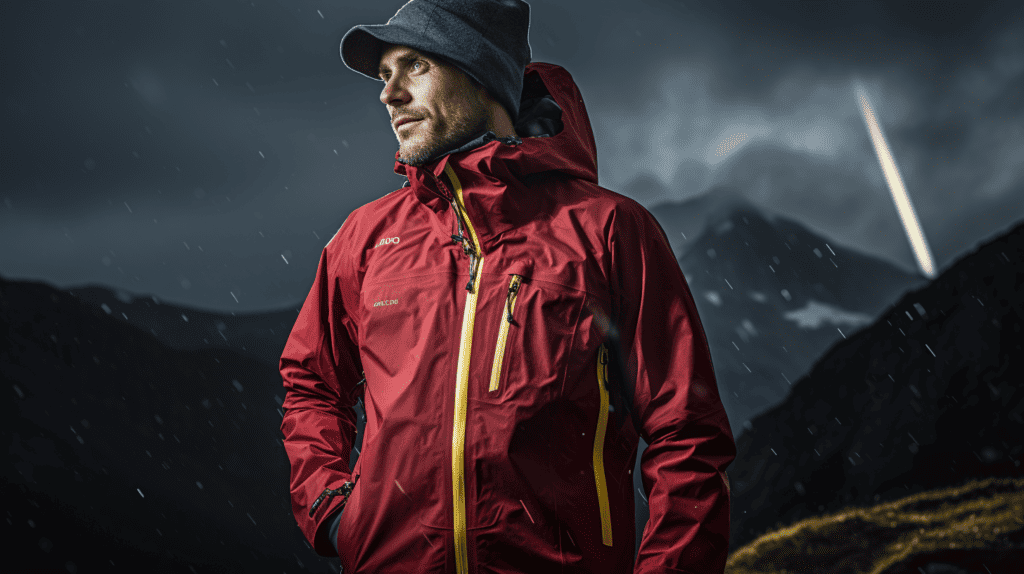 Real-life Examples of People Who Swear by Gore-Tex Jackets
1. The Mountain Climber: Meet Alex, a mountain climbing enthusiast who has scaled peaks across three continents. For him, a Gore-Tex jacket was a lifesaver during an unexpected snowstorm at high altitude. "It was like a shield, keeping me warm and dry in extreme conditions," he recalls.
2. The Urban Commuter: Sarah navigates the bustling streets of New York City every day. She wears her Gore-Tex jacket for those sudden rain showers and biting winds. "It's not just about staying dry; it's about staying comfortable. My Gore-Tex jacket lets my skin breathe, even in a crowded subway," she says.
3. The Weekend Camper: Tom loves his weekend getaways in the forest. His Gore-Tex jacket keeps him dry when fishing and breathable when hiking. "It's like I have a personal climate control system. And it's proven to be incredibly durable over the years," Tom shares.
Breakdown of Benefits
Waterproofing
Imagine you're kayaking through rapids or caught in a torrential downpour during a hike. Gore-Tex's waterproofing is unparalleled; it's a fabric designed to challenge the elements so you can focus on what you love doing. Traditional jackets may leave you soaked, but Gore-Tex ensures that you come out as dry as you went in.
Breathability
We've all had that suffocating feeling when a jacket traps your body heat, leaving you sweaty and uncomfortable. With Gore-Tex, this is a thing of the past. The unique membrane allows sweat to evaporate, regulating your body temperature. Whether you're scaling a mountain or rushing to a business meeting, your jacket adapts to you, not the other way around.
Durability
Life is tough, and your jacket should be too. Gore-Tex is constructed for durability, able to withstand not just harsh weather but also the rigors of everyday wear and tear. Its long-lasting nature means it's more than just a purchase; it's an investment in your comfort and adventures for years to come.
Types of Gore-Tex Men's Jackets
Hiking and Backpacking Jackets
Real-life Use Case: Kyle, an avid hiker, recalls his trip through the Appalachian Trail: "With shifting weather conditions, my Gore-Tex jacket was like a Swiss Army knife—versatile and indispensable."

Features to Look For: Lightweight, packable, multiple pockets, and underarm zippers for extra ventilation.

Why It's Ideal: Designed for mobility and durability, these jackets are your steadfast companions on trails, offering optimal protection without added bulk.
Ski and Snowboarding Jackets
Real-life Use Case: Emily, a snowboarding fanatic, tells us, "Last season, I spent days in the snow, and my Gore-Tex jacket was like an impenetrable fortress against cold and wet conditions."

Features to Look For: Insulated layers, snow skirts, and specialized pockets for passes and gear.

Why It's Ideal: Built to withstand freezing temperatures and to keep snow at bay, these jackets offer tailored features that enhance your winter sports experience.
Urban and Casual Jackets
Real-life Use Case: Mark, who navigates the concrete jungle daily, states, "My Gore-Tex jacket is sleek enough for a business meeting and sturdy enough for a sudden downpour."

Features to Look For: Stylish design, lower weight, and pockets that can accommodate everyday essentials like smartphones.

Why It's Ideal: These jackets seamlessly blend form and function, offering a stylish yet practical solution for city dwellers facing unpredictable weather.
Specialized Jackets (e.g., Fishing, Biking)
Real-life Use Case: Lisa, an angler, shares, "My specialized Gore-Tex fishing jacket has pockets for my gear and the durability to withstand the elements when I'm out at sea."

Features to Look For: Specialized storage, enhanced mobility features, and reinforced areas that come into contact with equipment.

Why It's Ideal: These jackets are engineered with specific activities in mind, from the angler who needs quick access to fishing gear, to the biker requiring enhanced mobility and ventilation.
Features to Look For
You wouldn't buy a car without knowing its features, and the same should go for your Gore-Tex men's jacket. Beyond the material itself, specific features can transform your jacket from a mere piece of clothing to a high-performance gear piece that complements your lifestyle. Here's a breakdown of what to focus on:
Must-Have Features
Zippers
Why It Matters: Zippers are your jacket's gatekeepers. Quality zippers ensure that you remain sealed off from external elements.

What to Look For: Opt for water-resistant, preferably YKK or similar high-quality zippers that operate smoothly.
Hood Design
Why It Matters: A poorly designed hood can be a nightmare in high winds or heavy rains.

What to Look For: Hoods that are adjustable, helmet-compatible, and provide good peripheral vision.
Ventilation
Why It Matters: No matter how breathable the material, sometimes you need extra airflow, especially during strenuous activities.

What to Look For: Underarm zips, back vents, and other adjustable openings that let you manually control ventilation.
Optional But Helpful Features
Pockets
Why It Matters: Beyond just holding items, smart pocket design can enhance your experience.

What to Look For: Multiple pockets, both internal and external, with water-resistant zippers. Specialized pockets for things like maps or gadgets can be a bonus.
Built-in Insulation
Why It Matters: For colder conditions, insulation can turn your Gore-Tex jacket into a cozy fortress.

What to Look For: Look for jackets with removable or integrated insulation layers, preferably with down or synthetic fill.
Cuff Design
Why It Matters: Cuffs can either seal in warmth or let in the elements, affecting your comfort.

What to Look For: Adjustable cuffs, preferably with Velcro or elastic, allow you to customize the fit around your wrists.
Each of these features serves a unique purpose tailored to meet specific needs, whether you're braving a mountain trail or navigating the maze of city streets. Knowing what to look for not only guides you toward the right jacket but also equips you with the knowledge to use your jacket to its full potential. Choose wisely, and let your Gore-Tex men's jacket elevate your experiences, one feature at a time.

How to Choose the Right Fit
Your Gore-Tex jacket might be packed with features and crafted from revolutionary material, but if it doesn't fit right, you're missing out on its full potential. Here's how to ensure you're picking the jacket that fits not just your body, but your life.
Importance of the Right Fit for Functionality and Comfort
Functionality: An ill-fitting jacket can restrict your movement and compromise the garment's built-in features, such as ventilation and insulation.

Comfort: The right fit enhances comfort, allowing for optimal breathability and freedom of movement, so your jacket feels like a second skin rather than a constraint.
Tips for Measuring Yourself
Chest: Measure around the fullest part of your chest, under your arms.

Waist: Measure around your natural waistline, where you'd normally wear your pants.

Sleeve Length: Measure from the center back of your neck, across your shoulder, and down your arm to your wrist.

Compare: Always compare your measurements to the size chart provided by the brand. If you're between sizes, consider how you'll use the jacket. For more active uses, go for a snugger fit; for layering, you might want a looser fit.
Sizing Differences Between Brands
Why It Matters: Not all sizing is created equal. A medium in one brand might fit like a large in another.

What to Look For: Always consult the brand-specific size chart and customer reviews for insights into how the jacket fits. Some brands may offer 'athletic' or 'relaxed' fits that significantly affect sizing.
Care and Maintenance
Your Gore-Tex jacket isn't just another piece of clothing; it's high-performance gear that requires proper care to function at its best. Here's how to ensure your investment stands the test of time, adventure after adventure.
How to Wash and Dry Your Gore-Tex Jacket
Washing: Use a mild detergent and cold water. Avoid fabric softeners, as they can clog the pores in the Gore-Tex membrane. Most Gore-Tex jackets can be machine washed on a gentle cycle.

Drying: Air-drying is usually sufficient, but if you need to speed up the process, tumble dry on low heat. Some people even find that a cycle in the dryer rejuvenates the jacket's water-repellent finish.
Storage Tips
Long-term: Store your jacket in a cool, dry place away from direct sunlight, which can degrade the material over time. Hanging is generally better than folding to maintain the jacket's shape.

Short-term: After use, especially if the jacket is damp, make sure to dry it out completely to prevent mildew and odors.
Repair Options
Minor Repairs: Small tears can often be fixed with patches or special adhesive designed for Gore-Tex. Many people successfully use these for minor field repairs.

Major Repairs: For significant damage, consult the manufacturer or a specialized repair service familiar with Gore-Tex. Some brands offer repair services that will restore your jacket to near-new conditions.
The better you take care of your Gore-Tex jacket, the longer it will last and the more reliable it will be. By following these care and maintenance tips, you're not just preserving a piece of clothing; you're ensuring that your investment continues to enrich your life, one adventure at a time.
Budget Considerations
While a Gore-Tex jacket is undeniably an investment in quality and performance, it's also true that not everyone has the same budget. Let's discuss how to make an informed decision that balances your needs with your financial constraints.
Range of Prices for Gore-Tex Jackets
Low-End: Prices can start from around $100 for basic, entry-level models.

Mid-Range: Expect to pay between $200 to $400 for jackets that offer a good blend of features and durability.

High-End: Premium models can go well beyond $400, offering specialized features, top-notch material, and often a brand name.
Whether It's Worth Investing in a High-End Model
Yes, If: You require specific features, such as superior insulation, ventilation, or specialized pockets. Also, if you engage in activities that put a lot of wear and tear on your jacket, a high-end model will offer better longevity.

No, If: You need the jacket for occasional use or basic functions. Lower-end models still provide the core benefits of Gore-Tex like waterproofing and breathability.
Options for Those on a Budget
Shop Sales: Off-season and holiday sales can offer significant discounts.

Consider Used: Many outdoor enthusiasts upgrade their gear frequently, and lightly-used jackets can be found on second-hand platforms.

Look for Sub-brands: Some major brands offer sub-brands that provide many of the same features at a lower cost.
Choosing a Gore-Tex men's jacket isn't just about finding one you like; it's about finding one that fits your life and your budget. Even on a budget, you can still access the unique features that Gore-Tex offers. The trick is to know what you're looking for and what you're willing to compromise on. So, assess your needs, set your budget, and get yourself a jacket that you'll be proud to wear, rain or shine.
Best Brands and Where to Buy
Spotlight on Top Brands Known for Quality Gore-Tex Men's Jackets
Arc'teryx: Known for their meticulous design and high-quality materials, the Arc'teryx hardshell jackets are often the go-to for outdoor professionals.

Patagonia: A brand synonymous with sustainability and quality, Patagonia offers a variety of Gore-Tex jackets that are both functional and eco-friendly.

The North Face: Offering a broad range of options, from budget-friendly to high-end, The North Face is a reliable choice for many.

Marmot: Specializing in outdoor gear, Marmot's Gore-Tex jackets are a favorite for their durability and feature sets.
Tips on Where to Buy—Both Online and Offline
Online:

Official Websites: Buying directly from the brand ensures authenticity and often gives you the widest selection.

Specialized Outdoor Retailers: Websites like REI or Backcountry offer a range of brands and frequent sales.

Marketplaces: Amazon and eBay can provide deals but be cautious of counterfeit products.

Offline:

Outdoor Specialty Shops: These stores not only offer a range of options but also provide expert staff who can guide your purchase.

Department Stores: Places like Macy's or Nordstrom may offer a limited range but often have seasonal sales.

Outlet Stores: For discounted older models, check out brand-specific outlet stores.
Common Myths and Misconceptions
When it comes to high-performance gear like Gore-Tex jackets, it's easy to get caught up in hearsay. But making a smart purchase means separating fact from fiction. Let's address some common myths and misconceptions about Gore-Tex jackets.
Myth: "Gore-Tex is Too Expensive"
Reality: While Gore-Tex jackets are an investment, there are models available for various budgets. The longevity and durability often mean you save money in the long run by not having to replace a lesser-quality jacket every few years.
Myth: "It's All Hype"
Reality: The science behind Gore-Tex is solid. Its combination of waterproofing, breathability, and durability is hard to find in other materials. Many professionals and outdoor enthusiasts rely on Gore-Tex gear for a reason.
Myth: "Gore-Tex Jackets Are Only for Extreme Conditions"
Reality: While these jackets perform exceptionally well in harsh conditions, their benefits, like moisture-wicking and breathability, are just as useful for everyday activities and milder outdoor settings.
Myth: "You Don't Need a Gore-Tex Jacket If You're Not an Outdoor Person"
Reality: The versatile range of Gore-Tex jackets available today means there's something for everyone, whether you're braving a mountain trail or just want to stay dry while running errands.
Myth: "All Gore-Tex Jackets Are the Same"
Reality: Different jackets serve different purposes. From hiking and skiing to urban wear, each style of Gore-Tex jacket is designed to meet specific needs. Features, fit, and even the type of Gore-Tex material can vary.
Conclusion
A Gore-Tex jacket is more than just another item in your wardrobe; it's a trusted ally against the elements and a reliable partner in your outdoor endeavors or daily life. Its unique blend of waterproofing, breathability, and durability makes it an investment worth considering.
Final Tips for Making an Informed Purchase
Know Your Needs: Whether you're an avid hiker, a winter sports enthusiast, or someone who simply wants to stay dry during the daily commute, there's a Gore-Tex jacket designed for you.

Set Your Budget: While it's tempting to go for the high-end models, remember that there are reliable Gore-Tex options available at various price points.

Do Your Research: Reading reviews, checking out user testimonials, and even trying on different styles can provide invaluable insights.

Where to Buy: Whether online or in-store, make sure to shop from reputable sources to ensure you're getting a genuine product.

Size and Fit: Remember that a proper fit doesn't just make the jacket more comfortable; it also ensures it performs at its best.

Care and Maintenance: Extend the life of your investment by following the manufacturer's guidelines for cleaning and storing your jacket.
Making an informed decision about a Gore-Tex jacket means you're not just buying a piece of clothing—you're investing in a functional, durable, and versatile piece of gear that will serve you for years to come. Choose wisely, and whatever the weather or circumstance, you'll be well-prepared to face it.
Additional Resources
Even after you've made your purchase, the journey with your Gore-Tex jacket isn't over. To help you get the most out of your investment, here are some resources that can further guide and enhance your experience.
Online Calculators for Sizing
SizeMeUp: An interactive tool that provides customized sizing recommendations based on your measurements.

FitFinder: Offers brand-specific sizing guides to help you find the perfect fit.
FAQs
Gore-Tex Official FAQ: Straight from the source, answers to the most commonly asked questions about Gore-Tex material.

Outdoor Gear Lab: Insights and tips on what to look for when buying a Gore-Tex jacket.

GORE Wear: GORE® Wear is intricately connected to the innovative legacy of W. L. Gore & Associates, known for their exceptional Gore-Tex products.
Recommended Products
Gear Patrol's Top Picks: An annual list featuring the best Gore-Tex jackets for various activities and needs.

Wirecutter Reviews: Detailed, hands-on reviews to help you choose the best apparel for your outdoor excursions.