The Best women's gore-tex jacket of 2023
When I first started venturing into the great outdoors, whether it was hiking, camping, or just a casual walk in the rain, I found myself soaked to the skin more times than I care to admit. Trust me, a regular jacket or that "water-resistant" one you've got won't cut it when you're in the middle of nowhere and the skies open up. I learned the hard way that a quality jacket is non-negotiable. That's why I'm here to talk to you about finding the best women's Gore-Tex jacket.
Gore-Tex is the gold standard in waterproofing and it's a game-changer for anyone who spends time outdoors. It keeps you dry without making you feel like you're in a sauna—something that many so-called "waterproof" materials fail at. Investing in a Gore-Tex jacket is investing in your comfort, safety, and overall outdoor experience.
You can also explore our detailed guide tailored exclusively for men, ensuring the utmost comfort and performance.
So, let's dive into the specifics, shall we?
Top Picks
Best Women's Gore-tex Rain Jacket: Arcteryx Beta LT
Best Women's Gore-tex Hardshell Jacket: Arcteryx BETA AR
Best Women's Gore-tex Softshell Jacket: Arcteryx SOLANO Hoody
Best Women's Gore-tex Jacket for Climbing: Arcteryx Alpha AR
Best Women's Gore-tex Jacket for Cycling: RAPHA Women's PRO TEAM
Best Women's Gore-tex Jacket for Running: Arcteryx Norvan LT Hoody Women's Gore-Tex Jacket
Best Women's Gore-tex Jacket for Ski: Norrøna Lofoten Women's Gore-Tex Pro Jacket
---
"ItsCherieGonzales includes affiliate links and when you purchase through these links, I may receive a small commission at no additional cost to you. As an Amazon Associate I (ItsCherieGonzales) earn from qualifying purchases." Learn more
Best Women's Gore-tex Rain Jacket
Arcteryx Beta LT
Weight: 350g
Best Use: Rain / Hiking / Trekking / All Round
Fit: Fitted fit

Experience complete protection with a lightweight, versatile, and comfortable GORE-TEX shell. Introducing the Beta Series: your ultimate choice for all-round mountain apparel.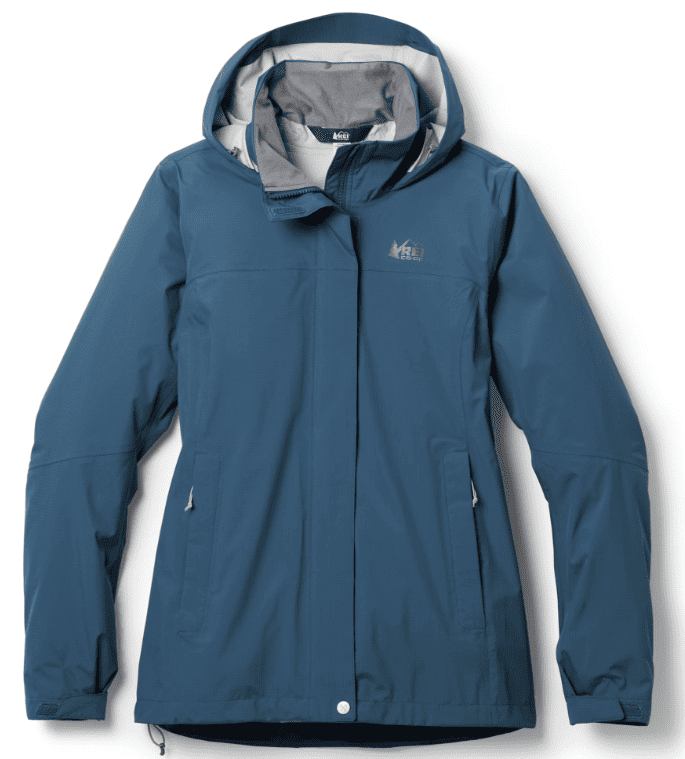 REI Co-op XeroDry GTX
Weight: 309g
Best Use: Rain / Hiking
Fit: Regular

The women's REI Co-op XeroDry GTX jacket is a dependable companion in challenging conditions, offering lightweight and packable protection against harsh wet weather. This waterproof and breathable jacket ensures reliability and performance when you need it the most. Stay prepared and stylish with this essential gear.
Best Women's Gore-tex Hardshell Jacket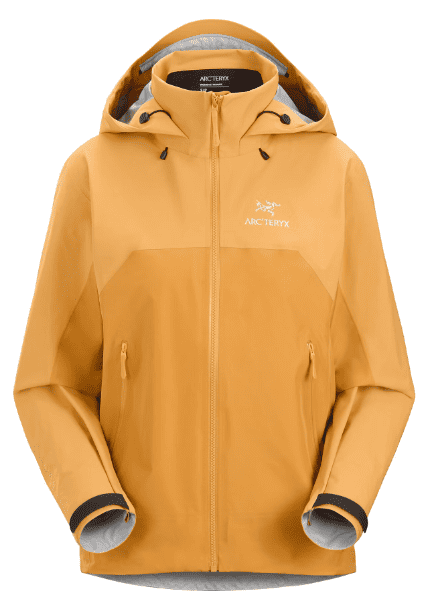 Arcteryx BETA AR
Weight: 390g
Best Use: All around
Fit: Regular

Designed to provide packable, breathable, and durable waterproof protection in alpine environments, the Beta AR Jacket delivers exceptional performance versatility. Engineered using innovative GORE-TEX PRO with Most Rugged Technology, a cutting-edge material developed in collaboration with Gore, this jacket ensures maximum durability. The DropHood™, compatible with helmets, offers added protection with an internal collar, while an embedded RECCO® reflector enhances searchability during emergencies. Whether it's technical hiking or trekking, the designs prioritize durability and protection, catering to remote and varied conditions. With a focus on high-performance weather protection and versatile materials, this jacket is ideal for multiple activities.
Stio Ender PACLITE® Hooded
Weight: 370g
Best Use: All around
Fit: Regular

GORE-TEX PACLITE® storm shell is a compact and highly breathable lightweight hardshell that offers superior protection on remote trails, high peaks, and deep backwoods adventures. Seam-sealed and completely waterproof, it effortlessly shields you from storms and squalls. The 2L liner-less laminate with an enduring DWR Finish repels surface moisture, while the carbon coating ensures internal dryness. Functional style is added by YKK® AquaGuard® zippers, and the waterproof hand pockets securely store your essentials. The fixed, bonded-brim hood features a halo adjustment for clear peripheral vision, and critical core vents provide cooling airflow during intense uphill runs.
Best Women's Gore-tex Softshell Jacket
Arcteryx SOLANO Hoody
Weight: 350g
Best Use: Hiking / Around Town / Travel/Commute
Fit: Regular
Be ready for the changing weather conditions with the Arcteryx Solano hoody shell. Engineered with the advanced GORE-TEX INFINIUM™ fabric, it shields you from the wind and repels rain without compromising breathability. With an adjustable hood and extended silhouette, it offers optimal coverage. The thoughtful design includes articulated patterning for unrestricted movement and a hybrid liner construction for enhanced comfort. The upgraded version boasts updated style lines, a more comfortable performance fit, a recycled knit jersey liner for superior softness and breathability, and nylon plain weave sleeve liners for added comfort and easier on-and-off convenience.
Mountain Hardwear Women's Exposure/2 Gore-tex Paclite
Weight: 340g
Best Use: Superlight Backcountry, Backpacking, Hiking, Camping
Fit: Slim Fit

The Exposure/2™ GORE-TEX® PACLITE® Jacket offers a lightweight design and packability, making it perfect for any adventure. The adjustable hood adds convenience, and the zippered hand pockets provide secure storage. With its foldable design that neatly fits into its own hand pocket, complete with an internal carabiner clip loop, this jacket is designed for your personalized fit. With reliable protection against wet weather and durable construction, it's the ultimate companion for outdoor pursuits.
Best Women's Gore-tex Jacket for Climbing
Arcteryx Alpha AR
Weight: 330g
Best Use: Ice Climbing / Alpine Climbing/ Rock Climbing
Fit: Regular

Introducing the versatile Alpha jacket, designed for alpine travel and harsh conditions. With GORE-TEX PRO Most Rugged in high-wear areas and ultralight GORE-TEX with Hadron™ face fabric zones, it offers durability and breathability. Features like the StormHood™, RECCO® reflector, and pit zippers enhance protection and ventilation. Now with proprietary Hadron™ LCP fabric zones for reduced weight and improved breathability.
Norrøna falketind Gore-Tex Paclite
Weight: 222g
Best Use: Ice Climbing / Mountaineering / Trekking
Fit: The Second Tightest Fit; preferably technical or regular fit for mid-layer

An ultra-light waterproof jacket, designed for year-round mountaineering or climbing and outdoor activities. Crafted with premium GORE-TEX® fabric, it offers exceptional durability and waterproofness. With a technical fit and key features like a helmet-compatible hood and ventilation zippers, it combines performance and functionality for any adventure.
Best Women's Gore-tex Jacket for Cycling
Rapha Women's PRO TEAM Insulated Gore-tex Rain Jacket
Weight: 244g
Best Use: Cycling, Trail riding, Bikepacking
Fit: Pro Fit; Designed to sit close to the skin

Stay warm and dry during your cold, wet winter training sessions with a fully waterproof, insulated jacket. This waterproof jacket offers unparalleled protection and breathability with its GORE-TEX Paclite Plus® membrane and synthetic insulation. Stay cozy and convenient with added features like zipped cuffs, spacious pockets, and reflective details if you are riding in low-level conditions. Experience the epitome of protection, functionality, and style for your winter training adventures.
GORE ENDURE Gore-tex Jacket Womens
Weight: 244g
Best Use: Cycling, Trail riding, Bikepacking
Fit: Regular Fit

The unlined construction of this two-layer design combines a GORE-TEX membrane with a durable, abrasion-resistant outer face textile, ensuring long-lasting weatherproof protection. Lightweight and highly packable, it comes with the GUARANTEED TO KEEP YOU DRY™ promise. With enhanced adjustability, it offers superior defense against the elements, whether you're on or off the bike. The two front zippered pockets not only secure your essentials but are also strategically positioned slightly higher to enhance compatibility with backpacks and hip bags. This versatile design is suitable for all road types and is specifically made for trail riding and bikepacking, ensuring you're well-prepared for unpredictable weather conditions.
Best Women's Gore-tex Jacket for Running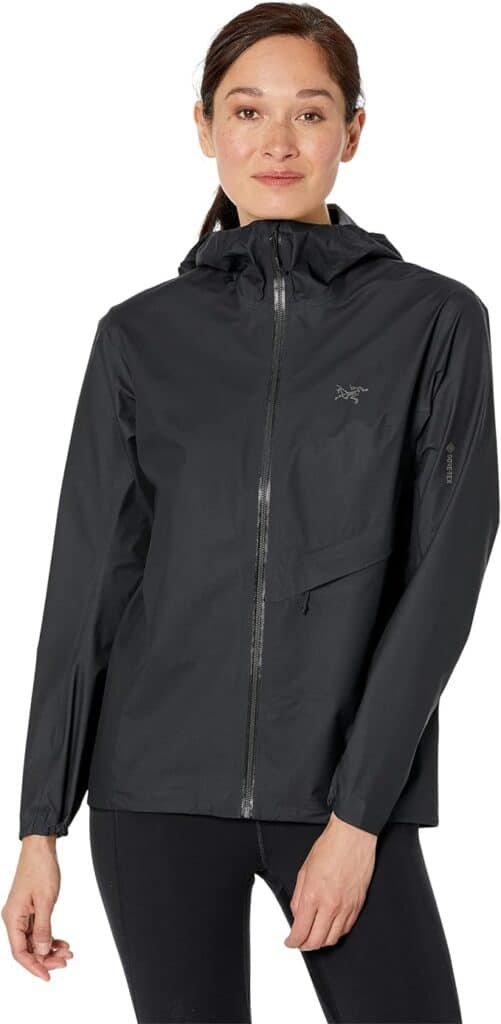 Arcteryx Norvan LT Hoody Women's Gore-Tex Jacket
Weight: 170g
Best Use: Running / Training/Fitness
Fit: Trim Fit

Running embraces a rhythm, just like the seasons. Whether it's the gusts, showers, hail, or snow, year-round running necessitates gear that can handle the elements. Enter the Norvan LT—an ultra-lightweight, windproof, and waterproof shell specially engineered for runners. Crafted with GORE-TEX fabric featuring GORE C-KNIT backer technology, it offers quietness and exceptional breathability. With its sleek fit, articulation for freedom of movement, and a snug hood for added coverage, the Norvan LT nails the perfect balance of protection and agility.
GORE WEAR R5 Women's Gore-TEX Jacket
Weight: 240g
Best Use: Running / Versatile use
Fit: Form Fit; Runner-specific cut

This GORE WEAR jacket is perfect for colder temperature runs. The R5 jacket boasts a form-fitting, runner-specific design and utilizes GORE-TEX INFINIUM with WINDSTOPPER technology to provide exceptional comfort and performance. This innovative technology offers complete windproofness, high water resistance, and remarkable breathability. With thoughtful features like reflective tape and a subtle tonal logo, this GORE running wear stands out with its sleek and captivating appearance. The jacket also features a convenient two-way zipper for effortless ventilation and a cozy fleece lining, making it a practical companion for any adventure. Versatile and ideal for running, the jacket comes with adjustable hem and neck, a snug high collar, and various pockets including side zippered pockets and a small inner pocket. Additionally, the soft-shaped cuffs with thumb loops add to the overall comfort and functionality of this remarkable piece.
Best Women's Gore-tex Jacket for Ski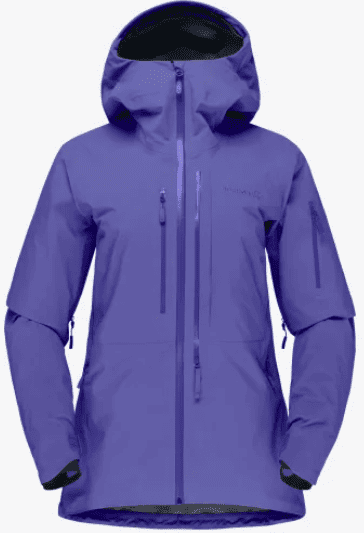 Norrøna Lofoten Women's Gore-Tex Pro Jacket
Weight: 606g (size M)
Best Use: Lift-Based Skiing/ Lift-Accessed Freeride/ Ski Touring / Mountaineering
Fit: Technical Fit (allows multiple layers underneath)

Introducing the original ski/snowboard jacket: waterproof, durable, and designed for big mountain freeride. This iconic shell jacket revolutionized freeride skiing/snowboarding with innovative features and cutting-edge design. Crafted from high-quality GORE-TEX® PRO fabric, renowned for its unrivaled durability (28,000mm waterproofness), exceptional breathability, and complete windproofness. The jacket features a zip-off powderskirt with gripper elastic and snap-seal solution. Made with a 3-layer plain weave 70D GORE-TEX® PRO fabric, it boasts outstanding breathability (RET 6) and a recycled nylon face. The jacket's technical fit, together with articulated arms, ensures optimal mobility. For added protection, it is designed with a longer cut in the back.
Armada PERENNIA 3L Women's GORE-TEX Jacket
Weight:
Best Use: Ski Touring / Freeride Ski
Fit: Standard; adjustable hem and cuffs

The Armada Perennia 3L GORE-TEX Jacket is a top-notch freeride performance shell that offers ultimate weatherproofing and breathability. Designed with meticulous attention to detail, it provides lightweight and efficient performance without compromising style. With features like fully taped seams, adjustable cuffs and hem, a helmet-compatible hood, and a 4-way stretch adjustable powder skirt, it ensures maximum protection and functionality. This jacket is the epitome of performance for mountain athletes.
Spyder Captivate Women's Gore-tex Jacket | GTX Infinium
Weight:
Best Use: Skiing
Fit: Regular

Gear up for the ultimate winter companion: the Spyder® Captivate GORE-TEX® 2L shell. With its sophisticated design and durable materials, this jacket offers exceptional weather protection. Stay warm with PrimaLoft® Black ECO Insulation, and enjoy seamless functionality with YKK Zippers. The removable hood is adjustable to fit over helmets, and critical seams are taped to keep out moisture. Convenient storage options include an internal zippered pocket, mesh goggle pocket, and chamois lens wipe. Stay cool with underarm ventilation and stay warm with adjustable cuff tabs, thumb holes, and a fixed powder skirt with a snapback feature. This performance-driven jacket features a custom patch and timeless color blocking. Dominate the slopes year-round with the Spyder® Captivate GTX Jacket..read an in-depth review of the Spyder brand

Related: Best Gore-tex Ski Jacket
Here's a comparison table of the women's Gore-Tex jackets
Category
Brand & Model
Weight
Best Use
Fit
Description
Gore-tex Rain Jacket
Arcteryx Beta LT
350g
Rain, Hiking, Trekking
Fitted Fit
Lightweight, versatile, and comfortable Gore-Tex shell for all-round mountain apparel.

REI Co-op Xerodry GTX
309g
Rain, Hiking
Regular
Lightweight, packable protection against wet weather. Waterproof and breathable
Gore-tex Hardshell Jacket
Arcteryx Beta AR
390g
All-Around

Regular
Provides packable, breathable, and durable waterproof protection in alpine environments. Features Gore-Tex Pro with rugged technology.


Stio Ender Paclite® Hooded
370g

All-Around

Regular

Compact, breathable lightweight hardshell. Seam-sealed, waterproof, with 2L linerless laminate.
Gore-texSoftshell Jacket
Arcteryx Solano Hoody

350g

Hiking, Around Town, Travel/Commute

Regular

Shields from wind and repels rain. Features Gore-Tex Infinium™ fabric.

Mountain Hardwear Women's Exposure2 Gore-Tex Paclite
340g

Superlight Backcountry, Backpacking, Hiking, Camping
Slim Fit

Lightweight design, packable, with adjustable hood.
Gore-tex Climbing Jacket
Arcteryx Alpha AR
330g
Ice Climbing, Alpine Climbing, Rock Climbing
Regular
Designed for alpine travel and harsh conditions. Features Gore-Tex Pro are most rugged.

Norrøna Falketind Gore-Tex Paclite
222g

Ice Climbing, Mountaineering, Trekking
Technical Fit
Ultralight, waterproof, with a technical fit.
Gore-tex Cycling Jacket
Rapha Women's Pro Team Insulated Gore-Tex Rain Jacket
244g

Cycling, Trail Riding, Bikepacking

Pro-Fit

Waterproof, insulated jacket for cold, wet winter training sessions.

Gore Endure Gore-Tex Jacket Women's
245g
Cycling, Trail Riding, Bikepacking
Regular Fit

Two-layer design with Gore-Tex membrane. Lightweight, packable, and offers defense against the elements. Compatible with backpacks and hip bags.
Gore-tex Running Jacket

Arcteryx Norvan LT Hoody Women's Gore-Tex Jacket
170g
Running, Training/Fitness

Trim Fit

Ultralightweight, windproof, and waterproof shell for runners. Features Gore C-Knit backer technology for breathability.

Gore Wear R5 Women's Gore-Tex Jacket

240g
Running, Versatile Use

Form-Fit

Runner-specific design with Gore-Tex Infinium and Windstopper technology. Features reflective tape, two-way zipper, and fleece lining.
Gore-tex Ski Jacket

Norrøna Lofoten Women's Gore-Tex Pro Jacket
606g (Size M)
Lift-Based Skiing, Freeride Ski, Ski Touring, Mountaineering
Technical Fit
Waterproof, durable jacket for big mountain freeride. Made from high-quality Gore-Tex Pro fabric. Features zip-off powder skirt and longer cut in the back.

Armada Perennia 3L Women's Gore-Tex Jacket
–
Ski Touring, Freeride Ski
Standard

Freeride performance shell offering weatherproofing and breathability. Features fully taped seams, adjustable cuffs, and helmet-compatible hood.

Spyder Captivate Women's Gore-Tex Jacket
–
Skiing
Regular
Introducing the Spyder® Captivate GORE-TEX® 2L shell. Stay warm with PrimaLoft® Black ECO Insulation, enjoy seamless functionality with YKK Zippers, and stay dry with taped critical seams.
Women's Gore-tex Jacket Buying Advice
Benefits
One of the things that makes Gore-Tex remarkable is the material science behind it. Gore-Tex uses a membrane that has over 9 billion pores per square inch. These pores are 20,000 times smaller than a water droplet, but 700 times larger than a molecule of water vapor. This is what makes the material waterproof yet breathable.
1. Waterproofing
With Gore-Tex, you're getting top-tier waterproofing. I've worn my Gore-Tex jacket in downpours that would make Noah nervous, and not a single drop got through.
2. Breathability
We've all worn jackets that make us sweat bullets even in cold weather, leaving us damp and uncomfortable. Gore-Tex allows for excellent breathability, so you can engage in strenuous activities like hiking and climbing without feeling clammy.
3. Durability
Gore-Tex jackets are built to last. The fabric doesn't wear down as easily as other materials, even with rigorous use. I've had mine for years, and it's still going strong.
4. Lightweight
Traditional waterproof jackets tend to be heavy and bulky. Gore-Tex jackets are generally more lightweight, making them more comfortable for long wear and easier to pack.
5. Versatility
Gore-Tex is not just for rain. These jackets also offer windproof features and, depending on the design and liner, can offer a good level of insulation against the cold.
Different Types of Gore-Tex Waterproofing Jackets
When you're thinking about staying dry, Gore-Tex is a top choice. But did you know there are different types of Gore-Tex waterproofing jackets? Here's a simple guide:
1. Gore-Tex (Standard)
This is the one I started with, and it never let me down on numerous hikes and camping trips.
Ideal for: General Outdoor Use
Pros: This is your all-rounder, great for everything from hiking to a rainy day in the city. It offers excellent waterproofing and breathability.
Cons: While versatile, it's not specialized for extreme conditions.
2. Gore-Tex Paclite
I always carry a Paclite when I know space is going to be a premium.
Ideal for: Lightweight Packing, Hiking
Pros: Paclite is designed to be lighter and more packable, a great option if you need to save space in your backpack.
Cons: The lightweight design might compromise a bit on durability.
3. Gore-Tex Pro
Ideal for: Extreme Conditions, Alpine Adventures Pros: This is the heavy-duty option. It's the most rugged and durable, designed for the harshest conditions. Cons: It's heavier and usually more expensive. Personal Note: I wore a Gore-Tex Pro during a mountaineering trip. It stood up to everything the mountain threw at it.
4. Gore-Tex Active
This is my go-to for trail running. It keeps the rain out but lets the sweat evaporate.
Ideal for: High-intensity Activities
Pros: This type is designed for maximum breathability during high-exertion activities like running or cycling.
Cons: While breathable, it might not offer the same level of insulation for colder conditions.
5. Gore-Tex Infinium
Great for those windy but not-so-wet days.
Ideal for: Mild, Windy Conditions
Pros: While not fully waterproof, it is highly water-resistant and offers excellent wind protection.
Cons: Not suitable for heavy rainfall or extremely cold conditions.
Things to Think About When Buying a Gore-Tex Jacket
Choosing the right Gore-Tex jacket isn't just about picking the one with the best reviews. Your activities, the climate, and even your body type play a role. Here are some pointers to keep in mind:
1. Activity Level
Consider the kind of activities you'll be doing. For intense physical activities like trail running or cycling, opt for Gore-Tex Active. For more relaxed or versatile outdoor use, standard Gore-Tex will usually suffice.
2. Weather Conditions
If you're going to be facing heavy rain, snow, or extreme weather, Gore-Tex Pro is a sturdy choice. For milder conditions, Gore-Tex Infinium or Paclite might be more suitable.
3. Fit and Style
Fit is crucial. A too-tight jacket will restrict your movement, while an overly loose one might compromise the insulation. Many Gore-Tex jackets for women are designed with a more tapered fit for better insulation and freedom of movement.
4. Layering
Consider the clothing you'll wear underneath. If you plan to layer up, make sure there's enough room to accommodate additional clothing without restricting movement.
5. Additional Features
Look for useful add-ons like adjustable hoods, underarm zippers for ventilation, and multiple pockets for convenience.
6. Brand Reliability
Stick with well-known outdoor brands like Patagonia, The North Face, or Arc'teryx, which have a history of quality Gore-Tex products. I've personally tried all three and found them reliable.
7. Cost vs. Durability
Though Gore-Tex jackets can be expensive, remember that you're investing in durability and comfort. A high-quality jacket can last for years, making the cost per use relatively low over time.
8. Maintenance
Gore-Tex does require some care to maintain its waterproof properties. Always follow the cleaning instructions and occasionally reapply a DWR (Durable Water Repellent) coating as needed.
9. Warranty and Return Policy
Check the warranty and the return policy. A good warranty can be a lifesaver if you find any manufacturing defects or if the jacket doesn't perform as promised.
Taking Care of Your Gore-Tex Jacket
Gore-Tex jackets are known for their durability and performance, but like all things, they need some care to keep them at their best. Here's a simple guide on how to look after your Gore-Tex jacket:
Washing Your Jacket:

Prep Before Wash: Close all zippers and fasten any loose parts.
Choosing the Right Setting: Use a gentle machine wash at 105°F (40°C).
Picking the Detergent: Liquid detergents are best. Avoid powders, fabric softeners, or bleach.
Rinse Well: Make sure to rinse out all the detergent. Don't mix it with very dirty clothes.

Drying Your Jacket:

Tumble Dry or Line Dry: You can either tumble dry in a warm setting or just hang it up. Avoid very high temperatures.
Reactivate Water Repellency: After drying, give it another 20 minutes in the dryer. This helps the jacket keep water out. If you don't have a dryer, a gentle ironing (with a cloth in between) can help. Just don't use steam.

Boosting Water Repellency:

When to Reapply: If water stops beading up on your jacket, it's time to boost its water repellency.
How to Do It: Use a water-repellent treatment, either a spray or wash-in product. After applying, either tumble dry or iron gently to activate.

Special Care for Certain Jackets:

Some Gore-Tex jackets, like the Shakedry™, are a bit different. They don't need water-repellent treatments. For these, use a delicate wash cycle at 105°F (40°C) and avoid dry cleaning, tumble drying, ironing, or bleaching.
Quick Tips:
Always check the label on your jacket first. It has important care details.
Washing helps your jacket perform better. Dirt and sweat can stop it from working right.
Avoid stain removers. Instead, use a bit of liquid detergent on stains before washing.
Taking care of your Gore-Tex jacket isn't hard. With the right care, it'll keep you dry and comfortable for a long time.
Conclusion
Choosing the right Gore-Tex jacket is about more than just staying dry. It's about comfort, durability, and making sure you're prepared for whatever nature throws your way. With so many top brands offering quality jackets, you're spoiled for choice. But remember, the best jacket is the one that fits your needs, whether you're hiking, running, or just heading out on a rainy day.
Always prioritize quality and functionality. A good jacket is an investment that will serve you well for years. And with the right care, it'll stay in top shape, ready for your next adventure.
In the end, it's about finding that perfect balance between form and function. With a Gore-Tex jacket, you're not just wearing a piece of clothing; you're wearing a promise of protection, comfort, and style. Stay dry, stay active, and enjoy the great outdoors!