Is Spyder a Good Brand? In-Depth Review of Quality and Performance
Is Spyder a good brand? When it comes to ski wear, few names spark as much debate and curiosity as Spyder. Renowned for its distinctive logo and presence on ski slopes around the world, this brand has become a symbol of quality and innovation in the skiing community. But the pressing question still remains. And that's what we'll talk about in the next section.

This article delves deep into the essence of Spyder, exploring its history, the evolution of its products, and the real-life experiences of those who wear them. From professional athletes to casual weekend skiers, Spyder has dressed a wide array of winter sports enthusiasts. Yet, what truly sets it apart in an industry brimming with competitors?
Is Spyder A good Brand?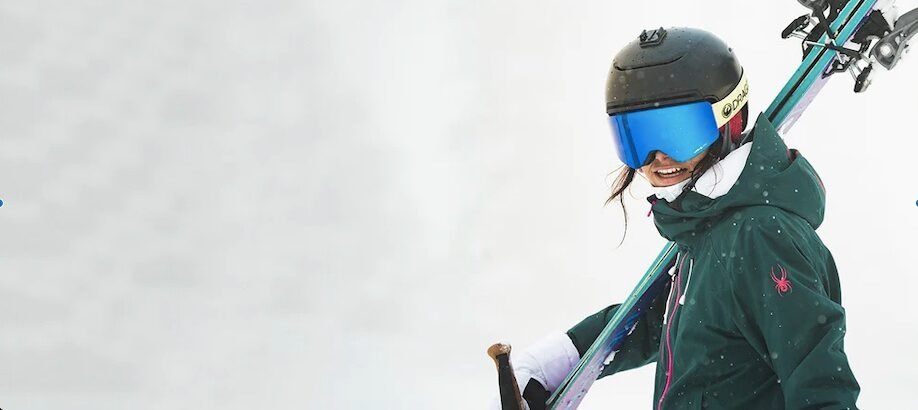 Spyder is a great ski brand trusted by professional and non-professional skiers alike, especially in the context of ski wear. They don't manufacture ski boots or skis but they make high-quality outerwear like ski jackets, ski pants, gloves, and some other apparel.
The brand is well-regarded for its high-quality products, innovative use of advanced technologies, and commitment to durability and performance. Their gear is known for incorporating materials like Dermizax™ and Graphene, enhancing the functionality and comfort of their ski wear.
Spyder's race suits, a product category where they initially made their mark, continue to embody the brand's spirit of innovation. These suits are designed for aerodynamics and speed, utilizing fabrics that reduce drag and enhance the racer's performance.
In recent years, Spyder has also ventured into the Freeski segment. Their freeski line, which reflects a more relaxed fit and a style aligned with the freeski culture
In short, it is a good brand with a strong reputation in the ski wear industry, known for quality, innovation, and design. While its higher price range and some customer service concerns should be considered, the brand generally delivers on its promise of high-performance, durable ski wear.
History of Spyder Brand
Quick history background about the brand.
Since its inception in 1978 with David Jacobs's pioneering padded race sweater, Spyder has been at the forefront of ski apparel innovation. By 1982, the brand had established itself as a leader in alpine ski apparel. Their commitment to innovation was further solidified in 1986 with the development of the first-ever speed suit, enhancing racer performance significantly. By 1989, Spyder had gained such renown that the U.S. Ski Team appointed them as their official gear supplier.
In 1997, Spyder pushed the boundaries of technology with Speedwyre technology in race suits, a concept so advanced that it was eventually banned from competition. As the new millennium dawned, Spyder embraced Freeski, launching Team Venom and collaborating with notable athletes like CR Johnson, Seth Morrison, and JP Auclair. The brand's appeal and versatility were highlighted in 2009 when the Jamaican Alpine Ski Team chose Spyder gear. Expanding their innovation beyond ski wear, Spyder ventured into auto-racing apparel in 2015 with Spyder GT. By 2019, Spyder had reinvented its Freeski line, showcasing its adaptability and forward-thinking approach in the dynamic world of skiing.
Spyder's Product Range
Spyder's product range has always stood out for its innovative technology, premium materials, and thoughtful design. Their collection, encompassing everything from ski jackets and pants to gloves and accessories, is a testament to their commitment to quality and performance.
Ski Jackets and Pants
Spyder's ski jackets and pants are renowned for their waterproof and breathable fabrics. The use of Gore-Tex, EXO Shield 10k, and other high-tech materials ensures durability and protection against harsh weather conditions. The attention to detail in seam sealing and insulation offers excellent warmth, a crucial factor in any ski gear.
Tops
Spyder offers a variety of tops designed for cold-weather activities, blending style with functionality. They have sweaters, fleece, layers, vests, etc., that are not only suitable for active outdoor pursuits but also for everyday style and comfort.
Gloves and Accessories
When it comes to accessories, Spyder doesn't cut corners. Their gloves, for instance, have always been one of my personal favorites. Made with premium leather and featuring PrimaLoft® insulation, they provide excellent dexterity and warmth. The attention to detail, such as articulated fit and touchscreen compatibility, reflects Spyder's understanding of a skier's needs.
Likes about Spyder
Spyder's ski wear garners widespread admiration for several key reasons. Firstly, the exceptional quality of their products stands out, with meticulous attention to detail evident in every piece. Durability is another strong suit, as users attest to the gear's ability to withstand harsh skiing conditions over multiple seasons. Design-wise, Spyder strikes a unique balance between bold aesthetics and functional ergonomics, making their gear not only performance-oriented but also visually appealing. The incorporation of advanced technologies like Graphene and Dermizax™ further elevates their offerings, enhancing comfort, performance, and safety.
These attributes collectively contribute to Spyder's esteemed reputation in the skiing community, as reflected in the positive feedback from users and brand enthusiasts.
Dislikes About Spyder
While Spyder is acclaimed for its high-quality and technologically advanced ski gear, there are certain aspects that have drawn criticism from some customers. A primary concern is the brand's pricing; Spyder's products are on the higher end of the market, which can be prohibitive for budget-conscious skiers, despite the quality and durability they offer. Brands like Columbia, Tipsy Elves, and Arctix offer a much more competitive price.
Additionally, several customers have expressed dissatisfaction with the brand's customer service, particularly regarding warranty claims and response to issues. There are reports of challenges in getting warranty claims honored for items with a 'lifetime warranty' and difficulties in communication with customer service, especially in relation to product returns and refunds.
Although these issues are not universally experienced by all Spyder customers, they are notable considerations for potential buyers, especially when weighed against the brand's reputation for premium ski wear.
User Experience and Performance
In my engagement with the skiing community and some nonpro skiers, I have gathered some insights into the user experience and performance of Spyder's ski wear. These observations, coupled with reviews from other ski enthusiasts and expert opinions, provide a well-rounded understanding of what Spyder offers.
Durability
One of the most consistent praises for Spyder gear is its durability. Many fellow skiers I've spoken to, as well as numerous online reviews, commend the longevity of Spyder's products. The robustness of materials like Dermizax™ and the craftsmanship in their insulated and shell jackets, for instance, withstand rigorous ski conditions season after season. This durability is not just limited to their outerwear; their pants, gloves, and even footwear are lauded for their ability to endure and maintain quality over time, a crucial factor for skiers who face diverse and challenging environments.
Comfort
Comfort is another area where Spyder excels. Their use of Graphene and Sorona® insulation in various products has been a game-changer. These materials provide warmth without the bulk, ensuring a comfortable skiing experience without compromising mobility. The ergonomic designs of their clothing, especially noted in their race suits and casual pants, offer a fit that moves with the skier. This aspect is particularly appreciated by those who spend long hours on the slopes, where comfort can significantly impact performance and enjoyment.
Performance
Performance-wise, Spyder gear consistently ranks high among the skiing community. The integration of technologies like GORE-TEX in their outerwear for optimal breathability and waterproofing, and the inclusion of the Recco® Avalanche Rescue System for safety, are often highlighted as key performance enhancers. These features not only provide physical benefits but also peace of mind, knowing that one's gear contributes to overall safety on the slopes. Additionally, the aerodynamic design of their race suits is frequently mentioned by competitive skiers for its contribution to achieving better speeds and agility during races.
Expert Opinions
Skiing experts and professionals often endorse Spyder for its blend of innovation and practicality. The brand's ability to incorporate advanced technologies without overshadowing the fundamental needs of skiers – warmth, protection, and comfort – is a recurring theme in expert reviews. Moreover, Spyder's commitment to evolving and adapting its product line to meet the changing demands of the sport, as seen in its expanded freeski line, garners respect and admiration from industry professionals.
What's New?
---
In September 2023, they released their Fall/Winter 2023 collection, a seamless blend of technological advancement and innovative design.
The collection not only transcends fashion but also signifies an evolution. With pioneering technologies, vibrant colors, and eye-catching patterns, their Fall/Winter 2023 range stands as a tribute to innovation and artistic expression.
FAQs
What sets Spyder apart from other outdoor clothing brands?
Spyder distinguishes itself through a specialized focus on high-performance outdoor wear. Known primarily for ski apparel, Spyder combines cutting-edge technology, like waterproofing and insulation, with stylish designs to ensure both functionality and fashion. The brand is recognized for its commitment to quality and innovation, catering to both professional athletes and outdoor enthusiasts alike.
Can Spyder clothing be worn in non-skiing environments?
Absolutely! While Spyder is renowned for its ski gear, many of its products are designed for versatility and comfort in various settings. From fleece jackets to casual wear, Spyder offers a range of clothing suitable for everyday use, hiking, and other outdoor activities, providing warmth, comfort, and durability regardless of the setting.
How does Spyder contribute to sustainability?
Spyder is increasingly aware of the importance of sustainability in fashion. They strive to incorporate more eco-friendly practices by using recycled materials where possible, reducing waste, and ensuring ethical manufacturing processes. As the brand evolves, it continues to explore new ways to minimize its environmental footprint while maintaining the high standards of its products.