Are you a ski enthusiast looking for the ultimate game-changer in your winter gear? The best ski bibs of 2024 are not just a trend, they're a revolution in snow sports apparel.
The advancements in ski bib technology are remarkable. Attention-grabbing in both functionality and style, these bibs have become essential for skiers seeking both performance and comfort on the slopes. We're seeing lighter, more flexible materials that don't sacrifice durability or waterproofing. The integration of smart fabrics, offering improved breathability and temperature regulation, is particularly exciting.
To give you an idea of what the top ski bibs are, we've included a comparison table below the top choices. To learn more about ski bibs, check out the buyer's guide after the selection. I also wrote a dedicated post for women's best ski bibs.
---
---
Comparison Table
| Bib | Best Use | Waterproofing | Weight (g) | Price |
| --- | --- | --- | --- | --- |
| Flylow Gear Baker Bib | Resort Skiing | 3L by Intuitive | 952 | $429.95 – 430 |
| The North Face Freedom | Resort Skiing | DryVent™ 2L shell | 697 | $249.95 – 250 |
| Flylow Gear Snowman | Resort Skiing | 2L Stark | 839 | $330 |
| Outdoor Research Skytour AscentShell | Backcountry | 3L Ascentshell | 768 | $398.95 – 399 |
| Trew Gear Trewth Bibs | Backcountry, Resort | PNW 3L Classic Fabric | 870 | $439 |
| REI Co-op Powderbound Insulated Snow | Resort | 2-layer Peak waterproof | 830 | $199 |
| Outdoor Research Hemispheres II GORE-TEX® | Backcountry, Resort | GORE-TEX® C-Knit Technology | 627 | $486.75 |
| Jones Snowboards Shralpinist Stretch Recycled | Backcountry, Resort | Dot laminated hydrophilic membrane and PFC-free DWR | 750 | $499.95 |
| Picture Welcome 3L Bib Pants | Backcountry | Dryplay 20K/20K membrane | 720 | $361 |
| Patagonia Powder Town Bibs | Resort | 2L H2No® Performance Standard shell | 625 | $299 |
| Helly Hansen Legendary Insulated | Resort | Helly Tech Performance range 10k to < 20k mmH2O | 750 | $240 |
Flylow Gear Baker Bib
Best Use: Resort Skiing
Waterproofing: 3L by Intuitive
Weight: 952g
Likes: Comfortable, durable, and well-thought-out pocket placements
Dislike: not versatile for milder conditions or for more active, high-output skiing

The Flylow Baker Bibs are renowned for their robust features and functionality, ideal for avid skiers. They are crafted with a sturdy Surface 3-layer fabric, reminiscent of workwear, ensuring durability and resilience. These bibs offer substantial coverage against the snow with their high-performance Durable Water Repellent (DWR) coating. Key features include 1000 Denier cuff and knee reinforcements, a kangaroo chest pouch for additional storage, and fully seam-taped construction for enhanced waterproofing.

The design includes articulated knees for better movement, powder gaiters to keep snow out, and a variety of pockets including two hand pockets, a back pocket, two zippered and one snap chest pocket, and a thigh pocket for ample storage. Additionally, the bibs feature YKK waterproof zippers and are equipped with both inner and outer thigh vents for adjustable ventilation.
The North Face Freedom Bibs
Best Use: Resort Skiing
Waterproofing: DryVent™ 2L shell
Weight: 697g
Likes: comfortable and lightweight
Dislike: not for deep snow (no snow cuff hook)

The Freedom Bibs offer excellent value with their durable and stylish construction. They feature a waterproof and breathable DryVent™ 2L shell enhanced with a non-PFC DWR finish, ensuring dryness in various weather conditions. Adjustable suspenders, waist tabs, and belt loops provide a customizable fit, while a covered front zip ensures easy entry.

Storage is ample with a chest pocket, secure-zip hand pockets, and dual cargo pockets on the thighs. For mobility, they include articulated knees, reinforced kick patches, and a hem. The Chimney Venting™ system, combined with StretchVent™ gaiters and inner-thigh vents, offers excellent temperature regulation.

Another great choice is REI Co-op Powderbound Insulated Bib, which focuses on warmth with 40g of 98% recycled synthetic insulation. It also offers a blend of sustainability with bluesign®-approved materials and ethical manufacturing. A bit cheaper than the Freedom bib but after considering some factors, like versatility, reputation, style, and fit, I chose the North Face Freedom bib as the best budget ski bib because its cost-effectiveness stands out, offering a great balance of functionality and durability at a reasonable price
Flylow Gear Snowman Bib
Best Use: Resort Skiing
Waterproofing: 2L Stark
Weight: 839g
Likes: Great fit and enough insulation for colder days
Dislike: Needs some improvements in exterior durability

This insulated Snowman Bib is designed for those seeking extra warmth in a sleek package. It features a discrete 40-gram layer of insulation that won't bulk up your silhouette or cause overheating. Crafted from durable Stark 2-layer hardshell polyester, these bibs incorporate a 10k/10k waterproof breathable membrane, offering substantial protection from the elements.

High-performance DWR coating and reinforced cuffs enhance durability, while fully taped seams ensure waterproof integrity. The design includes six pockets for ample storage, adjustable waist tabs for a custom fit, long exterior zippers for easy entry, an articulated knee box for mobility, YKK zippers for reliability, and powder gaiters to keep snow out.
Outdoor Research Skytour AscentShell Bibs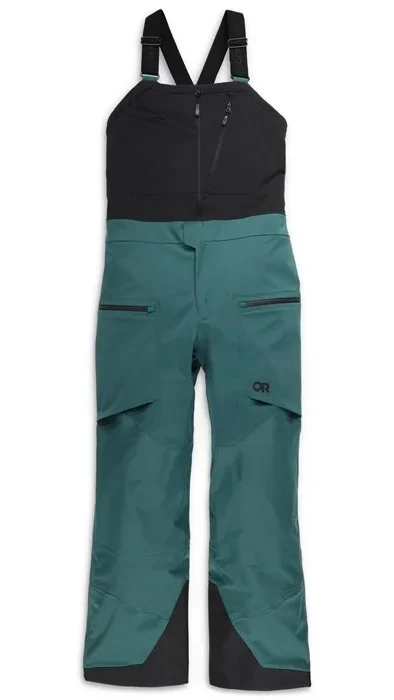 Best Use: Backcountry
Waterproofing: 3L Ascentshell
Weight: 768g
Likes: good mobility and excellent breathability
Dislike: Some moisture gets through when you sit on the damp area

The Skytour AscentShell™ Bibs blend the best features of softshells and hardshells, ideal for backcountry touring, ski mountaineering, and high-energy cold weather activities. They're built with AscentShell™ technology, an electrospun membrane offering waterproof, windproof, air-permeable, and stretchy properties.

These bibs are lightweight and highly breathable, with zippered outer thigh vents for enhanced ventilation. They feature adjustable suspenders, a mix of practical pockets including a secure avalanche beacon clip, and a full front zip for easy heat regulation. The design is completed with stretch mesh internal gaiters, a reinforced scuff guard, a gusseted crotch, articulated knees, and a swing hatch for convenience.
Trew Gear Trewth Bibs
Best Use: Backcountry, Resort
Waterproofing: PNW 3L Classic Fabric
Weight: 870g
Likes: Quality finish with generous side vents
Dislike: A little tight around the torso

For those who have experienced the exhilaration of deep, powdery snow, the TREWth Bibs are the perfect companion. Designed to manage everything from resort skiing to backcountry tours, these bibs are built for serious snow enthusiasts. They feature a transceiver pocket with a D-ring for safety, water-resistant construction, and fully seam-taped 3L tape for maximum durability.

The long side zipper allows for easy bathroom breaks, while water-resistant zippers on all openings keep moisture out. Other highlights include top and bottom-opening side zips, jacquard elastic straps with silicone grip, internal boot gaiters, SuperFabric® cuffs, and kick patches, plus a RECCO® reflector for added safety.
REI Co-op Powderbound Insulated Snow Bib
Best Use: Resort
Waterproofing: 2-layer Peak waterproof
Weight: 830g
The REI Co-op Powderbound insulated bib snow pants are meticulously crafted to provide warmth and enhance movement. They feature a Peak 2-layer waterproof, windproof, and breathable nylon shell, with critical seam sealing for dry, comfortable wear. A DWR finish repels light rain and snow, while 40g of 98% recycled synthetic insulation offers warmth without bulk.
Key features include inner thigh vents, a side-entry zipper for easy wear, water-resistant lining, adjustable straps, belt loops, boot gaiters, and reinforced hems for durability. Additional features like a zip chest pocket, key clip, and a stretch-knit back panel ensure convenience and comfort. These bibs, tested in diverse terrains, are made with bluesign®-approved and recycled materials, reflecting a commitment to sustainability and ethical manufacturing.
Outdoor Research Hemispheres II GORE-TEX® Bibs
Best Use: Backcountry, Resort Skiing
Waterproofing: GORE-TEX® C-Knit Technology
Weight: 627g
The Hemispheres II Bibs, featuring advanced GORE-TEX® technology, are designed for all-condition skiing and riding, both in the backcountry and at resorts. These bibs offer elite weather protection, being both waterproof and windproof while maintaining breathability. Their fully seam-taped construction and movement-mirroring stretch ensure comfort and high mobility. Key features include Gore-Tex Stretch Panels for increased movement, adjustable suspenders for a customized fit, multiple zip-secure pockets, including one with an avalanche beacon clip, zippered thigh vents, and an internal gaiter with a power strap slot. The addition of scuff guards, articulated knees, and a swing hatch enhances functionality, making the Hemispheres II Bibs one of the top choices for versatile, high-performance ski wear.
Jones Snowboards Shralpinist Stretch Recycled Bibs
Best Use: Backcountry, Resort
Waterproofing: Dot laminated hydrophilic membrane and PFC-free DWR.
Weight: 750g
The Shralpinist Stretch Bibs, ideal for backcountry touring and resort skiing, offer all-weather protection and supreme comfort. Newly updated for 2024, they feature durable 100% recycled 4-way stretch 30K/30K 70D fabric, ensuring both flexibility and enhanced durability. These high-performance bibs are designed for dynamic movement, with a stretch woven chest and back panel, multiple zippered pockets, side seam vents, and powder gaiters. The fabric's improved strength and the relaxed, ergonomically engineered fit allow for precise movement while climbing or riding. Additionally, they incorporate RECCO rescue technology, recycled polyester zip pull cords, an adjustable waistband, belt loops, and durable powder gaiters, making them a responsibly made choice for efficient movement through any terrain.
Picture Welcome 3L Bib Pants
Best Use: Backcountry
Waterproofing: Dryplay 20K/20K membrane
Weight: 720g
The stretch 3-layer Welcome Bib Pants are designed for backcountry touring, offering lightweight breathability and protection for ski touring and split boarding. They feature a sustainable bio-sourced polyester face fabric and a 20K/20K membrane, ensuring top-tier waterproof breathability. Enhanced with PFC-free DWR treatment and waterproof zips, these pants provide solid protection against snow and wind, with vents for temperature control. They include adjustable suspenders and stretchy lycra for comfort and freedom of movement, along with practical pockets. These straight-fit bibs, made sustainably and ethically, are perfect for long days in untracked powder, and equipped with snow gaiters, hem reinforcement, and waterproof pocket zips.
Patagonia Powder Town Bibs
Best Use: Resort
Waterproofing: 2L H2No® Performance Standard shell
Weight: 625g
The Powder Town Bibs are fully PFC-free and designed for versatile use and mobility. They feature a durable H2No® Performance Standard 2-layer recycled polyester shell for waterproof, breathable, and windproof protection. The bibs have an articulated fit for movement freedom and a smooth mesh liner for comfort and layering ease. They include a drop-in chest pocket, adjustable suspenders, and a zippered drop seat. A microfleece panel adds warmth, and the waistband has belt loops and a zippered fly. Gaiters seal out snow, while tough scuff guards protect the legs and hem. Venting on the outer leg and zippered pockets offer practicality, and a built-in RECCO® reflector enhances safety.
Helly Hansen Legendary Insulated
Best Use: Resort
Waterproofing: Helly Tech Performance range 10k to < 20k mmH2O
Weight: 750g
The bib version of the Legendary Ski Pant, equipped with waterproof and breathable HELLY TECH® Performance, offers enhanced insulation at the seat and knees for all-day performance. This classic resort bib, celebrated for its legendary performance, features extra warmth for cold days and remains stylish. Its construction includes 2-way stretch fabric for movement freedom and PrimaLoft® insulation paired with thigh-vent zippers for temperature control. The bib is made from environmentally friendly materials, being a bluesign® product with PFC-free DWR, ensuring both performance and sustainability.
Buyer's Guide
Ski Bibs vs. Pants
The increasing popularity of ski bibs over traditional ski pants is a notable trend in ski apparel. Ski bibs offer superior coverage against snow, especially in deep powder conditions, effectively preventing snow from entering which is a common issue with ski pants. They also provide added warmth by insulating the core area more effectively.
One of the key advantages of ski bibs is their ample storage capacity, typically offering more pockets than traditional pants. Additionally, they combine comfort and style, often featuring adjustable straps and a variety of fashionable designs. Their versatility is enhanced with features like ventilation zips and reinforced areas, making them suitable for both resort and backcountry skiing. This shift towards ski bibs reflects the evolving demands of modern skiers for gear that offers enhanced functionality and comfort.
Fabric Types
Hardshell Materials
Hardshell fabrics are synonymous with exceptional weather protection in ski bibs. They excel in waterproofing and wind resistance, making them the go-to choice for severe weather conditions, particularly in wet and windy environments like those often encountered during resort skiing. A prime example of this is the Flylow Gear Baker Bib, which utilizes a robust 3-layer hardshell construction. While offering unparalleled protection against the elements, the drawback of hardshell materials is their rigidity and reduced breathability. This can lead to a compromise in movement and comfort, particularly in more dynamic skiing or warmer conditions.
Insulated Materials
Insulated ski bibs are designed to provide extra warmth, essential for frigid temperatures often found in high-altitude or polar skiing environments. They typically combine a waterproof outer layer with internal insulation, like down or synthetic fill, to trap body heat. This makes them ideal for skiers who prioritize warmth, such as those who ski in extremely cold conditions or spend extended periods on chairlifts.
An example is the Spyder Coaches Bib, which integrates insulation effectively for colder ski days. The trade-off, however, comes in the form of increased bulk and reduced breathability, which can be a drawback during physically demanding skiing or in milder weather conditions.
Softshell Materials
For skiers seeking flexibility and breathability, softshell materials are the preferred choice. Known for their stretchiness, softshell ski bibs offer enhanced comfort and mobility, making them perfect for active skiing styles and backcountry adventures where freedom of movement is paramount. They're typically more breathable than hardshell materials, providing better temperature regulation during intense activity.
The downside of softshell materials lies in their lower waterproof and windproof capabilities compared to hardshell fabrics. An excellent example of softshell use is found in the Patagonia SnowDrifter Bib, which incorporates softshell material for better mobility, especially suited for spring backcountry skiing. While softshells are great for milder weather, they might not provide adequate protection in extreme weather conditions.
Waterproofing
The primary benefit of waterproof bibs is their ability to protect skiers from snow, rain, and wet conditions, thereby enhancing comfort and maintaining warmth. They are versatile and suitable for various skiing environments, from groomed resort runs to unpredictable backcountry terrain.
However, there are trade-offs, such as potential limitations in breathability, which can lead to discomfort during high-energy activities. Additionally, the more rigid nature of some waterproof materials may restrict movement, and the cost of high-level waterproofing can be significant. Technologies like Gore-Tex membranes offer excellent waterproofing but at a higher price, whereas coatings provide a more budget-friendly option with lower effectiveness.
In selecting ski bibs, the waterproofing level should be matched with the skiing conditions: deep powder and wet conditions require high waterproofing, while active skiing might necessitate a balance between waterproofing and breathability. In milder conditions, the emphasis on waterproofing can be lessened. Therefore, choosing the right level of waterproofing depends on your specific skiing needs and the typical conditions you encounter.
Fit
A well-fitted ski bib offers freedom of movement, crucial for both resort skiing and backcountry expeditions. Bibs typically come in different fits, ranging from slim to relaxed. Slim-fit bibs, closer to the body, are often preferred for high-performance skiing, where aerodynamics and mobility are key. They are ideal for aggressive skiers or those in technical terrains.
However, they might restrict layering options. Relaxed fits, on the other hand, offer more room for layering, making them suitable for colder conditions. They can, however, feel bulkier and may reduce precision in movements. Adjustable features such as waist tabs and suspenders in ski bibs add to the versatility, allowing skiers to customize the fit to their body type and layering preferences.
The right fit also influences ventilation effectiveness and the overall comfort level, which are critical in varying weather conditions. Make sure to check the manufacturer's sizing before you buy or better yet, visit the nearest retailer to try it on. Some online shops like Rei or Evo have good return policies.
Insulation
Insulated bibs are designed to provide extra warmth, which is especially beneficial in extremely cold environments. This added insulation, often made of synthetic materials like PrimaLoft or Thinsulate, helps retain body heat, ensuring comfort and warmth on the slopes.
The key drawback of insulation is reduced breathability, which can lead to overheating and discomfort during highly active skiing or in milder weather conditions. Additionally, insulated bibs can be bulkier, potentially limiting mobility. For skiers who predominantly explore in frigid temperatures, insulated bibs are invaluable. In contrast, for those engaged in high-output activities or skiing in warmer conditions, a less insulated or uninsulated bib might be more appropriate, balancing the need for warmth with breathability and flexibility.
Style
Modern ski bibs blend aesthetics with practical features, offering a range of styles from classic and understated to bold and colorful designs. Style choices can include various color options, patterns, and cuts that suit different body types and personal tastes. Besides visual appeal, the style of a ski bib can also incorporate functional elements like pocket placement, strap design, and overall silhouette, which can impact ease of movement and convenience. For example, streamlined, minimalist bibs might appeal to the performance-focused skier, while those with more pockets and adjustment options might be favored by backcountry enthusiasts who need to carry gear.
Additional Features
One key feature is pockets, which range from handwarmer pockets to specialized ones like avalanche beacon pockets. Their placement and size are important for convenience and accessibility.
Ventilation systems, like thigh vents, are another significant feature, allowing skiers to regulate body temperature during intense activities.
Adjustable straps and waistbands provide a customizable fit, accommodating different body types and layering needs. Some bibs also include reinforced areas, like scuff guards on cuffs, for increased durability in high-wear zones.
Additionally, features like integrated gaiters keep snow out of boots, and reflective elements enhance visibility for safety. These additional features collectively contribute to the performance, comfort, and safety of the ski bibs, making them versatile for various skiing styles and conditions.
How To Choose The Best Ski Bib
When it comes to choosing ski bibs, there are several factors you must consider to ensure your time on the mountain is comfortable, safe, and enjoyable.
Personal Skiing Style: Your skiing style plays a pivotal role in selecting bibs. If you're an aggressive skier who tackles challenging terrain, look for bibs with reinforced knees and seat, as well as ample mobility. For those who prefer a leisurely pace, comfort and warmth might be your priority.
Climate Conditions: The climate you ski in dictates the insulation and waterproofing you need. Cold, dry conditions call for high insulation, while wetter climates necessitate excellent waterproofing. A good rule of thumb is to look for bibs with a high waterproof rating (measured in mm) and breathability (measured in g/m²/24hrs).
Specific Needs: Resort skiing often means you have easy access to amenities, so you might prioritize style and comfort over utility. Look for features like adjustable straps and pockets for your convenience. For backcountry enthusiasts, your bibs are part of your survival kit. Durability, weather resistance, and ventilation systems are non-negotiable features. Integrated RECCO reflectors for avalanche safety can be a lifesaver in the backcountry.
Lastly, consider the fit. Ski bibs should have a snug yet comfortable fit, allowing for a full range of motion. Remember, the best bib is the one that fits your body and your skiing style perfectly. Always try before you buy, and don't hesitate to consult with experts at your local ski shop. Your bibs are an investment in your passion, so choose wisely and ski with confidence.
How To Layer Underneath the Ski Bib
Layering underneath ski bibs is crucial for comfort and performance on the slopes. Here's a breakdown of how I approach layering:
Base Layer: The base layer is your next-to-skin layer and its main job is to manage moisture. I always opt for a high-quality merino wool or a synthetic fabric like polyester. Merino wool is fantastic because it's naturally odor-resistant and excellent at temperature regulation. Synthetic materials, meanwhile, are great at wicking moisture away from the skin. Avoid cotton at all costs—it retains moisture and can leave you feeling cold and clammy.
Mid Layer: The mid-layer provides insulation and continues to move moisture away from the base layer. For this, I prefer materials like fleece or a lightweight synthetic down alternative. Fleece is breathable and provides warmth without the bulk, while synthetic down retains heat efficiently even when wet. The thickness of this layer varies depending on the weather; I'll go for a thinner layer on warmer days and a thicker one when it's really cold.
Top Layer: While not directly underneath the bib, the top layer that goes over your mid-layer should be breathable and complement the bib's protection. I usually wear a ski jacket that's waterproof and windproof but still offers ventilation.
For the lower body, most ski bibs provide ample insulation, so your base layer might be enough. However, on exceptionally chilly days, adding a thin, breathable mid-layer pant can provide that extra bit of warmth.
When choosing fabrics and layers, I always consider the day's conditions and my own body's response to cold. Everyone is different, so it might take a few tries to find the perfect combination for you. Also, look for layers that are easy to shed or open for ventilation, because overheating can be just as uncomfortable as being too cold. A successful day on the slopes is all about adaptability and comfort, and layering effectively under your ski bibs is key to that.
Conclusion
The selection of the right ski bibs is a balance of various factors like waterproofing, fit, insulation, style, and additional features. Waterproofing ensures you stay dry in wet conditions, while the right fit enhances comfort and mobility. Insulation is key for warmth in colder environments, and the style of the bibs can affect both functionality and personal expression.
Additional features like pockets, vents, and reinforced areas add practicality and durability. Ultimately, the best ski bibs are those that align with your specific skiing needs, preferences, and the conditions you frequently encounter, ensuring an optimal mix of comfort, protection, and performance on the slopes.