7 Best Women's Ski Jackets of 2024: Top Picks & Buyer's Guide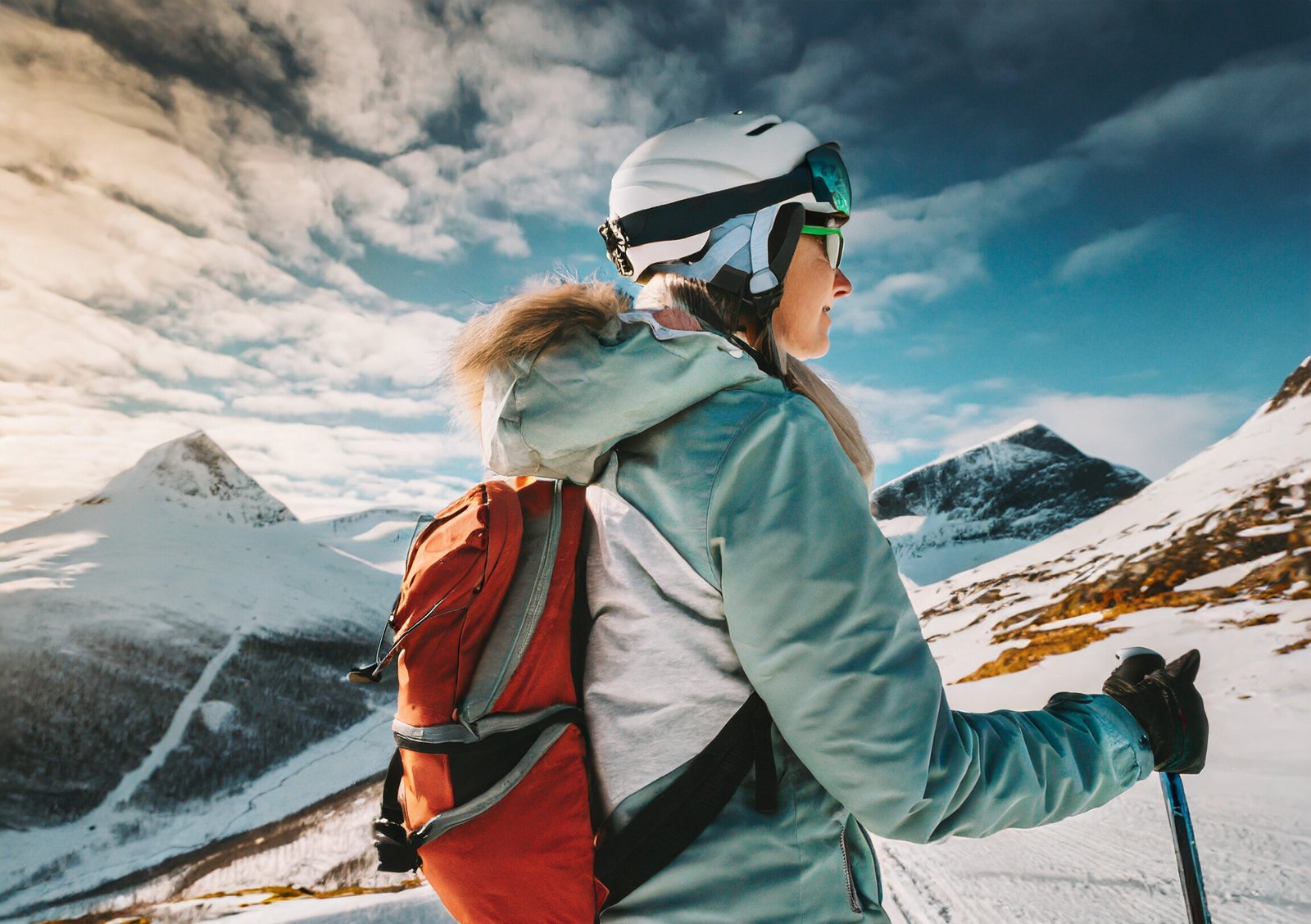 As an outdoor enthusiast, I've always placed a great emphasis on selecting the right gear. Today, we'll discuss the best women's ski jackets for the season 2023-2024. It's a decision that goes beyond mere aesthetics; the right ski jacket acts as a critical layer of protection against the unpredictable mountain elements.
This year, the range of available women's ski jackets is more diverse and technologically advanced than ever. From ultra-lightweight shells to insulated, weatherproof wonders, the industry has made remarkable strides in materials and design. This year's offerings include jackets with improved breathability, enhanced waterproofing, and sustainable materials, all while maintaining sleek and stylish designs. As we explore these options together, I'm excited to share my insights on what makes each jacket stand out in this innovative landscape.
You can check the comparison table for a quick peek and our buyer's guide to learn more about ski jackets specifically for women. I also wrote a dedicated post for women's best ski bibs if you want to complete your ensemble.
Ski suits are also a great option if you'd rather not deal with the trouble of selecting separate garments, such as pants/bibs and a jacket.
Top Picks
Best Overall: Arc'teryx Sentinel
Best Technical Shell: Norrona Lofoten Gore-Tex Pro – Women's
Best for Resort Skiing: Patagonia Storm Shift
Best for Backcountry Skiing: ORTOVOX Women's 3L Deep Shell Jacket
Best Budget Women's Ski Jacket: Outdoor Research Carbide
Best Insulated Women's Ski Jacket: Black Diamond Insulated Shell
Best for Colder Days: Helly Hansen Powderqueen 3.0
Comparison Table
| Brand | Best Use | Waterproofing | Weight | Type of Jacket | Price | Link |
| --- | --- | --- | --- | --- | --- | --- |
| Arc'teryx Sentinel | Backcountry, Freeride Touring | N80p 3L GORE-TEX | 640g | Shell | $750 | Arc'teryx |
| Norrona Lofoten Gore-Tex Pro – Women's | Resort Skiing, Backcountry, Mountaineering, Trekking | 3L 70D GORE-TEX® PRO | 606g | Technical Shell | $799 | Norrona |
| Patagonia Storm Shift | Resort | 2L PFC-free Gore-Tex | 723g | Insulated | $499 | Patagonia |
| ORTOVOX Women's 3L Deep Shell Jacket | Backcountry, Freeride | 3L DERMIZAX®EV | 539g | Shell | $730 | ORTOVOX |
| Outdoor Research Carbide | Backcountry, Resort | 3L Pertex® | 532g | Budget Shell | $329 | Outdoor Research |
| Black Diamond Recon Stretch Insulated Shell | Resort Skiing | 2L BD.dry™ | 544g | Insulated Shell | $480 | Black Diamond |
| Helly Hansen Powderqueen 3.0 | Downhill, Freeride Ski | 2L HELLY TECH® PROFESSIONAL | 1100g | Insulated | $450 | Helly Hansen |
Arc'teryx Sentinel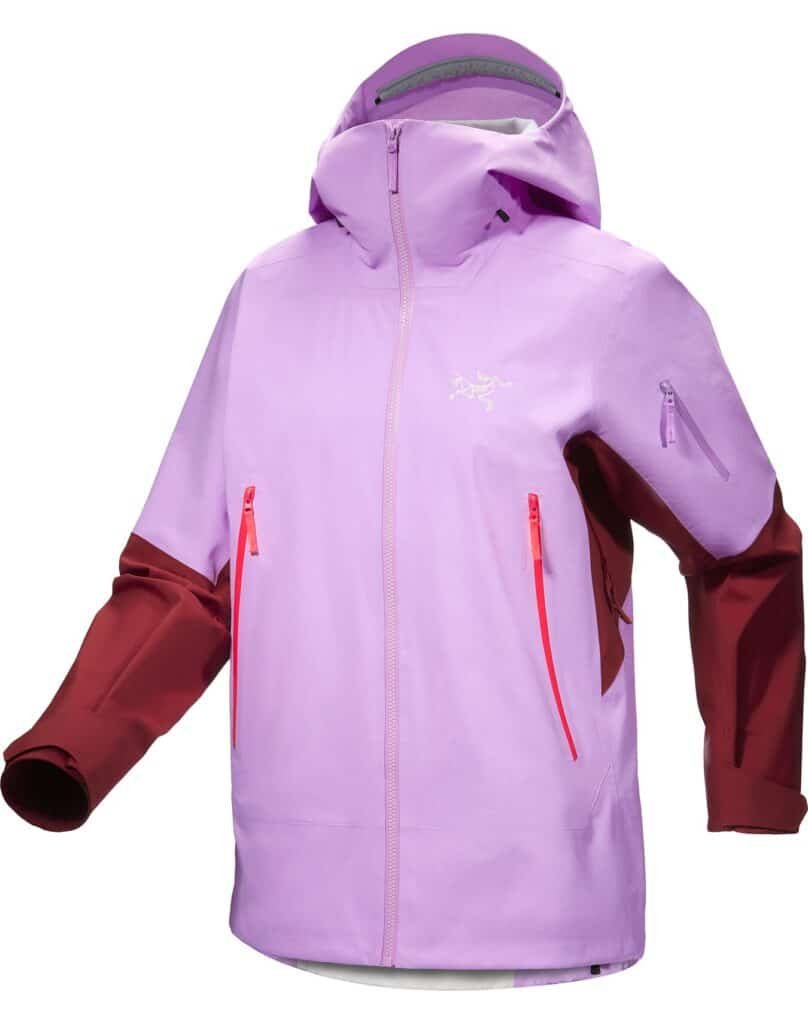 Best Use: Backcountry, Freeride Touring
Waterproofing: N80p 3L GORE-TEX
Weight: 640g
Likes: Excellent mobility, top-notch waterproofing, breathable, helmet-compatible hood
Dislike: Higher price point, not ultra-lightweight or heavily insulated

The Arc'teryx Sentinel is a high-performance women's ski jacket tailored for both skiing and snowboarding. Constructed with GORE-TEX fabric, it excels in waterproofing, shielding wearers from rain, snow, and wind. Its design is thoughtfully balanced to be moderately lightweight, offering protection without excess bulk. Standout features include its exceptional mobility, allowing free movement, and a helmet-compatible hood for added safety. While the Sentinel is a premium choice reflected in its price, it may not be the go-to for those seeking the lightest or most heavily insulated options. Overall, the Sentinel represents a fusion of durability, functionality, and style, ideal for the dynamic demands of winter sports enthusiasts.
Norrona Lofoten Gore-Tex Pro – Women's
Best Use: Resort Skiing, Backcountry, Mountaineering, Trekking
Waterproofing: 3L 70D GORE-TEX® PRO
Weight: 606g
Likes: Breathable and good mobility
Dislike: high price, too much for just casual skiing

Its construction with premium GORE-TEX® PRO fabric is a game-changer. This material is the best for durable waterproofness (28,000mm), outstanding breathability, and complete windproofing. The 3-layer 70D GORE-TEX® PRO most breathable fabric, which includes a recycled nylon face, offers reliable weather protection and optimized breathability – perfect for when I'm pushing hard on the slopes. The fabric's microgrid backer is solution-dyed, adding to its durability.
The jacket's features are thoughtfully designed for practicality and comfort. The storm hood can be adjusted with just one hand, and the two-way underarm and front zippers offer excellent ventilation options, which I find invaluable during intense runs. The Napoleon chest pocket and inside mesh pocket are great for essentials, and the keycard pocket on the overarm is a smart touch. I particularly appreciate the asymmetric cuffs with Velcro adjustment, integrated hand-gaiters, and the adjustable bottom hem for a perfect fit. The zip-off powder skirt with gripper elastic and snap-seal solution is ideal for deep powder days.
The fit is technical, with articulated arms for optimal mobility – a feature I've found crucial for freedom of movement. The longer cut in the back offers extra protection, which is especially noticeable on colder, windier days. Overall, the Norrona Lofoten Gore-Tex Pro Jacket stands out not just for its bold colors and new cut but for being innovatively designed for the demands of freeride skiing and snowboarding. It's a jacket that's seen continuous improvements over the years, always focusing on meeting the needs of serious winter sports enthusiasts.
Patagonia Storm Shift
Best Use: Resort
Waterproofing: 2L PFC-free Gore-Tex
Weight: 723g
Likes: room to layer, flared in the hips
Dislike: a bit longer than what is expected from the size

The Patagonia Storm Shift Jacket is a standout for eco-friendly ski wear. Made from 100% recycled GORE-TEX fabric, it's completely PFC-free, offering excellent waterproofing and windproof protection. The jacket's lining efficiently wicks moisture, keeping you dry and comfortable in various conditions.
The design features a helmet-compatible hood, adjustable cuffs, and multiple pockets, including a handy forearm pocket and a RECCO® reflector for safety. I've found the fit to be generous, especially around the hips, which is great for a range of body types, though it might be a bit long for those who are shorter. The longer cut is beneficial for extra protection, particularly when sitting on chairlifts in snowy conditions. Overall, it's a solid choice for those seeking a durable, eco-conscious jacket for skiing or snowboarding.
Best for Backcountry Skiing
ORTOVOX Women's 3L Deep Shell Jacket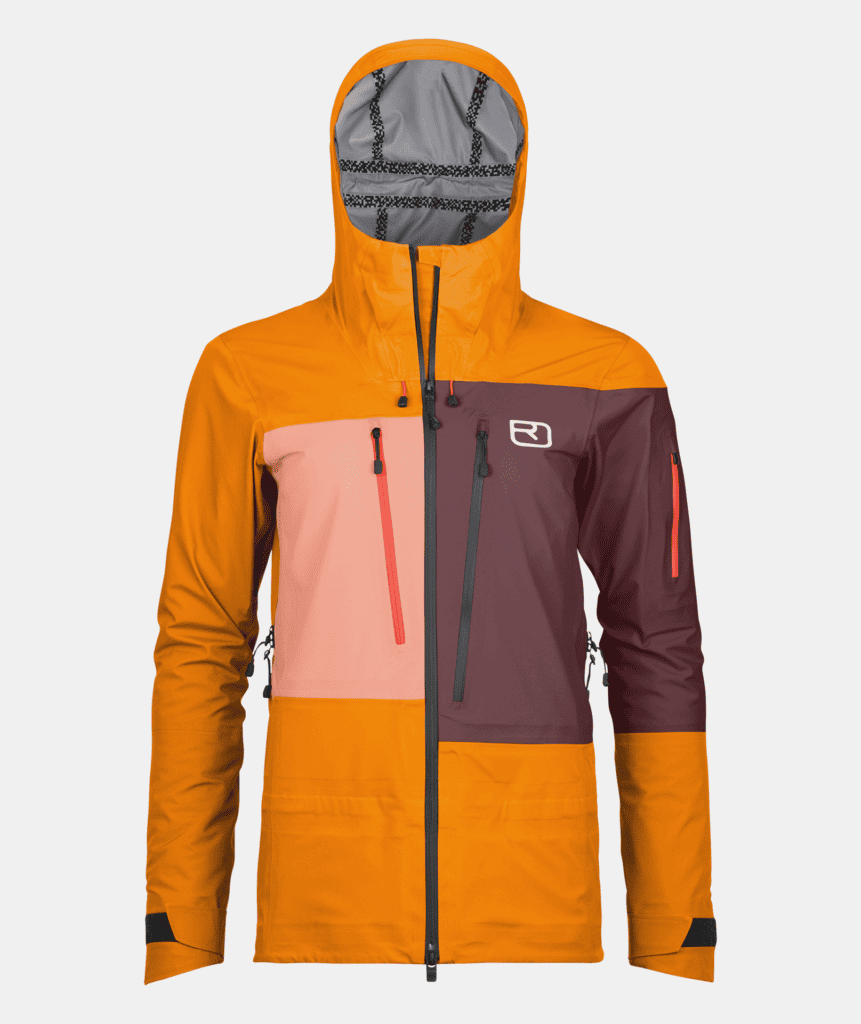 Best Use: Backcountry, Freeride
Waterproofing: 3L DERMIZAX®EV
Weight: 539
Likes: very good protection and super breathable
Dislike: not that versatile for different weather

Exploring the backcountry just got better with the 3L Deep Shell Jacket for women. It's lightweight and designed for freeriding, offering great freedom of movement. The standout feature for me is the inclusion of merino wool in cold-sensitive areas, providing extra warmth. The jacket's DERMIZAX®EV membrane ensures it's both windproof and waterproof.

It's equipped with a two-way adjustable storm hood, underarm ventilation for temperature control, and plenty of pockets, including a special cell phone pocket insulated with merino mesh. Durability is key in this jacket's design, and it's also PFC-free and climate-neutral, which is great for environmentally conscious riders. For me, it's a perfect blend of functionality and sustainability for freeriding adventures.
Best Budget Women's Ski Jacket
Outdoor Research Carbide
Best Use: Backcountry, Resort
Waterproofing: 3L Pertex®
Weight: 532g
Likes: good stretch and price point
Dislike: Thin shell

The Carbide Jacket is ideal for both resort skiing and backcountry adventures. It's versatile, adjusting well to various conditions. Made with waterproof and breathable Pertex® Shield 3L fabric, the jacket keeps you dry and comfortable. It features a helmet-compatible Halo Hood, powder skirt, pit zips for ventilation, and multiple pockets including a ski pass pocket.

The fit is great for layering without being bulky, and the wider collar accommodates ski gear comfortably. While it's generally reliable, there have been some concerns about its durability. Overall, it's a solid choice for those who need a jacket that can handle a variety of skiing conditions.
Best Insulated Women's Ski Jacket
Black Diamond Recon Stretch Insulated Shell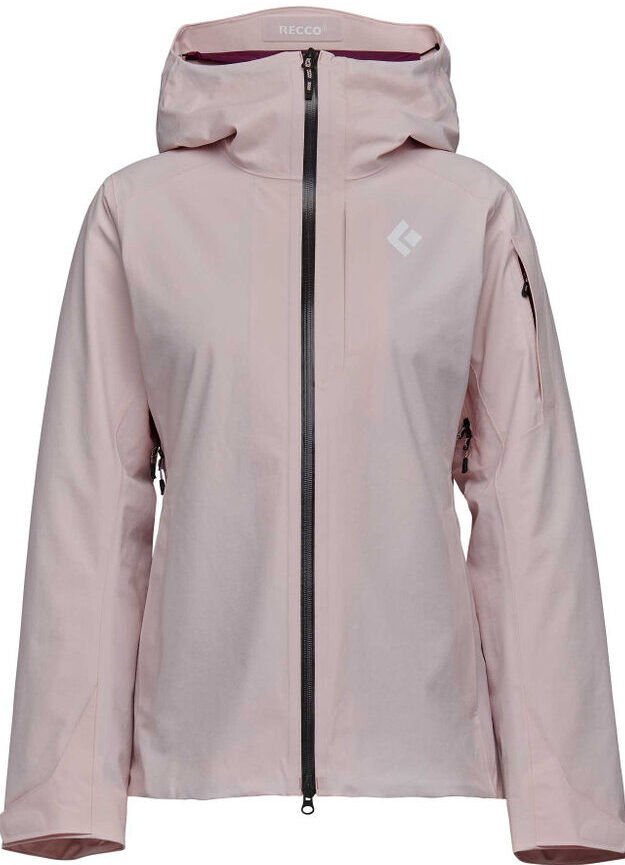 Best Use: Resort Skiing
Waterproofing: 2L BD.dry™
Weight: 544g
Likes: still packable despite being an insulated jacket
Dislike: not that much room in the armpit area if you bulk layer underneath on very cold days

The Recon Stretch Insulated Shell is ideal for freezing conditions, balancing zoned insulation for warmth with breathability where needed. It's crafted with BD.dry™ 4-way stretch fabric for comfort and a ski-helmet compatible hood for protection. Key features include pit zip vents, a removable powder skirt, multiple pockets, and adjustable cuffs. This jacket is perfect for both inbounds skiing and backcountry adventures, offering warmth without overheating and ample storage. It's versatile and stylish, making it a great choice for both active ski days and casual wear.
Helly Hansen Powderqueen 3.0
Best Use: Downhill, Freeride Ski
Waterproofing: 2L HELLY TECH® PROFESSIONAL
Weight: 1100g
Likes: Warm without the added bulk
Dislike: too large for a petite woman

The women's Powderqueen 3.0 Jacket is a top performer for dominating the slopes, offering all the features needed for a warm and dry skiing experience. This versatile women's ski jacket is built with HELLY TECH® Performance 2-layer construction, ensuring waterproof, breathable, and windproof protection. It's insulated with 60g PrimaLoft® Black Eco in the core and 40g in the sleeves and hood, utilizing light, warm, and 100% recycled materials.

The jacket's relaxed, longer cut makes it suitable not just for downhill skiing but also for freeriding. The high collar is great for keeping warm during cold lift rides and protection in deep powder. It's equipped with freeride-specific features like a helmet-compatible hood, powder skirt, pit zips, a Life Pocket™ for your phone, a goggle shammy, and the Recco® advanced rescue system.

The Powderqueen 3.0 also features HELLY TECH® Professional fabric, Melange Ripstop fabric, fully sealed seams, DWR treatment, articulated sleeves, and a ski pass pocket. It's a bluesign® product and uses PFC-free DWR, making it an eco-friendly choice.

While I've found the jacket to be warm and versatile for different weather conditions, including rain and snow, it runs large, particularly in the arms and body. It's a fantastic jacket for those looking for warmth and versatility on the slopes, but it's worth considering the fit, especially for those who prefer a more athletic fit or have a smaller stature.
Buyer's Guide
How to Choose a Women's Ski Jacket
Choosing the right ski jacket involves considering various factors to ensure you get the most out of your gear. Here's a detailed guide based on my experience and knowledge of skiing and outdoor apparel:
Insulated vs. Non-Insulated
Insulated Jackets are ideal for colder conditions or for skiers who generally feel cold. They provide built-in warmth, often using materials like down or synthetic insulation.
Non-insulated (Shell) Jackets are more versatile. They're lighter and offer more flexibility in layering. They're suitable for a wider range of conditions, especially when paired with appropriate base and mid-layers.
Two-Layer Membranes are generally more affordable. They consist of an outer fabric bonded to a waterproof membrane, with a separate inner lining that protects the membrane.
Three-Layer membranes are more durable and offer better waterproofing and breathability. They have an outer layer, a waterproof membrane, and an inner protective layer, all bonded together.
Waterproofness and Breathability
Waterproof ratings, measured in millimeters, indicate how much water pressure a fabric can withstand. A higher number means better waterproofing.
Breathability is crucial to prevent moisture build-up inside your jacket. Look for jackets with high breathability ratings, especially if you're active or in warmer conditions.
Ventilation
Features like pit zips or mesh-lined vents are important for temperature regulation. They allow you to release heat during intense activity, reducing the risk of overheating.
Fit and Sizing
Ensure the jacket fits well without restricting movement. Consider the layers you'll wear underneath.
Women's jackets often have a more tailored fit, so pay attention to the cut, especially around the hips and waist.
Weight
Lighter jackets are more comfortable and less restrictive, especially for backcountry skiing or touring.
Heavier jackets might offer more warmth and protection but can be bulkier.
Collar and Hood
A high collar protects against wind and snow.
A helmet-compatible hood is a must for safety and comfort if you wear a helmet.
Sleeve Cuffs and Powder Skirt
Adjustable cuffs allow you to seal out snow and fit the jacket over gloves.
A powder skirt prevents snow from entering the jacket, especially in deep powder.
Pockets
Look for a jacket with enough pockets for your essentials. Specialized pockets like a ski pass pocket or an inner goggle pocket can be very convenient.
Sustainability
Consider jackets made from recycled materials or with eco-friendly manufacturing processes.
Brands that follow sustainable practices or have certifications like bluesign® are preferable.
Price
Determine your budget and find the best jacket within it.
Investing in a higher-priced, quality jacket can be more cost-effective in the long run due to durability and performance.
Tips on selecting a Women's Ski jacket
Resort Skiers: Those who frequent resorts may prefer Alpine skiing, look for jackets with convenience features like ski pass pockets and a removable powder skirt. Insulated jackets might be more comfortable for long days on groomed trails.
Backcountry Skiers: If you lean towards Nordic skiing, you'll likely be in less groomed, backcountry environments. Opt for lightweight, highly breathable shell jackets. They offer better mobility and are suitable for the physical exertion of backcountry skiing.
Freeriders: For those who enjoy the freedom of off-piste Alpine skiing, a durable jacket with good waterproofing and a relaxed fit ensures mobility across varied terrain.
2. Climate Considerations
Cold Climates: In colder regions, an insulated jacket or a shell with room for layering is essential. Look for features like a high collar and a well-insulated hood.
Milder Climates: In warmer or more variable conditions, a shell jacket is preferable. It provides protection without excessive warmth and allows for adaptable layering.
Wet Climates: Prioritize waterproofing and a good DWR (Durable Water Repellent) finish to stay dry in slushy or rainy conditions.
3. Expected Conditions
Powdery Snow: For deep powder, a jacket with a powder skirt, a high collar, and a well-sealed hood is crucial to keep the snow out.
Windy Conditions: Look for jackets with windproof technology and adjustable cuffs and hems to protect against wind chill.
Variable Weather: If you often encounter changing weather, a jacket with good ventilation, like pit zips, will help you regulate your temperature.
Additional Tips
Fit for Layers: Ensure the jacket fits comfortably with your typical base and mid-layers without restricting movement.
Adjustability: Features like adjustable hoods, cuffs, and hems can greatly enhance comfort and protection.
Durability: Consider the jacket's construction and materials, especially if you ski in rough terrain where wear and tear are more likely.
Criteria for Selection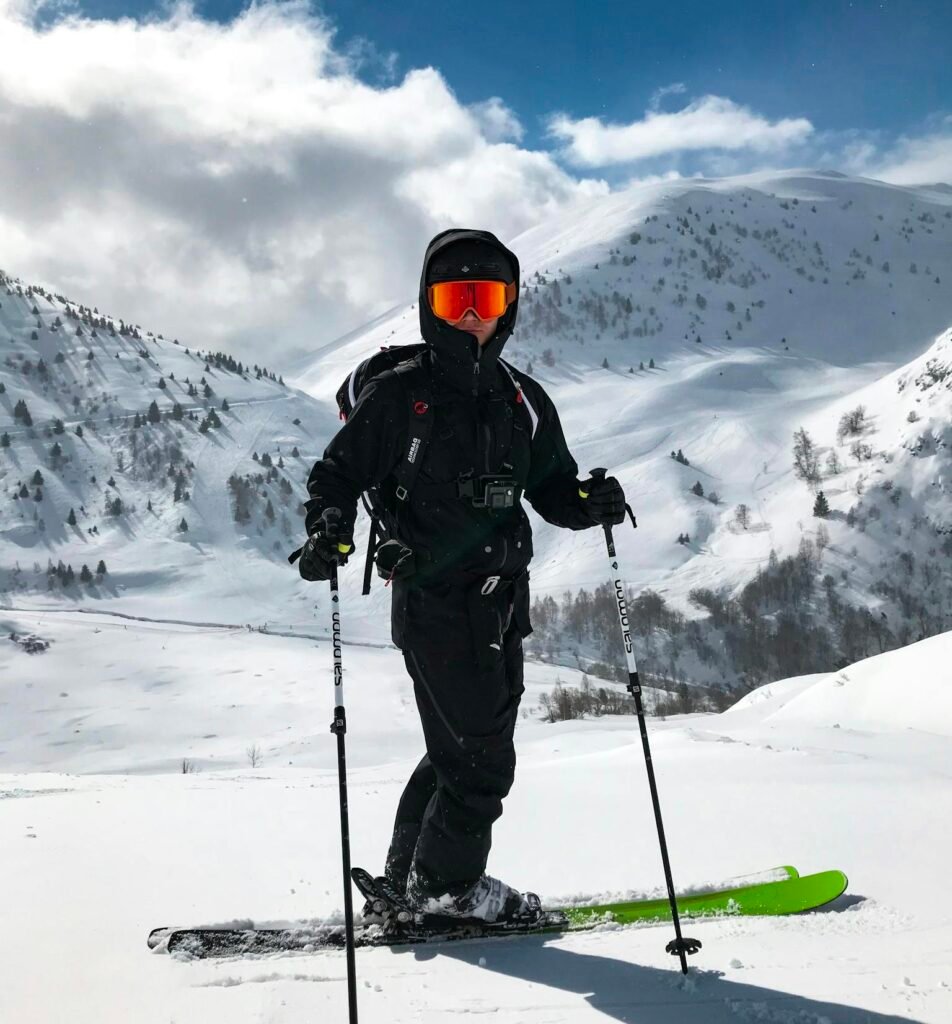 When selecting a women's ski jacket, various criteria should guide your decision to ensure it meets your needs on the slopes. Warmth is a key factor, especially in colder climates or for those who tend to feel cold easily; consider the insulation type and weight. Weather resistance is crucial for protection against snow, rain, and wind, so look for waterproof and windproof capabilities along with a durable water-repellent (DWR) coating.
Comfort and fit are paramount for a day on the mountain, with the jacket needing to accommodate layers without being restrictive. Ventilation is important for temperature regulation, particularly for active skiers; features like pit zips can provide much-needed airflow.
The style of the jacket, while a personal preference, can also influence your choice, as it should reflect your personality and be functional for your skiing environment. Features such as pockets, adjustable hoods, and powder skirts add practicality and convenience. Sustainability is increasingly important, with many opting for jackets made with eco-friendly materials and practices.
Finally, price often plays a significant role; while higher-priced jackets might offer better quality and durability, there are also budget-friendly options that don't compromise on essential features. Balancing these criteria will lead you to a jacket that not only keeps you warm and dry but also enhances your overall skiing experience.
Conclusion
In wrapping up our exploration of the best women's ski jackets, it's clear that the perfect choice varies significantly based on individual needs and preferences. Whether you're a resort skier, a backcountry enthusiast, or a freeride adventurer, there's a jacket out there that fits your specific requirements. The key is to balance factors like insulation, waterproofing, breathability, and fit with your personal style, skiing environment, and budget.
From eco-friendly options to feature-rich designs, the market offers a diverse range of jackets to suit every skier's needs. Investing in the right women's ski jacket not only enhances your performance and comfort on the slopes but also elevates your overall skiing experience, keeping you warm, dry, and stylish regardless of the conditions. Remember, a good women's ski jacket is an investment in your passion for skiing, so choose one that will be your trusted companion on many snowy adventures to come.