How To Choose A Ski Jacket: 5 Essential Factors to Consider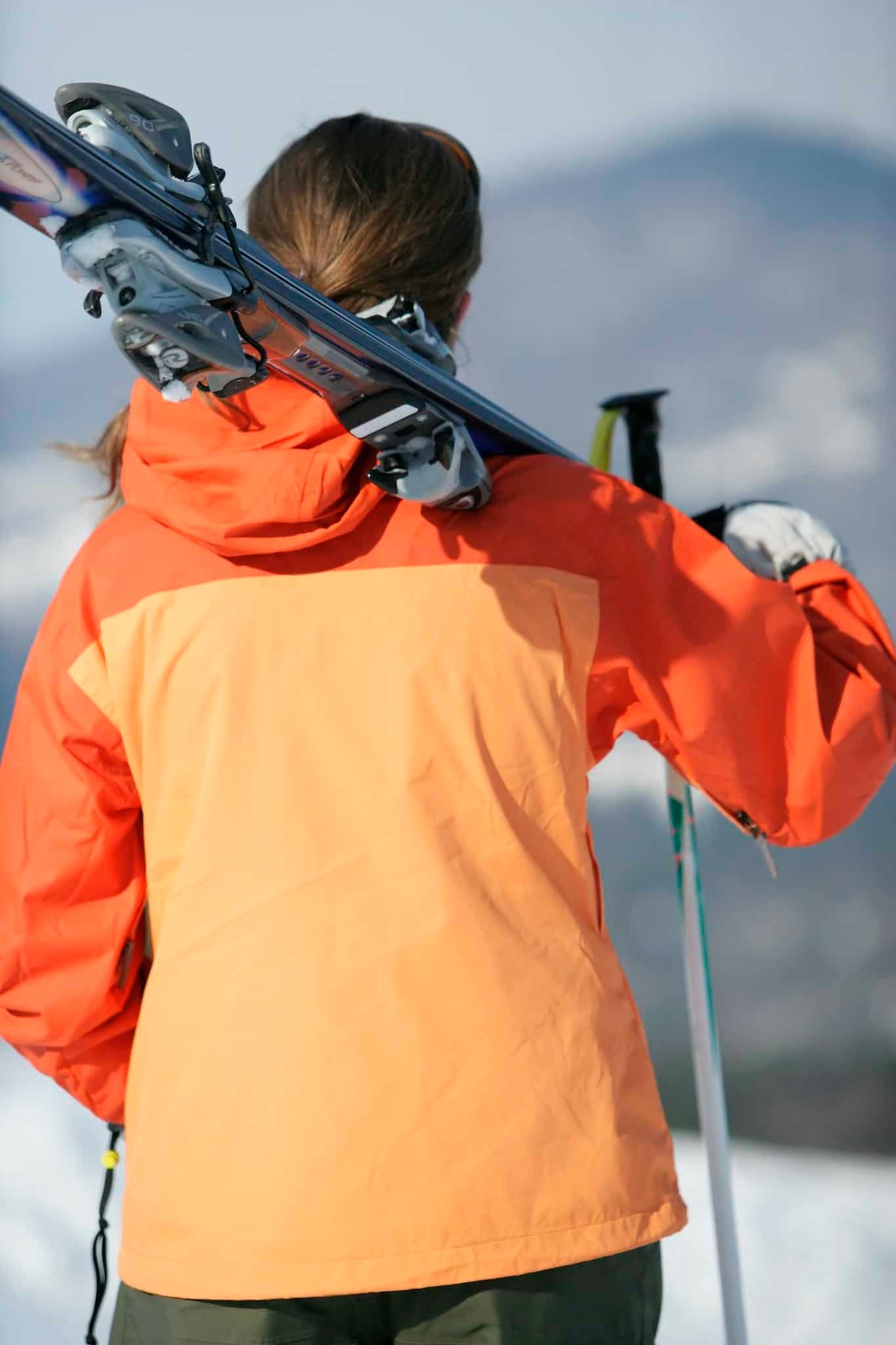 When you hit the snowy slopes, you need the right gear, and your ski jacket is one of the most important pieces. This guide breaks down the most important things you need to think about when picking out a jacket for your winter activities.
We'll take a look at the complicated parts of ski jackets, including the padding, shell fabrics, and important weatherproof features. If you know the difference between modular, shell, and 3-in-1 coats, you can choose the one that works best for you and the way you ski. We'll also talk about the specifics of ski-specific features that ensure comfort, fit, and safety.
This piece will help you choose a ski jacket that will keep you warm and dry whether you're carving down resort trails or making your own trails in the backcountry. Once you know what kind of ski jacket you want and what features you want to have, you can read our article about the best ski jackets to see the selections in the market today. For women-specific ski jackets, read our article about the best women's ski jackets for guidance. You should also check out my article about the best women's ski bibs to complete your ensemble.
Key Takeaways:
*Insulation and shell fabric are fundamental in a ski jacket; choose according to the balance of warmth and weather protection you need.

*The type of ski jacket—modular, shell, or 3-in-1—should reflect your skiing environment and style for maximum versatility and comfort.

*Advanced features like waterproof zippers, venting, and powder skirts significantly enhance functionality and protection on the slopes.

*Personalization is key; ensure the jacket fits well and suits your style preferences for greater satisfaction.

*When making a final selection, consider reputable online retailers for their extensive options and customer resources, ensuring a well-informed purchase.
1. Understand The Ski Jacket Basics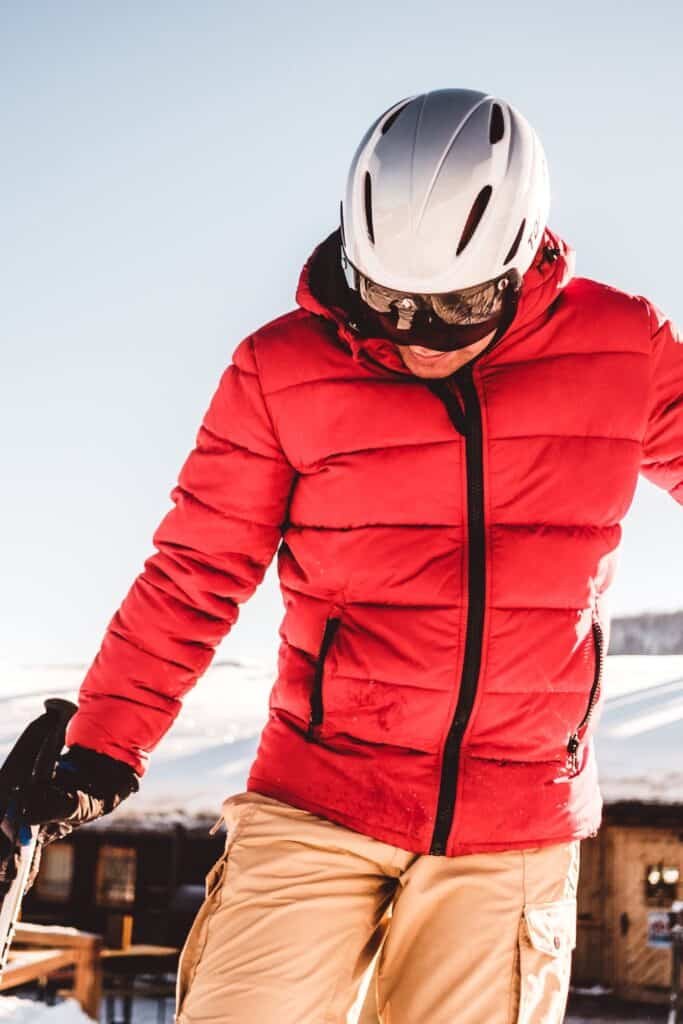 The right ski jacket is a game-changer for both comfort and performance. Delving into the basics, we'll uncover the layers that make these jackets an essential piece of your winter arsenal.
From the warmth of insulation to the defense of shell fabrics, and the critical details in construction that keep you dry, to the science behind breathability — each element plays a pivotal role. Understanding these fundamentals is your first step to choosing a jacket that's as ready for the mountain as you are.
Insulation
The insulation within a ski jacket serves as the critical barrier between you and the biting cold. Synthetic insulators, like PrimaLoft or Thinsulate, retain heat efficiently even when wet, making them reliable in varied conditions. Natural down insulation, often rated by fill power, offers an unmatched warmth-to-weight ratio, with higher numbers indicating loftier down. Brands like The North Face and Patagonia often feature jackets with both down and synthetic insulators, providing warmth without excessive bulk, and ensuring performance in damp climates.
Shell Fabrics
Shell fabrics are the jacket's first defense against nature's elements. Durable materials like Gore-Tex and eVent lead the industry, offering robust waterproofing while allowing your body to breathe. These fabrics are graded by their ability to withstand water pressure, measured in millimeters. A 10,000mm rating is suitable for light rain, while 20,000mm withstands heavy downpours. Companies such as Arc'teryx and Marmot utilize these high-grade fabrics to craft jackets that withstand severe weather without compromising on mobility or comfort.
Weather Resistant Construction and Design
Weather resistance in ski jackets isn't just about the material; it's also about design. Key design elements include fully taped seams, waterproof zippers, and storm flaps. Brands like Columbia incorporate Omni-Tech technology, which provides air-permeable protection that's waterproof and breathable. Anatomical design features like articulated elbows and shoulders enhance movement and fit. This attention to detail ensures that whether you're on a lift or carving down slopes, the jacket moves with you and keeps the elements out.
DWR Coatings and Breathability
DWR (Durable water-repellent) coatings add an extra layer of protection to ski jackets. This treatment causes water to bead up and roll off the surface, enhancing the fabric's inherent waterproofness. Simultaneously, breathability is paramount; without it, perspiration can't escape, leading to dampness from within. Jackets with high breathability ratings prevent moisture buildup, a feature exemplified in Spyder's Sanction jackets, which uses fabric that wicks moisture away. This balance of moisture management ensures comfort in diverse skiing conditions, from sunny, exertive runs to cold, snowy days.
2. Choosing the Right Type
Selecting the ideal ski jacket type is about matching your needs with the jacket's functionality. From the sleek simplicity of shell jackets to the adaptable features of modular designs, understanding these styles is crucial for finding your perfect match on the slopes.
Styles of Ski Jackets
Modular or Single Piece?
Modular ski jackets, like the 3-in-1 systems, offer versatility. You can detach layers depending on the weather, a feature seen in brands like North Face's Triclimate series. Single-piece jackets, on the other hand, are for the skier who knows exactly what they need for their specific climate and activity level. They're optimized for performance, with less bulk and no extra layers to manage.
Shell Jackets
Shell jackets are the minimalist's ally. They come in two main types: three-layer and two-layer. Three-layer shells, such as Patagonia's PowSlayer, have a waterproof membrane sandwiched between an outer layer and an inner liner. This all-in-one approach provides durability without added weight. Two-layer shells, often found in more budget-friendly ranges, feature a loose liner inside, offering a cost-effective solution with room for ample layering underneath.
Three-layer Shell Jackets
Three-layer shell jackets, oftentimes hardshell jackets, offer robust protection in a streamlined package. These jackets fuse a waterproof and breathable membrane between an outer shell and an inner lining. The result is a durable, single-piece construction that shields against the harshest weather while minimizing bulk. For example, Arc'teryx's Beta AR jacket utilizes a Gore-Tex Pro membrane, renowned for its ruggedness and longevity, ideal for skiers who prioritize durability and weather resistance in their alpine pursuits.
Two-layer shell jackets provide flexibility and affordability. They feature an outer shell bonded to a waterproof membrane with a separate, often detachable, inner lining. This design allows for more internal space to layer according to the weather, making it a versatile choice for a broader range of climates. Columbia's Bugaboo II jacket, for instance, pairs a waterproof-breathable outer layer with a soft inner fleece, offering warmth and the option to wear each layer independently or together. This type of jacket is perfect for skiers who want options and value in their gear.
Technical Shells
Technical shells prioritize function, offering top-tier weather protection without the bulk. They're typically lightweight and highly breathable, designed for active skiers who engage in high-exertion activities. With advanced materials like Gore-Tex, technical shells like the Arc'teryx Alpha SV Jacket resist the fiercest storms while allowing moisture to escape, keeping you dry from the inside out. They often feature minimalistic designs, sacrificing extra padding in favor of packability and mobility.
Softshells
Softshells strike a balance between comfort and protection. These jackets, exemplified by options like the Patagonia Adze Jacket, employ stretchy, breathable fabrics that offer moderate resistance to wind and water. They're excellent for high-energy activities in fair to variable conditions, where the emphasis is on maintaining core warmth without overheating. Their soft interior provides a cozy feel, with enough exterior treatment to repel light precipitation.
3-in-1 Jackets
3-in-1 jackets offer unmatched versatility. They combine an outer shell with a removable inner layer, typically a fleece or insulated jacket. This design allows skiers to adjust their level of warmth and protection as weather conditions change throughout the day. The North Face Triclimate series is a prime example, allowing wearers to sport the shell alone on warmer days, the liner for light insulation, or both for full protection and warmth in colder conditions.
3. Key Features and Technologies
A ski jacket's performance hinges on its features and technologies, which are designed to enhance functionality, durability, and comfort on the slopes. From safeguarding against moisture to ensuring ample storage, these advancements are crucial.
Waterproof Zippers
Waterproof zippers act as a seal against moisture, keeping your inner layers dry. They are especially prevalent in high-end jackets, like those from Arc'teryx, where each detail is honed for maximum weather defense. These zippers eliminate the need for bulky storm flaps and contribute to a jacket's streamlined profile.
Ventilation
Venting systems, such as underarm zips, offer temperature regulation, letting you release excess heat without exposing yourself to the elements. Spyder jackets, for instance, incorporate discreet venting that allows for quick cooling, ensuring comfort during strenuous descents or when the sun breaks through.
Hood
The hood should be helmet-compatible, adjustable, and, ideally, removable. It's a critical feature for stormy conditions, providing an extra layer of protection. Brands like Patagonia design hoods that are spacious enough to fit over helmets but can be cinched down snugly when not wearing one.
Pockets
Strategically placed pockets are essential for convenience and utility. Ski jackets often include a mix of internal and external pockets, designed for easy access to essentials like lift passes, smartphones, and snacks. High-quality jackets from brands like The North Face offer specialized pockets with waterproofing to protect electronics and other valuables.
Powder Skirt
A powder skirt is your barrier against snow intrusion. Attached to the inside bottom of the jacket, it prevents snow from getting up your back during falls. Look for jackets with adjustable and sometimes removable skirts, like those from Helly Hansen, for days when deep powder is part of the adventure.
Jacket-to-Pant Interface
The jacket-to-pant interface secures your jacket to your pants, creating a seamless barrier against snow and cold. This system typically involves loops, snaps, or hooks that connect at the waist, often found on gear from brands like Burton. It's a feature that keeps the snow out and warmth in, especially useful during falls or deep powder runs.
Cuffs Design
Cuffs design is vital for keeping the elements at bay while allowing for the integration with gloves. Adjustable cuffs, with Velcro or snaps, enable a snug fit over gloves, preventing snow from entering and heat from escaping. Some designs, like those from Columbia, also feature inner stretch cuffs with thumbholes for added comfort and warmth.
Wrist Gaiters
Wrist gaiters extend the coverage of your sleeves, often with a thumbhole to secure the gaiter over your hand. They provide an additional layer of protection against snow entry and are a cozy feature for those particularly chilly days. Wrist gaiters maintain the jacket's positioning, ensuring that sleeve insulation stays put and adds comfort.
Collar Design
A well-designed collar protects against wind and snow while preventing chafing against your chin and neck. Features like fleece lining for softness and a zipper garage to prevent direct contact with the skin are indicative of thoughtful design. The collar can also include adjustable features for a snug fit, like those found in Marmot's ski jackets.
RECCO® Reflector
The RECCO® Reflector is a passive avalanche rescue device that enhances safety. Embedded in your jacket, it doesn't replace an avalanche beacon but works in tandem with resort-based detectors. Jackets from companies such as Salomon may include this technology, which can aid rescue teams in locating avalanche victims more quickly.
Ski Specific Features
Ski-specific features in jackets cater to the needs of the skier with functionality that supports the sport's unique demands. This includes specialized pockets for ski passes and goggles, often lined with a soft fabric to prevent lens scratches. Additional weather resistance features like reinforced hems and storm flaps over zippers provide extra protection against the harsh mountain elements.
Moreover, convenience elements such as a goggle wipe, often attached to a stretchable cord inside a pocket, allow for easy lens cleaning on the go. These features, designed with the skier's experience in mind, combine to enhance performance and enjoyment on the slopes.
4. Personalizing Your Choice
This part is meant to help you figure out the finer points of comfort, fit, and style so that the gear you choose not only works in bad weather but also fits your personality on the slopes.
Alpine and/or Touring?
Choosing between an alpine and touring jacket hinges on your intended activity. Alpine jackets are designed for downhill performance, featuring robust weatherproofing and insulation for chairlift rides and high-speed descents. Touring jackets, like those from Dynafit, prioritize mobility and breathability, with lighter materials and venting options that support the exertion of climbing and skiing in the backcountry. They're tailored to minimize resistance and maximize efficiency as you move.
Cost
Investing in a ski jacket often reflects a balance between cost and longevity. Premium jackets come with higher price tags but offer advanced materials and construction that withstand seasons of use. Economical options are available but may compromise on advanced features or durability. Consider brands like REI for a balance of quality and value, ensuring your investment aligns with your skiing frequency and conditions.
Weather Protection
Weather protection is non-negotiable. High-end jackets use membranes like Gore-Tex for unmatched water and wind resistance while ensuring breathability. Features like storm hoods, watertight zippers, and adjustable cuffs are critical for keeping the elements out. Seek options that provide comprehensive seals without sacrificing comfort, as seen in jackets from Helly Hansen.
Durability
Durability is measured by a jacket's ability to withstand abrasion and maintain its protective qualities over time. Reinforced fabrics in high-wear areas, quality stitching, and robust zippers are hallmarks of a durable jacket. Patagonia's Ironclad Guarantee reflects a commitment to durability, promising repair, replacement, or refund for their gear.
Breathability
Breathability is essential for active skiers who need to manage internal moisture during intense activity. Jackets with high breathability ratings prevent the buildup of sweat, utilizing technologies like membrane pores and innovative lining materials to wick moisture away. Look to options from Outdoor Research for garments that balance waterproofing with breathable comfort.
Weight and Bulk
A jacket's weight and bulk can impact mobility and fatigue. Lightweight jackets afford agility and are less tiring over long days, suitable for tourers who carry their gear uphill. Bulkier jackets, providing more warmth and features, may be ideal for casual resort skiers. Brands like Mountain Hardwear offer lightweight yet insulated options that cater to both preferences.
Personal Considerations
Comfort and fit are paramount in a ski jacket as they affect your mobility and overall skiing experience. A jacket should offer a snug fit that accommodates layering without restricting movement. Ergonomic features, like articulated elbows and a contoured silhouette, as found in jackets from Salomon, enhance fit and provide comfort throughout a wide range of motion, crucial for active skiing days.
Style might not affect performance, but it does influence confidence and enjoyment on the slopes. Ski jackets come in a spectrum of colors and patterns, from the classic, understated hues of Arc'teryx to the bold statements of Spyder's designs. Choose a style that reflects your personality and stands out for the right reasons.
When finalizing your choice, weigh all factors — from the technical aspects to personal preferences. Your jacket should align with your skiing style, comfort requirements, and aesthetic tastes. This holistic approach ensures that your selection is not just practical but also a reflection of your individuality as a skier.
5. Final Selection
Your journey to finding the perfect ski jacket culminates in the final selection. During this important step, you make sure that every detail and personal taste is taken into account. This will help you make a jacket that will work well for you on the slopes.
Choose a ski jacket that fits well over layers and allows free movement. Sleeves should reach your gloves, and the jacket should stay in place when you bend or twist. Consult Burton's sizing guide to find a fit tailored to your body, ensuring warmth and mobility on the slopes.
Where to Buy Ski Jackets Online
Shop confidently online for ski jackets at retailers like Backcountry, REI, and Evo. They offer detailed product views, reviews, and size charts. Use their comparison tools to make an informed choice, checking store authenticity and return policies for a secure transaction.
Conclusion
As you wrap up your search for the ideal ski jacket, remember that the best choice is one that aligns with your skiing style, provides the necessary protection from the elements, and fits both your body and your aesthetic preference.
Whether you're carving down groomed runs or exploring backcountry powder, the right jacket will enhance your experience, keeping you warm, dry, and comfortable. Take time to consider the features, fit, and where to buy, ensuring your investment offers the performance you seek. Hit the slopes with confidence, knowing your jacket is not just a part of your gear, but a companion in your winter sports adventure.