Comprehensive Guide to Gore-Tex Shoes: From Selection to Maintenance
Gore-Tex, a trademark of W. L. Gore & Associates, is a technology utilized in various footwear to offer a combination of waterproofing and breathability. We'll discuss the core features that make Gore-Tex shoes stand out.
Key Takeaway:
Definition: Gore-Tex is a patented membrane technology used in footwear to provide a blend of waterproofing and breathability.
Value Proposition: Gore-Tex shoes offer long-term durability, comfort, and superior traction, making them a worthy investment for outdoor enthusiasts.
Brand Analysis: Brands like Merrell, Salomon, and Arcteryx are reputable providers of Gore-Tex shoes, each with unique offerings and price points.
Core Mechanics: The Gore-Tex membrane, with its microscopic pores, is engineered to keep external moisture out while allowing internal moisture to escape.
Maintenance: Regular cleaning, proper drying, and, for leather models, conditioning and waterproofing treatments are key to prolonging the life and performance of Gore-Tex shoes.
ItsCherieGonzales is reader-supported and includes affiliate links. When you purchase through these links, we may receive a small commission at no additional cost to you. As an Amazon Associate, I (ItsCherieGonzales) earn from qualifying purchases. Learn more
Top Gore-Tex Shoe Brands: A Peek
When it comes to investing in a pair of Gore-Tex shoes, brand reputation can be a significant factor. Here's a closer look at some of the aspects you might want to consider when comparing brands offering Gore-Tex shoes.
A number of renowned brands have incorporated Gore-Tex technology into their footwear collection. These brands are known for offering a range of Gore-Tex shoes designed for outdoor and active lifestyle enthusiasts. We've listed down the top brands and preview of some of their selections:
Adidas
Terrex Free Hiker Gore-Tex Hiking Shoes
Product details
Use: Hiking
Sole Material: Rubber
Outer Material: Rubber
Closure Type: Lace-Up
Price: $79.19 – $373.00 (as of writing)
Arcteryx
Arc'teryx Aerios FL 2 GTX Shoe
Product details
Use: Hiking
Fabric Type: TPU high abrasion protection films 100% PolyesterGORE-TEX membrane
Care Instructions: Hand Wash Only
Sole Material: Rubber
Price: $180
Hoka
Challenger 7 GTX
Product details
Use: Trail Running, All-terrain Running
Fabric Type: GORE-TEX Invisible Fit with 70% recycled polyester face fabric
Care Instructions: Hand Wash with Cold Water
Sole Material: Durabrasion rubber outsole
Price: $160
Merrell
Moab 3 GORE-TEX
Product details
Use: Hiking
Fabric Type: Pig suede leather and breathable mesh upper, GORE-TEX waterproof membrane
Care Instructions: Hand Wash
Sole Material: Vibram
Price: $92.00 – $155.00
Salomon
Quest 4 GTX High Rise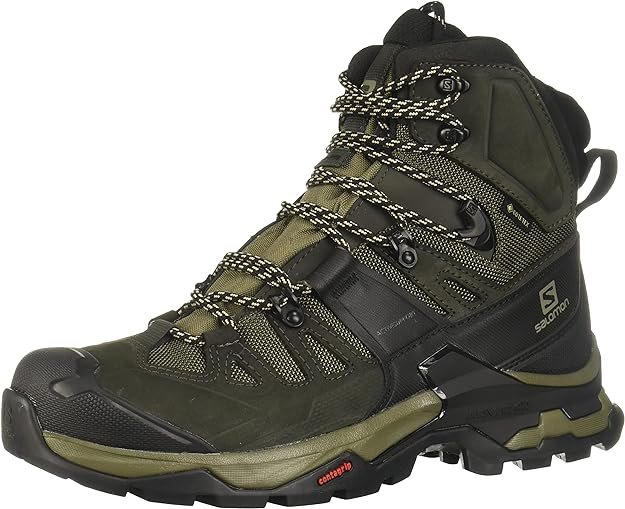 Product details
Use: Long expeditions and Tough conditions
Fabric Type: Nubuck leather. PFC-Free. Mesh and textile lining
Care Instructions: Hand Wash
Sole Material: Contagrip TD
Price: $229.95 – $239.95
Teva
Grandview Gore-Tex
Product details
Use: Hiking
Fabric Type: Leather. Polyester yarn. Polyester mesh upper
Care Instructions: Hand Wash
Sole Material: Vibram Mega grip
Price: $160
Definition and Unique Features of Gore-Tex in Footwear
Gore-Tex is a membrane composed of expanded polytetrafluoroethylene (ePTFE), which contains over 9 billion pores per square inch. These pores are what grant Gore-Tex footwear its signature characteristics. The material is crafted in a way that allows vapor to escape, keeping your feet dry from sweat, while preventing water droplets from entering the shoe.
Breathability and Waterproofing Capabilities
Gore-Tex Membrane
The Gore-Tex membrane is the cornerstone of its breathability and waterproofing capabilities. The microscopic pores in the membrane are large enough to allow moisture vapor to escape, aiding in breathability, yet small enough to prevent water droplets from penetrating, ensuring waterproofness.
Water-Resistance
Water resistance is a primary feature of Gore-Tex shoes. Unlike other materials that might absorb water, Gore-Tex repels it, ensuring that your feet stay dry even in wet conditions. This is particularly beneficial for individuals who engage in outdoor activities where they are likely to encounter rainy or damp conditions.
Wet Weather Performance
Gore-Tex shoes are designed to perform optimally in wet weather conditions. The combination of water resistance and breathability ensures that your feet stay dry and comfortable, regardless of the external environment. This makes Gore-Tex shoes a reliable companion for hiking, running, and other outdoor activities during rainy seasons or in damp terrains.
In the following sections, we will delve deeper into the value proposition of Gore-Tex shoes, brand comparisons, and essential maintenance tips to prolong the life of your footwear. Through understanding the mechanics and care routines, you'll be well-equipped to make an informed decision on whether Gore-Tex shoes align with your footwear needs.
Evaluating Gore-Tex Footwear
Each new footwear prototype undergoes rigorous testing in Gore-Tex labs, ensuring the upper materials, and linings, including insulation, and laminates excel under diverse conditions.
Walking Simulator– tested on realistic foot forms, enduring up to hundreds of thousands of steps in a water bath to verify waterproof integrity.
Centrifugal Tester– This inside-out test fills the footwear with water, then spins it rapidly to force water through any holes, identifying leaks that disqualify the footwear from production.
Wicking Test– To uphold strict waterproof standards, all upper materials are tested to ensure they prevent water ingress over the GORE-TEX lining, verifying the performance of components from leather and foam to stitching and laces.
Comfort Test– All used materials, from lining to outer material, are tested to measure overall breathability and climate comfort, ensuring they synergize to provide the desired climate comfort across all intended activities.
Exploring the Value: Are Gore-Tex Shoes Worth It?
Investing in a pair of Gore-Tex shoes might be a consideration if you often find yourself in wet or outdoor environments. Below we dissect the aspects of durability, comfort, and traction to help evaluate the worthiness of Gore-Tex shoes for your specific needs.
Long-Term Usage and Durability
Material Quality
Gore-Tex shoes are crafted using high-quality materials that are meant to endure the rigors of outdoor activities. The Gore-Tex membrane itself is a testament to innovative material engineering, promising a blend of functionality and longevity.
Wear and Tear Resistance
The robust construction of Gore-Tex shoes provides a solid defense against wear and tear. Whether it's rough terrain or adverse weather conditions, these shoes are built to withstand a good amount of abuse while retaining their functional integrity.
Comfort Factors
Arch Support
Good arch support is fundamental for comfort, especially during long walks or hikes. Gore-Tex shoes often come with structured insoles that provide a supportive cradle for your feet, reducing the likelihood of foot fatigue.
Cushioning
Adequate cushioning absorbs shock and adds to the comfort factor. Gore-Tex shoes tend to have well-cushioned footbeds that provide a soft landing for your feet, making them suitable for varied activities.
Fit Precision
The right fit is crucial to avoid blisters and other discomforts. Gore-Tex shoes come in a range of sizes and designs to ensure a snug but comfortable fit, aligning well with the contours of your feet.
Traction and Stability on Varied Terrain
Sole Material
The sole material plays a significant role in providing traction. Gore-Tex shoes often have rubber or synthetic soles with a firm grip, ensuring you stay steady on your feet regardless of the terrain.
Tread Pattern
The tread pattern on the sole further enhances traction. Deep treads and multi-directional lugs provide a good grip, making Gore-Tex shoes a reliable choice for hiking, trekking, or even casual walking in slippery conditions.
Slip Resistance
Slip resistance is an extension of the shoe's traction capabilities. The design and material of the sole in Gore-Tex shoes aim to provide a slip-resistant grip, promoting safety and stability on wet or uneven grounds.
The Core Mechanics: Understanding How Gore-Tex Works in Shoes
Gore-Tex is more than just a material; it's a meticulously engineered technology designed to keep your feet dry and comfortable. Here's a dive into the core mechanics of how Gore-Tex operates in shoes.
Technology Behind Gore-Tex
The secret behind Gore-Tex lies in its membrane, a thin layer of expanded polytetrafluoroethylene (ePTFE), which contains over 9 billion pores per square inch. This membrane is sandwiched between the outer shoe material and the inner lining, creating a barrier that is both waterproof and breathable.
Breathability Versus Waterproofing
The dichotomy of breathability and waterproofing is well-addressed by Gore-Tex technology. The membrane's pores are large enough to let moisture vapor from sweat escape, enhancing breathability. Conversely, they are small enough to prevent water droplets from entering, ensuring waterproofing. This dual functionality ensures that your feet stay dry from both external water and internal sweat.
Performance in Extreme Conditions
Gore-Tex shoes are engineered to perform under extreme conditions. Whether you are traversing through wet, muddy trails or venturing out in a downpour, Gore-Tex shoes aim to keep your feet dry. Moreover, the breathability feature comes into play in warmer conditions, preventing sweat accumulation and promoting a comfortable environment for your feet.
The effectiveness of Gore-Tex in extreme conditions makes it a preferred choice for individuals who require reliable footwear for outdoor adventures, work, or daily wear during rainy seasons. Understanding the core mechanics of Gore-Tex provides a clear picture of why Gore-Tex shoes stand out in the market, especially when it comes to battling the elements while keeping comfort in check.
Maintenance and Longevity of Gore-Tex Shoes
Proper maintenance is pivotal to prolonging the lifespan of your Gore-Tex shoes while retaining their functionality. Here's a guide to keeping your Gore-Tex shoes in prime condition.
Cleaning Procedures
Routine Cleaning
Regular cleaning is essential to maintain the performance of the Gore-Tex membrane. After each use, especially in muddy or dusty conditions, use a soft-bristle brush to remove loose dirt. For a deeper clean, warm water and a mild soap can be used. Rinse thoroughly and allow the shoes to air dry.
Dealing with Stubborn Stains
For tougher stains, a specialized footwear cleaner is recommended. Apply the cleaner as per the instructions, using a soft brush to gently work out the stain. Rinse well and let the shoes air dry. However, according to the gore-tex website, it is preferable to use liquid detergents over stain removers.
Re-applying Protection
Reapply a durable water repellent (DWR) when water ceases to bead up. Opt for a water-based spray. Avoid waxes or greases as they impede breathability. Test the DWR on a hidden area first to make sure it's suitable for the fabric. Always follow the instructions on the DWR label. Re-treat the DWR as needed to maintain its effectiveness.
Special Care for Gore-Tex Scent Control Footwear
Scent-eliminating sprays and cover scents are usable without affecting Gore-Tex properties. Use unscented detergent for washing. After washing, use a Gore-Tex-specific conditioner to restore the fabric's waterproof capabilities. Take care not to over-condition, as this will make the fabric less breathable. Finally, air dry the garment to ensure optimal performance.
Drying
It's important to allow Gore-Tex shoes to dry naturally. Avoid placing them near a heat source as it can damage the materials. If the insoles are removable, take them out to expedite the drying process. You can also stuff the shoes with newspaper to absorb moisture from the inside.
Leather Care Tips for Gore-Tex Shoes
If your Gore-Tex shoes have leather uppers, additional care is required to maintain the leather's durability and appearance.
Cleaning: Use a designated leather cleaner to remove dirt and stains. Always test a small, inconspicuous area first to ensure it doesn't discolor the leather.
Conditioning: Leather conditioner will help keep the leather soft and prevent cracking. Apply a conditioner sparingly, and buff with a clean, dry cloth.
Waterproofing: While the Gore-Tex membrane provides waterproofing, applying a water-repellent treatment to the leather will help preserve its quality and appearance.
In Summary
Selection:

Determine your primary use for Gore-Tex shoes to choose a model that aligns with your activities.
Compare different brands and read customer reviews to get a well-rounded view of the performance and value offered.
If possible, try on different models to find a comfortable fit, paying attention to arch support, cushioning, and traction.

Maintenance:

Establish a regular cleaning routine to remove dirt and debris.
Allow shoes to air dry away from direct heat sources.
For leather Gore-Tex shoes, use designated leather care products to keep the leather in good condition.
Resources:

Visit brand websites or contact customer service for specific care instructions and warranty information.
Explore outdoor gear review sites for in-depth comparisons and performance ratings of different Gore-Tex shoe models.

Recommendations:

Invest in a good quality footwear cleaner and leather care products if applicable.
Consider purchasing from brands with robust customer service and favorable warranty terms to ensure a satisfying ownership experience.
For more information about gore-tex footwear, you can visit their website.