Ski Trip Packing List: Must-Have Gears
Skiing is a thrilling winter sport that offers breathtaking views, adrenaline-pumping adventures, and a chance to connect with nature. To ensure that you have a memorable day on the slopes, it's essential to pack the right gear.
In this article, we will provide you with a comprehensive ski trip packing list, covering everything from the must-have equipment to additional items that can enhance your skiing experience. I have provided a printable checklist below to make sure you have everything you need.
Ski and Snowboard Clothing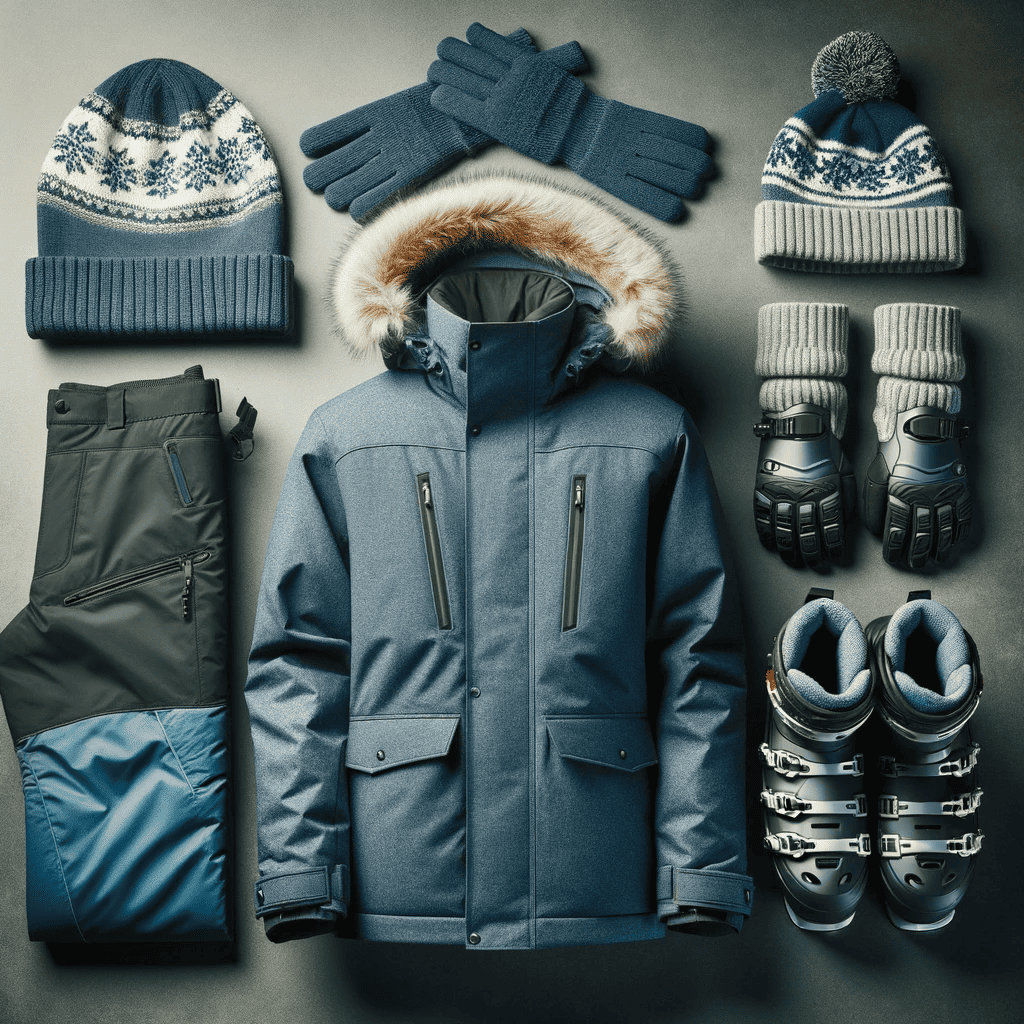 1. Ski Jackets
These are your first line of defense against snow and moisture. A ski jacket with a snow skirt and wrist gaiters will keep snow out. Look for jackets with sealed seams and adjustable features such as hoods and cuffs. Investing in a Goretex ski jacket is a great way to ensure you are staying dry and warm in all types of weather. Goretex jackets are designed to be waterproof and windproof, so you can stay comfortable even during the worst winter storms. For further guidance on selecting the perfect ski jacket, see our article about How to Choose a Ski Jacket.
2. Ski Pants or Ski Bibs
When selecting ski pants or ski bibs, opt for those with reinforced cuffs and inner thigh vents. Reinforced cuffs resist wear and tear from ski edges, while thigh vents can be unzipped to dump heat quickly, keeping you comfortable as you transition from vigorous skiing to taking a break. This way, your ski pants can adapt to both your activity level and the changing weather on the slopes, ensuring a more enjoyable skiing experience. If you are thinking of buying a new pair or don't own one yet and planning to buy one, you should check out my round-up post of the best ski bibs for the coming season for guidance.
3. Base Layer Top
Selecting a zip-neck design is wise as it helps easily modulate your body temperature—zip up to warm up and unzip to cool down. This design also eases dressing and undressing, allowing you to either pull it over your head or step into it. When choosing a base layer, aim for breathability and a lightweight feel to ensure comfort on the slopes.
4. Base Layer Long Johns
look for a pair with a gusseted design, which is a diamond-shaped piece of fabric sewn into the crotch area. This feature enhances mobility and comfort by reducing any potential for chafing, making it easier to move freely whether you're skiing, snowboarding, or simply walking around. The extra room provided by the gusseted design can significantly enhance your comfort and overall skiing experience.
5. Fleece Sweater or Down Vest
A fleece sweater is great for active days due to its breathability, while a down vest is excellent for keeping your core warm during colder conditions without restricting arm movement. Having both in your ski wardrobe allows for versatile layering options, ensuring you stay comfortable regardless of the weather conditions on the slopes.
6. Ski Gloves/Mittens
For gloves and mittens, opt for styles that come with built-in hand warmer pockets. These pockets allow you to insert disposable hand warmers, providing that extra bit of warmth on exceptionally cold days. This feature can be a game-changer in keeping your hands warm and comfortable throughout your ski adventures. Also, look for styles with touchscreen-compatible fingertips to easily use your devices without removing them.
7. Winter Hats/Beanies
Opt for designs with built-in ear flaps or an extra band of insulation around the ears. Ears are often one of the first body parts to feel the cold, so having that extra protection can make a significant difference in keeping you warm and comfortable on the slopes. Choose hats with a fleece-lined interior for extra warmth and comfort.
8. Wool Ski Socks
When shopping for wool ski socks, look for pairs with padded shins and soles. The padding helps to cushion the impact on your feet and protect your shins from irritation and pressure from your ski boots, enhancing your comfort and endurance on the slopes. A slight compression fit can help improve circulation, keeping your feet warmer and reducing fatigue. To ensure warmth and avoid cold feet, consider trying heated ski socks. There's a wide variety of options currently available in the market.
Investing in high-quality, waterproof outerwear is crucial, but don't overlook the importance of your base and mid-layers. These layers provide the insulation needed to keep you warm. A pro move is to have a variety of base and mid-layers to adjust to the changing weather conditions on the slopes. Additionally, consider packing a compact, lightweight down jacket that can be easily stowed away. This will provide an extra layer of warmth during breaks or in case of unexpected temperature drops.
Ski and Snowboard Gear
9. Skis/Snowboard with Bindings
Opt for models with a good balance of flex and stability to match your skill level. The length of the skis should be based on your height, weight, and skiing ability. Longer skis provide more stability at high speeds, while shorter skis are more maneuverable and easier to control. The width of the skis, known as the waist width, determines their performance in different snow conditions. Wider skis are better for powder and off-piste skiing, while narrower skis are more suitable for groomed slopes and carving turns. Check out our article about the latest skis from different brands for different categories for 2024.
High-quality ski bindings are essential for safety. They are responsible for releasing your boots in case of a fall or excessive force, reducing the risk of injury. Make sure the bindings are properly adjusted to your weight, skiing ability, and boot size. It's recommended to have a professional ski technician set up your bindings to ensure they are correctly calibrated.
10. Ski/Snowboard Boots
Look for boots with a heat-moldable liner for a custom fit. They should be snug but not too tight, with no pressure points or excessive movement. It's recommended to try on different brands and models to find the perfect fit for your feet. Ski boots also come with different flex ratings, which determine their stiffness. Stiffer boots provide better power transfer and control, while softer boots offer more comfort and forgiveness.
11. Ski Poles
Choose poles with adjustable lengths for versatility on varying terrain. When choosing ski poles, consider their length and material. The correct pole length depends on your height and skiing style. For general skiing, the poles should reach your armpits when standing upright. If you're into freestyle or park skiing, shorter poles may be more suitable. As for material, aluminum poles are durable and affordable, while carbon fiber poles are lightweight and offer better vibration dampening.
12. Helmet
A reliable helmet is a non-negotiable piece of ski gear. It protects your head from impacts and reduces the risk of serious injury. Consider helmets with adjustable ventilation to regulate your temperature. Make sure the helmet fits snugly and has adjustable features such as straps and ventilation. Look for helmets with certifications such as ASTM or CE to ensure they meet safety standards.
13. Goggles
Look for models with interchangeable lenses to adapt to different lighting conditions. Goggles with UV protection are essential for protecting your eyes from the sun's harmful rays and glare off the snow. They should have a wide field of vision, anti-fog coating, and adjustable straps for a secure fit. Consider different lens options for varying light conditions, such as mirrored lenses for bright sunny days and low-light lenses for cloudy or snowy conditions.
14. Hand and Toe Warmers
Whether you're skiing in sub-zero temperatures or experiencing cold feet, hand warmers and foot warmers can be a game-changer. Simply slip them into your gloves or boots, and you'll stay warm and cozy all day long. Choose reusable models for eco-friendliness and cost-effectiveness.
15. Balaclava
With a balaclava or neck gaiter, you can shield your skin from the biting cold and prevent windburn. These versatile accessories are designed to cover your face and neck, providing an extra layer of protection against the elements.
Not only do balaclavas and neck gaiters keep you warm, but they also add a touch of style to your skiing ensemble. Choose from a variety of colors and patterns to match your personal style and make a fashion statement on the slopes.
Not keen on hauling your gear? Explore rental options. Also, if it's your first time, you might want to consider renting out equipment first before making a purchase. After all, you don't want to get stuck with a bunch of expensive gear that you won't use in the long run!
Mountain Casual (Non-Ski Clothing):
16. Warm Jacket
17. Warm Hat
18. Gloves/Mittens
19. Warm Socks
20. Jeans/Pants
21. Warm Tops
22. Winter Boots
23. Comfy After-Ski Pants and Tops
24. Sleepwear
Versatility and layering are key. Choose items that can be easily layered for warmth and are suitable for both outdoor adventures and cozy indoor relaxation. Also, having a mix of casual and a tad dressier options can prepare you for impromptu dinner plans or other social gatherings during your ski trip. Keeping your clothing versatile, comfortable, and easily layered will ensure you're prepared for whatever the mountain getaway throws your way.
Toiletries and Personal Care
25. Sunscreen
26. Lip Balm (with SPF)
27. Toothbrush, Toothpaste, Floss
28. Hairbrush
29. Medications/Vitamins
Miscellaneous
30. Ski Boot Bag
A boot bag provides a convenient and organized way to transport your ski boots. With designated compartments and padding, it ensures that your boots stay protected from scratches and dings during transit. Plus, it keeps your car or ski lodge free from the mess of wet boots and melting snow.
31. Ski bag
A ski bag is designed to safeguard your skis during transportation. It prevents damage to the edges and bases, ensuring that your skis are in top condition for your next adventure. Plus, with additional pockets and compartments, you can easily store your poles, goggles, and other skiing essentials.
32. Ski Passes/Lift Tickets
33. Camera, Memory Cards, Charger
34. Music player/Tablet
35. Insurance Cards, ID Cards
36. Books
37. First Aid Kit
38. Water Bottles
39. Small Backpack
Where to Find the Best Ski Gear for Your Needs
Now that you're equipped with the knowledge of what to pack, you may wonder where to find the best ski gear. Here are some options to consider:
Visit a specialized ski gear store in your area. The staff will guide you in finding the right gear for your skill level and preferences.
Check online retailers that offer a wide range of ski gear. Read reviews and compare prices to make an informed decision. Some known retailers are Evo, Rei, and Backcountry.
Borrow or rent ski gear if you're a beginner or trying the sport for the first time. Many resorts and ski shops offer rental services at reasonable prices.
When shopping for ski gear, it's also important to keep in mind that your safety should be a top priority. Look for gear that meets industry safety standards and has features such as adjustable bindings, sturdy construction, and proper insulation. Don't compromise when it comes to your safety and enjoyment on the slopes!
Now that you have your packing list sorted, it's time to hit the slopes and create unforgettable memories. Have a fantastic skiing adventure and enjoy the thrill of carving down the mountainside with confidence!